The Real Co Transparency With 100% Single Origin Foods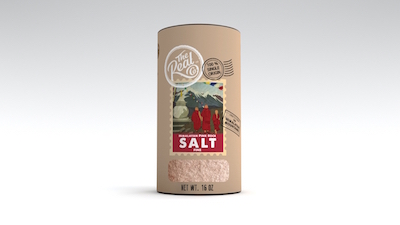 When Chef Sal Marino of the modernist, minimalist, Il Grano Restaurant, sprinkled a few grains on my dish from his hand, I sat back.  After all, the ratio of black pepper and even cinnamon to salt in our house it about ten to one.  "Every dish needs a little bit of salt," he admonished.   And he was right, proven by The Real Co fine grain salt, crystalline perfection that enhances without overpowering every dish.especially on his own home grown tomatoes, shown here on a Marino pizza.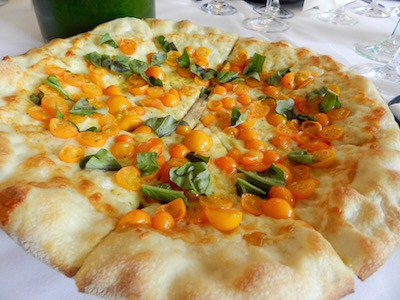 Apparently the world's best chefs agree and the SALT industry is complying with extraordinary salts — most of which require fewer grains for seasoning.  For an comprehensive and entertaining read,  Mark Kurkansky's book, SALT, which views history through salt (which was once such a prized commodity it was used for currency in Rome).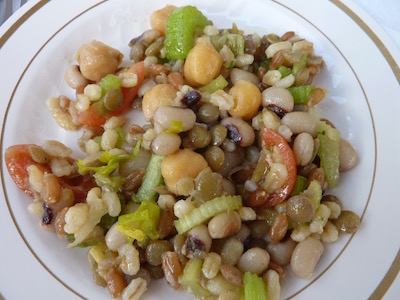 The Real Co, Inc debuted the first certifiable 100% Single Origin products including Himalayan Pink Rock Salt (along with Organic Raw Cane Sugar, and organically grown White Basmati Rice).  The Himalayans are world renowned for producing the purest, more delicate salt.
Since this fall, The Real Co is pioneering Single Origin in food products, which is a welcome and transparent new food category and method of sourcing products globally and delivering it at a local level.  
Every grain of the spectacular salt, sugar and rice can be traced to its source, which is shared on every package of food bearing The Real Co name. Every food item has the Non-GMO Project Verified seal and is harvested from one single place, single farm or single family.
The packaging offers its own "transparent" view of the food, with a clear window that shows off the natural salt, sugar, or rice inside. The workers at every farm are paid a fair wage, and the end result is the highest quality organic food. Every product is then packaged in the United States.
The Real Co enters partnerships with farmers and growers around the world that don't have an established route to distribute their products and creates a way to share their commodity with the world. The company brings full transparency and sustainability to the U.S. food industry. The Real Co products are carefully inspected and sourced by company representatives, and go straight from farm to shelf, eliminating the need for any middlemen.   This unique 100% Single Origin method allows everyone in the world to enjoy what is usually impossible to experience: unique, tasty, freshly farmed/mined products at affordable prices.
The business model for the 
The Real Co
 is founded on a direct farm-to-market delivery system, which offers farms distribution to the U.S., cutting out the middleman, and offering both retailers and stores great natural food products at low costs
"We are a company founded on the notion that transparency is vital, and that consumers have the right to know where their foods are from," says Belal Elbanna, CEO of The Real Co Inc. "The Real Co foods come right from their source and offer best of class products at best prices."
The Real Co Himalayan Pink Rock Salt
is
 handcrafted, at the Himalayan Mountains. This salt is 100% pure; 100% Single Origin; non-GMO; has 84 active minerals in every grain; is unrefined and mountain washed in Himalayan mountain water. The salt is available in a 20-ounce tub container for a suggested retail price of $6.99 or in a saltshaker container for a suggested retail price of $9.49.
The Real Co White Basmati Rice, 
directly from Gujrat Punjab from Farid Co-op Farm
,
 is 100% natural and 100% Single Origin; low-GI and pre biotic; non-GMO and is gluten free. The rice is available in 2 sizes: 16-ounce at a suggested retail price of $3.99 and 32-ounce at a suggested retail price of $6.49.
 The products are distributed by 
UNFI, one of the largest distributors of natural foods in the U.S., is distributing the foods across the nation to supermarkets, specialty retailers and independent operators. Consumers may also purchase products online on 
www.amazon.com
 or
www.healthygoodness.com
.  For more details, please visit the Real Co website at http://TheReal.co
About The Real Food Co., Inc.
The Real Food Co., Inc. 
was founded in 2013 in Valley Cottage, New York with a direct farm-to-market approach for the organic food industry. The new 100% Single Origin Foods concept supports farms at their source, cuts out the middleman, and delivers directly to the U.S. market, cutting costs of products compared to other manufacturers. 
The Real Food Co., Inc
. offers transparency to the consumer, and is developing the first
Certification of 100% Single Origin Foods in the U.S.