This (whole) Piggy Stars in Hyper COCHON555 Fundraiser
(Gerry Furth-Sides) Ambitious fundraiser, Cochon 555 ("5 chefs, 5 pigs, 5 winemakers"), trumpets itself as a national ten-city tour as "North America's most talked about culinary competition."
The one-of-a-kind stand-up tasting reception features five local celebrity chefs cooking five heritage breed pigs in a fierce but friendly competition for the Piggy Bank cause. Guests vote for the best bite of the day and the winner goes on to the nationals.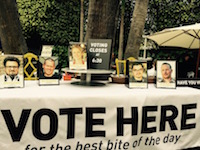 The buzz was electrifying.  Guests surrounding me gleefully followed the instructions "to enjoy," compared notes and shared dishes, even if only for the  few minute respite in between the 100 bites.  We seemed to be happily following a recent Whole Food sign blessing this endeavor.  It read, "EAT GOOD FATS."  And, after all, we were burning calories by standing and walking the whole party.
What is so special about the event is that it is themed, and that top chefs in the city have fun but take seriously the  competition and go all-out with an glorious variety of dishes.  The pig-loving crowd feels like a bunch of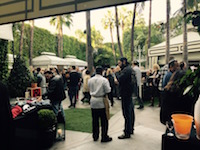 conspirators out to have a blast with the absolutely top-notch versions of their favorite animal, THE PIG.   And it brought together esteemed chefs and their friends.  Below is Chef Nick Shipp and his wife, and Brooke Williamson and her husband.  Nick's email is" "bacon-wrapped chef."   Chef Nick was at the event to cheer on his good friend, Bruce Kalman.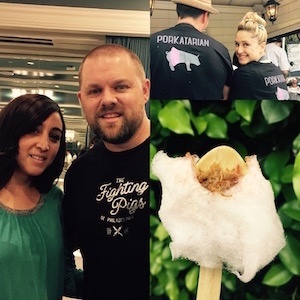 Personable returning champion Chef Walter Manzke of Republique was crowned the Prince of Porc. Chef Walter will go on to represent Los Angeles against the other nine cities' winners in Grand Cochon at Snowmass / Aspen for the title of 2016 King or Queen of Porc and the grand prize, a four-day wine experience in Rioja, Spain's most prominent wine region.
This year's competing chefs included Carlos Salgado of Taco Maria, Bruce Kalman of Union, Jason Neroni of Rose Cafe, Brooke Williamson of Playa Provisions and Chef Manzke. The chefs prepared show-stopping dishes using whole heritage-breed pigs from family farms in a head to tail showcase for a crowd of pork-loving gourmands. Chef Walter won the event with a Berkshire breed of pig raised by Cook Family Farm. This breed originates from Britain and is the most popular of the heritage breeds because of it's intramuscular marbling. Yielding a brighter pork than most and featuring a thick, delicious fat cap, the meat is sweet and creamy with hints of nuttiness, which worked in tandem with Chef Walter's winning menu of five uniquely created delicious bites. Dishes included Pork Tartare: Black River Caviar & Potato Chips, Vietnamese Salad: Pigs Ear & Belly, Polito Farms Citrus, Cuban Sandwich: Braised Pork, Cured Ham, Mojo & Dijon, Pork "Torte Gibier:" Blood Sauce, and to close, Pork Foot Mantou Bread: Condensed Milk & Chili.
This year's judges included Mary Pelentay of Le Cordon Bleu College, "2015 NYC Prince of Porc" Francis Derby of The Cannibal, Cristiano Creminelli of Creminelli, "2014 King of Porc" Ray Garcia of Broken Spanish and BS Taqueria, Ben Ford of Ford's Filling Station, Micah Wexler of Wexler's Deli, Peter Cheng of The Offalo, Lesley Balla of Zagat and Angeleno, Chef Joshua Whigham, Maximillian Chow of Mr. Chow, Rory Herman of Barrel & Ashes, Oliver Quignon of Viceroy Beverly Hills, Sean Dent of SITK, Ellen Bennett of Hedley & Bennett, and new this year, the five Sommeliers in the Somm Smackdown included; Nathaniel Munoz of Rose Cafe, Fahara Zamorano of Viviane, Phillip Dunn of Spago, Jared Hooper of Faith and Flower and Sarah Clark of Mozza helped select the winner.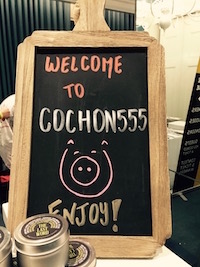 Republique Restaurant's Chef Walter Manzke,  with his pastry chef wife and little boy Nico to help him at the tables, retained his local  title.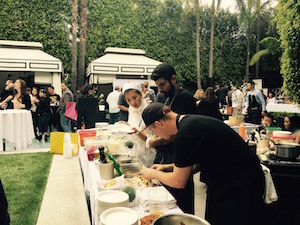 The auction for heritage pork and pork-related products (that somehow included spirits) was as exuberant as the event itself, and somehow included spirits along with entire animal sides.  The MC really hosted the afternoon with continuous coverage that gave the event a cohesive feel.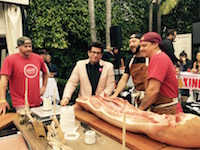 So, true to its billing, the seven-year-old flagship tour, touting itself as "the world's first environmentally conscious nose-to-tail pig competition celebrating fine-dining," lived up to its word.
Although 36 dishes definitely provided enough food to go around for two entire days (I found containers in my purse today from chefs who lovingly offered dishes at the end of the afternoon), this event presented a varied, gourmet introduction to heritage pork dishes.
The five chefs prepared a maximum of six dishes from one whole hog each in a competition for hungry gourmands (the right term) and celebrated judges. Competing chefs include Brooke Williamson of Playa Provision, Jason Neroni of Rose Cafe, Bruce Kalman of Union, Carlos Salgado of Taco Maria, and returning champion Walter Manzke of Republique.
The stage was set at the Viceroy near the beach.  As heavenly smells wafted in from the pool area where  chefs cooked outside, guests entered the first,  darkish, reception room.  As if  the completed 36 competition dishes at this "fairy-tale" pig event were not enough,  attendees upon arrival were treated to an array of refined cures from Creminelli Fine Meats, the TarTare Bar with Creekstone Farms, "Luxe Butter Bar" with Antica Napa Valley, the Artisan Cheese Bar featuring Cypress Grove Chèvre (I never saw so much Humboldt Fog Cheese outside of Whole Foods), Coach Farm, Parrano and DTLA Cheese, California Olive Ranch and the Seafood Shelf featuring Rappahannock River Oysters from Watergrill.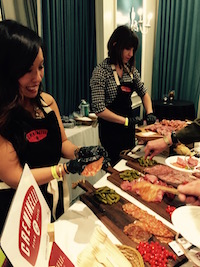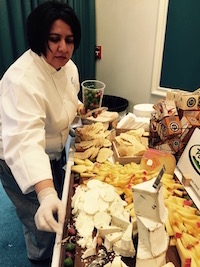 Next up, if you needed a glass, this task took you into a winding path outside near the pool — still with chefs cooking and the MC calling out the event –into a second "outdoor"room surrounded by ficus-tree walls. Whether you wanted a straight shot of  hand-crafted luxury tequila from Don Julio or a freshly prepared Margarita, the crew was more than happy to oblige.
Finally the crowd entered the pool area.  Fancy white covered food booths resembling cabanas were scattered about the area with an inviting sign to "Meet the CHEFS & their PIGS."  Chef Brooke Williamson's beautiful smiling face was nearest.  She was working with RED WATTLE pork from Rainbow Ranch, originating in New Caledonia, a French Island in the South Pacific.  Sliders had a hearty but tender, almost beefy taste for which they are known I later read. At this hungry beginning, the guest next to me asked if the bacon decoration was edible (top right corner of lower right image)!   Brooke's cotton candy on a stick with a shredded pork filling happily ended the menu.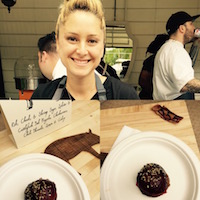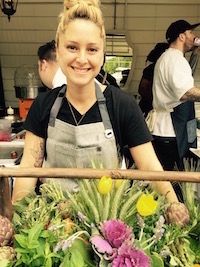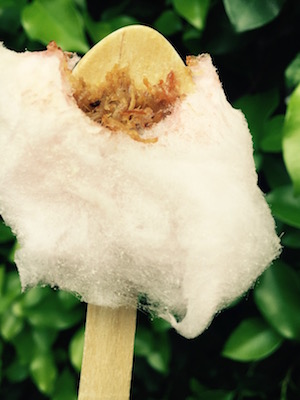 To the right, the station of gentrified Rose Cafe Executive Chef-Partner, Jason Neroni, offered such startling, diverse dishes as double ramen, an insanely rich yet delicate broth with pork fat, spring garlic, fermented turnips, poached belly and noodles (my favorite bite shown at the bottom here) and a lasagna with fennel and pork sumo, porcini jus, stuffed trotter terrine with foil gras, black truffles, cognac soaked morels (below left).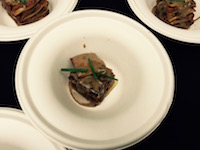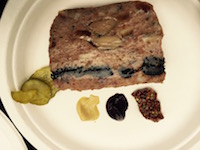 The bold middle dish below is roasted pork meatballs with smoked burrata, chicharrones, tomato marmalade.  Always serious, Neroni barely had a second to look up.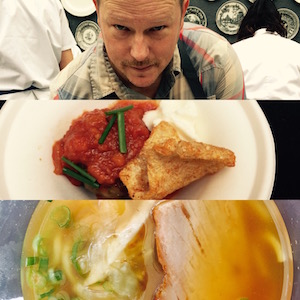 Across the way, popular Bruce Kalman from Union Restaurant was having a good time.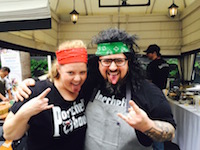 Returning champion, Republique's Walter Manzke's staff spread out over six working tables, with dishes that could not seem to be replenished fast enough.  Chef has plenty of help from his talented pastry chef wife, Margarita and four-year-old son, Nico.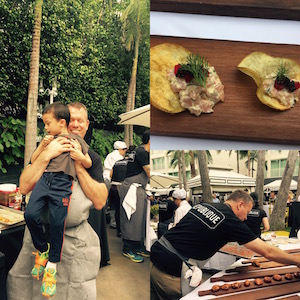 Pork Tartare with Black River Caviar on a potato chip; a Cuban Sandwich with braised Pork, Cured ham, Mojo and Dijon, and a Pork "Torte Gibier" with Blood Sauce (shown above).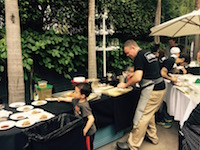 Chef Walter, The winning "Prince of Porc,"  of the regional event goes on to compete for the national title of "King or Queen of Porc" at Grand Cochon, the tour finale, held at the Viceroy in Snowmass / Aspen on June 18th.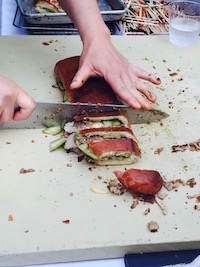 Below, elegant Taco Mari Chef, Carlos Salgado, prepared Corazon Asado with torpedo onions, cara cara oranges and serrano, working with Red Wattle from Walnut Keep.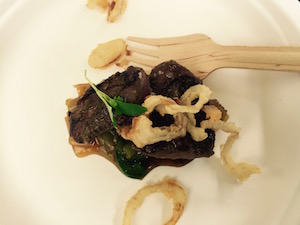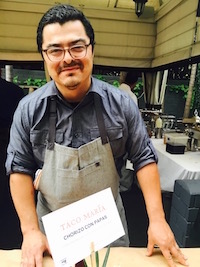 Voters were handed a PIGGY button and a ticket to vote at a table with the chef's photos.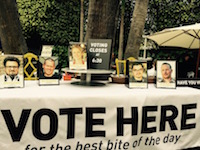 One of the most fun parts of the event was the "auction" with packages to-go of heritage breed pork at the Pop-Up Butcher Shop, a retail fundraiser for Piggy Bank with the support of Williams-Sonoma and Hedley & Bennett.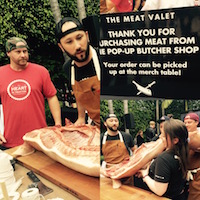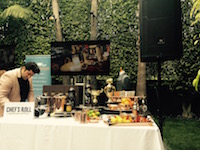 Many of the donated items were the generous gift of sponsor Williams-Sonoma.  By this time the crowd was so thick you could only hear the auctioneer add more and more to each package in the 100's of dollars – all the money to go to donations.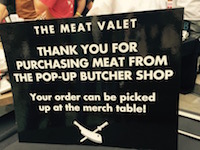 National sponsoring wineries offered boutique wines and culinary cocktails to pair with the delicious bites. Judging from the event at the Viceroy on Sunday, if there is a way to overdose on pork dishes, the guests were determined to do it.  The mood was of one of refined "collaborators"  guests offered the opportunity to feast on gourmet versions of pork, and there was a smile on every face.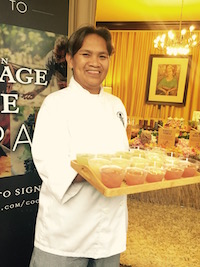 The beverage program included Cochon555's Punch Kings local barkeep competition featuring Breckenridge Distillery.
It really didn't take the program to announce, "Wine tastings are back in a big way in 2016 with the 'Five Winemakers' " because this crowd welcomed everything in sight.  Wines included Paul Draper (Ridge Wines), Rajat Parr (Sandhi Wines), Abe Schoener (Scholium Project), Jeff Pisoni (Pisoni Vineyards), Pax Mahle (Pax Wine Cellars) and special guest Matt Courtney of Arista Winery, a spotlight Sommelier Smackdown, Michael Mondavi Family Estates, Wines from Rioja, Tenuta Sassoregale and Azzurro Wine Company.
Pork was even creatively, lovingly infused into the sprits. The 1942 and the mobile Heritage Rum Cart featured Rhum Clément and Plantation Rum. Bourbon lovers were greeted with the "Perfect Manhattan" featuring Eagle Rare and Buffalo Trace finished with Luxardo cherries.  A Smoked Old Fashioned featured Breckenridge Bourbon with the support of Pierre Ferrand Dry Curacao.
"I'm excited about all the new partners in 2016 who support family farming and independent business," reported founder Brady Lowe.  "The Cochon555 Tour is now a movement, from hosting celebrated culinary events and dinners all over North America to reaching a global audience with the news of the first open-source agricultural model. The tour is dedicated to helping family farmers succeed, period," he added.  "Together, with some of the best chefs and partners in hospitality, we amplify the conservation of heritage pork once again, which for many is a 'gateway' to a larger appreciation of where our food comes from and the people that raise it, leading to more mindful eating and safer food choices for our youth. Piggy Bank, a 501(c)(3) project of the Giving Back Fund."
The weekend began with a pair of guest chef dinners to benefit Piggy Bank, with 100 percent of the proceeds going to the cause.  The dinners bring together high-respected chefs, world-renowned winemakers and beverage experts to create a multi-course, interactive dining experience where guests have the opportunity to interact with the participating chefs.    The series is connected to Cochon555's annual rewards program which encompasses over 100+ restaurants participating nationwide.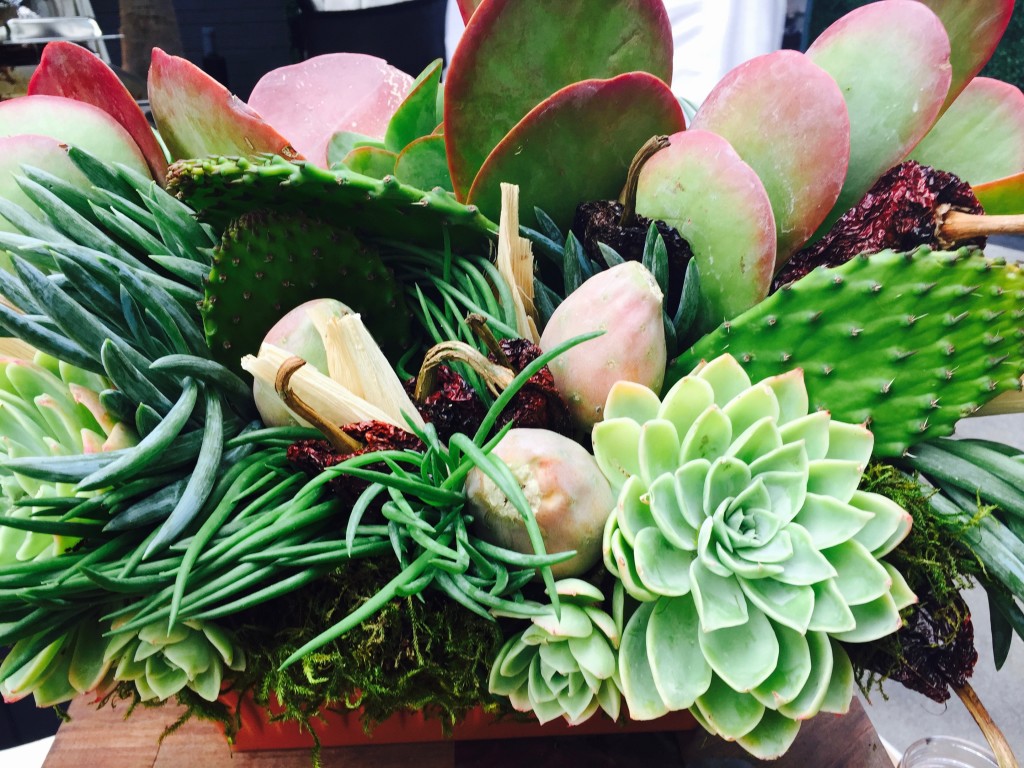 On Friday, the Late Night Asian Speakeasy featured an all-inclusive feast paying homage to Chinese, Sichuan, Korean, Thai and Japanese after-hour establishments known to inspire great kitchens across the country. 
Founder Brady Lowe has a long-term commitment to making Piggy Bank the charity recipient of the tour moving forward. The Cochon555 tour sources 275 donors each year in addition to hosting dinners and other activities. Piggy Bank seeks to build a future for family farming with the goal of changing the future of food and promoting long-term farming sustainability.
Piggy Bank provides funds to raise heritage breed pigs to be gifted to new farmers and culinary schools, assist new family farms with herd development and help existing farms challenged by disaster. For more details about Piggy Bank, please visit www.Piggy-Bank.org, or follow @piggybankorg on Twitter.
And the next day for breakfast, the barista created a final tribute: