tiato kitchen + garden Entwines California-Vietnamese Cuisine in Santa Monica
(Gerry Furth-Sides) Tiato Kitchen + Garden Venue tucked into a tree-filled Santa Monica neighborhood has no rival as the prettiest, liveliest garden indoor-outdoor eatery in the city – let alone as the city's biggest outside dining spaces.  Indoors, the soaring ceilings and polished concrete floors, reclaimed wood furniture and eco-friendly materials lend an organic sensibility and a contemporary sense of grandeur at the same time.
The menu designed for health-conscious west siders has  icons to clearly mark Vegetarian, Vegan, Dairy-free and Gluten-free.   The long list is dotted with ingredients like  kale, blueberries veggie smoothies and antioxidant-rich ingredients.  Many of the herbs used in the dishes are grown in TIATO's on-site garden.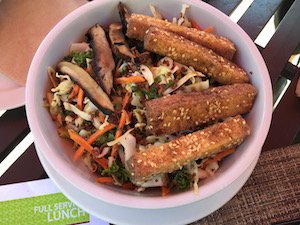 Other examples of the healthy mission come in dishes such as the Tiato Eggplant Tofu (vietnamese herbs, black bean sauce, kale cabbage salad with a choice of brown or white rice).  The kitchen uses tapioca in the tofu so it is Gluten-Free.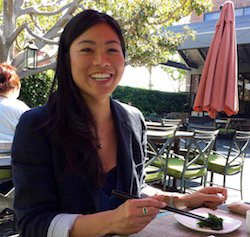 Engaging proprietor, Catherine An heads up Tiato.  The beautiful, youngest daughter of the An family originally created the restaurant's catering division that initially featured  Tiato as a private event space.  Tiato is the second generation wing of the House of An restaurant group built by family matriarch and executive chef Helene An. Sister Hannah recently opened District in West Hollywood recently).  (www.anfamily.com).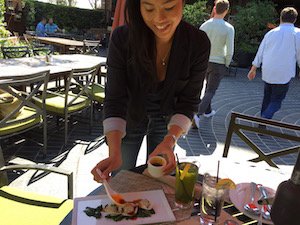 "I was born in the United States and grew up here with American food all around me," said An, as she spooned just the right amount of titan herb chili sauce on our Steamed Chicken Dumplings ($9) from the STARTER section of the menu.  "So I like to describe it as California-inspired Vietnamese and Asian-inspired California cuisine," she added.
It is fitting that Tiato  is named after the "tia to" Vietnamese perilla plant, which has a fresh flavor similar to the Japanese herb shiso.  It is one of Catherine's favorite. The fragrant leaf also symbolizes the cooking style of Executive Chef and family matriarch Helene An (Crustacean Restaurant).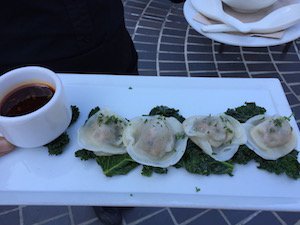 The almost translucent, handmade little dumpling packages on a bed of spinach are representative of classic royal cuisine.  It has a menu designation of  a "New" dish.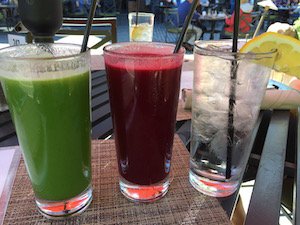 Sipping a Fresh Pressed Juice ($6.50) while we waited for our first course can turn out to be a welcome meal in itself.  I tried the Royal detox (beet, carrot and green apple) and my companion ordered the Green Goddess (broccoli, celery, green apple, honeydew and spinach).  We each liked our own better!  And I especially appreciated not only the rich beet and carrot flavors but not having to deal with preparing "colorful" beets that stain so easily.
The cafe offers draft and bottled beers, organic wines and a sake bar.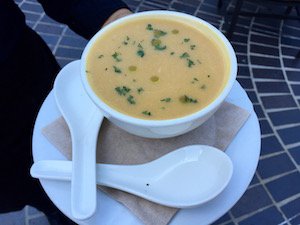 Soup of the day was a textured  Corn Soup (Sup Bap in Vietnamese). It differs from the Chinese version because it is less thick.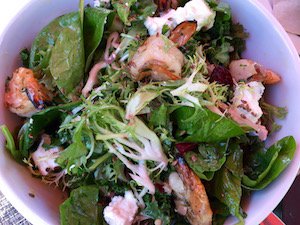 The local favorite is the multi-textured Antioxidant Spinach and Kale Salad ($13) shot through with an array of festive garden flavors and textures:  blueberries, beets, chèvre cheese, raisin, shallots, green apples, frisbee, flax seeds and each leaf- no more, no less- dressed in a pomegranate ginger dressing.  In this new format, kale became as revitalizing and silky as the first time I had it years ago.   Shrimp ($5) added a regal touch, seared on the outside, tender inside.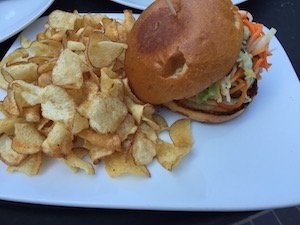 Fresh herbs abound in the outdoor garden and are used in the kitchen whenever possible. Meyer lemons, kaffir limes, blood oranges, and mulberries  grow seasonally.
In the SANDWICHES & BUNS a Chicken Banh Mi Burger ($12), combines east and west.  What makes it unique, aside from house-made potato chips and pillowy brioche bun, is that the mayo is spicy, the veggie slaw is pickled and the cilantro is grown in the garden.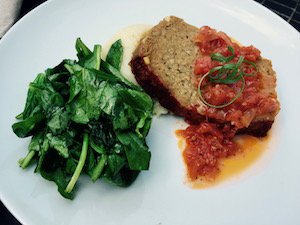 Turkey Meatloaf in a San Marzano Sauce with mashed potato and spinach represents in the LARGE BOWLS & PLATES section,  represents American "comfort food," laughed Catherine.  The  elevated seasoning made the dish special.  Like all dishes, it has to be prepared in 20 minutes or so to a hungry customer.  "We have a team that develops our menu and we know that it has to be executed relatively quickly but still maintain its integrity," she said.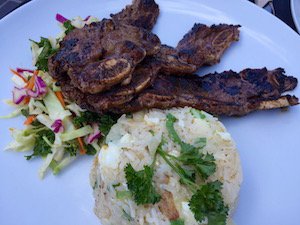 Asian flavors star in  "Mama's Kalbi" ($17), Korean-style short ribs with cabbage kale slaw and egg white fried rice.  The name, "Mama," affectionately refers to Helene.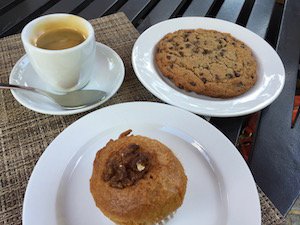 Espressos and warm over-sized chocolate cookies are favorite customer picks.  The Tiato muffin is usually sold out by the afternoon.
Chef Helene An is best known for creating the first Vietnamese  restaurant in San Francisco (Thanh Long, 1971), and Euro-Vietnamese Crustacean in Beverly Hills (1990).  An's story is representative of the era, and a most dramatic one.  She had led a privileged life in Vietnam, (Helene's paternal lineage held the royal title of Vice consul to the Vietnamese Emperor), but forced to flee Saigon with the new regime.
An first began  a new life in San Francisco with her young daughters, where she became a successful owner of first one and then more restaurants.  By the time chef Helene opened the showy Crustacean in Beverly Hills, she was so well known for her garlic noodles and roasted garlic crab, she prepared them in a  "secret" enclosed, interior kitchen."  Even Guy Fieri of Food Network could not coax the recipe from her.
"I'm lucky because I grew up in the restaurant business," Catherine told us. "Growing up, the kitchen was where my mother spent most of her time, and we all hung out in the kitchen."  She describes the Vietnamese dishes on the menu as the "comfort food" her mother cooked for the family.  Having her food compared to that of her mother and grandmother "is the highest compliment I can receive," she beamed.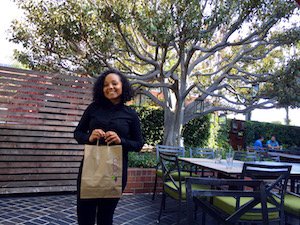 Tiato Market Garden Café, 2700 Colorado Avenue, Suite 190, Santa Monica, CA,  310.866.5228 to leave a message.  For hours and more information, please see, www.tiato.com