Top Ranked ALL-CLAD Cooks Ethnic Cuisine Like a Pro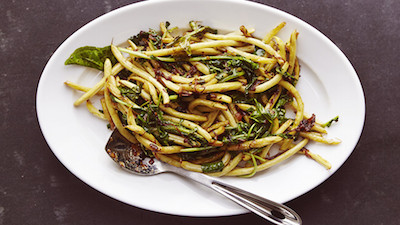 (Gerry Furth-Sides) The Seared Yellow Wax Beans "N" Greens dish above  was prepared in an All-Clad pot for good reason.  Los Angeles chefs Jon Shook and Vinny Dotolo are the owners of animal, Son of a Gun, Trois Mec, Petit Trois and Jon & Vinny's. They have been credited with innovating and changing the dining scene in Los Angeles through their critically acclaimed restaurants.
In trying to define what makes All-Clad equipment unique, it seems the best way is to say they are the "Mercedes-Benz" of kitchen ware.  Sleek, ingeniously designed and a dream to handle, they are also as durable and timeless no matter how much use they are given.   The clear set of instructions also explains how to care for them.  For example, when overcooking food that might stick to the bottom, the key is NOT to run the pot under cold water, which would be the national inclination and ruins this or any other equipment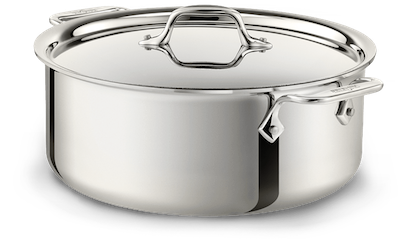 No longer do I have to watch with a sigh at TV chefs deftly handling the big silvery pans on the stove in front of them, especially when it is the admirable and fun professional crew on the "Chopped After-Hours." Wth All-Clad pans I now have my own. And they handle every bit as wonderfully as on TV. I am thrilled.
After cooking on TV for 22 years up and down the west coast (prepping in resort hotels many times), and being in the kitchens of top celebrity catering chefs in Los Angeles, I'd heard about and tried almost every brand of pots and pans on the market. With each new upscale brand,  I was more and more excited; and each time ended with throwing out the pans at some point. nd I must say that I still use my mom's aluminum crepe pan and iron skillets with no problem.
I started with a set of Le Creuset after I got married.  Le Creuset, I just learned on Jeopardy,  means "the cauldron" and the pans feels as heavy to pick up as their name indicates. I have spent hours cleaning them. And the local outlet American suburban salespeople have a French attitude beyond any Parisian about people who do not know how to clean pans.
Maybe All-Clad feels and acts sturdier because they were originally designed to meet the demands of professional chefs. The line earns its reputation for its exquisite lines, impeccable balance, innovative technology, meticulous hand-finishing and construction warranted to last a life time.
I was not really surprised to learn that the venerable Thomas Keller (French Laundry and Checkers here in Los Angeles long before that) has been using them in his restaurants for 25 years.
These days younger chefs such as Danny and Vinny are using them. And the flavor-packed recipes they've developed are as simple to use as the pans themselves.   And the video shows why the pans are also so versatile.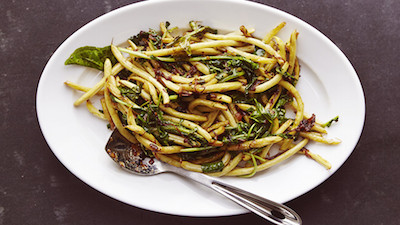 Seared Yellow Wax Beans "N" Greens
Ingredients
1/3 cup olive oil
3 garlic cloves, thinly sliced
3 shallots, thinly sliced
1 pound yellow wax beans, ends trimmed
1 1/2 teaspoons fresh thyme, finely chopped
1/2 teaspoon red pepper flakes
1 1/2 teaspoons kosher salt
2 tablespoons fresh lemon juice
2 cups packed baby arugula leaves or larger arugula leaves, tough stems trimmed
Directions
Heat the oil and garlic in a stainless skillet over medium heat until the garlic begins to become fragrant, about 1 minute. Add the shallots and beans and stir often until they are nicely browned, about 5 minutes (if they get dark too quickly, reduce the heat to medium-low).
Stir in the thyme, red pepper flakes, salt and then the lemon juice and cook until the beans are tender, 3 to 5 minutes. Stir in the arugula leaves, cooking until they are just wilted, about another 2 minutes. Serve hot, at room temperature, or cold.
Momofuku Chef David Chang offers this Korean cuisine-inspired dish.
Brussel Sprouts Kimchee Puree and Bacon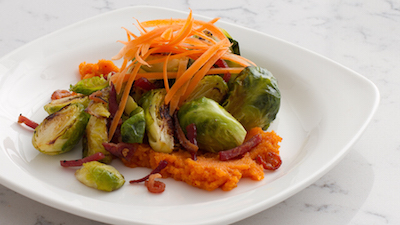 Serves 4
Ingredients
1 lb Brussels sprouts
1/4 lb smoky bacon preferably Benton's (if that is not available, buy the best that is available at your store) cut into 1″ to 1 1/2″ inch long batons.
1 cup Napa Cabbage Kimchi (see below), pureed
2 tablespoons unsalted butter
Kosher salt and freshly ground black pepper
1 cup julienned carrots
Directions
Preheat the oven to 400°F.
Remove and discard the loose outer leaves from the sprouts, and cut the sprouts in half through the core.
Put the bacon in a 12″ fry pan and cook over medium heat, turning occasionally until just about crisp, 5 minutes or so. With a slotted spoon, transfer the bacon to a paper towel-lined plate and reserve.
Drain off most of the fat from the pan and add the sprouts, cut side down in the same pan. Raise the heat to medium-high and sear until the sprouts begin to sizzle. Put the skillet in the oven and roast until the sprouts are deeply browned, 8 minutes or so, then shake the pan to redistribute them. Pull the pan from the oven when the sprouts are bright green and fairly tender (taste one to check), 10–15 minutes more.
Return the pan to the stovetop over medium heat and stir in the butter, bacon and salt and pepper to taste. Toss the sprouts to coat them.
Divide the kimchi among four shallow bowls. Use the back of a spoon to spread the kimchi out so it covers the bottom of the bowls. Divide the sprouts among the bowls, arranging them in a tidy pile on top of the kimchi. Garnish each with a pile of carrot julienne and serve.
Nappa Cabbage Kimchi
Makes 1 to 1 1/2 Quarts
Ingredients
1 small to medium head Napa cabbage, discolored or loose outer leaves discarded
2 tablespoons kosher or coarse sea salt
1/2 cup plus 2 tablespoons sugar
20 garlic cloves, minced
20 slices peeled fresh ginger, minced
1/4 cup kochukaru (Korean chile powder)
1/4 cup fish sauce
1/4 cup usukuchi (light soy sauce)
2 teaspoons jarred salted shrimp
1/2 cup 1-inch pieces scallions (greens and whites)
1/2 cup julienned carrots
Directions
Cut the cabbage lengthwise in half, then cut the halves crosswise into 1-inch-wide pieces. Toss the cabbage with the salt and 2 tablespoons of the sugar in a bowl. Let sit overnight in the refrigerator.
Combine the garlic, ginger, kochukaru, fish sauce, soy sauce, shrimp, and remaining 1/2 cup sugar in a large bowl. If it is very thick, add water 1/3 cup at a time until the brine is just thicker than a creamy salad dressing but no longer a sludge. Stir in the scallions and carrots.
Drain the cabbage and add it to the brine. Cover and refrigerate. Though the kimchi will be tasty in 24 hours, it will be better in a week and at its prime in 2 weeks. It will still be good for another couple week after that, though it will grow incrementally stronger and funkier.
History
Born in the U.S. steel age in 1967, All- Clad Metals began as a small metallurgical company that specialized in formulating bonded metals for a variety of industries. Company founder, John Ulam, a brilliant metallurgist, realized the combination of different metals created composites that yielded superior results.   His competency is without question.  He was awarded more than 50 U.S. patents for bonded metals and secured a contract with the U.S. Mint to make dimes, quarters and half dollars. Ulam was later instrumental in the nation's conversion from solid silver coins to bonded layered metals used in coins today.
After years of perfecting the bonding process, Ulam established All-Clad Metalcrafters in 1971, and began producing professional quality bonded cookware for working chefs and avid home cooks. The brand flourished as early adopters realized the cookware's extraordinary properties and exemplary cooking performance.
Today, All-Clad cookware is still handcrafted in Canonsburg, Pennsylvania, with American-made steel the same way it was four decades ago. It is still widely sought after by the world's top chefs and passionate home cooks.