The "Eyes" Have it for Tuk Tuk, Chao Krung, Chadaka Whole Fish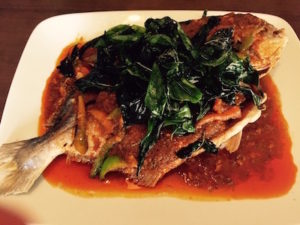 (Gerry Furth-Sides) "Customers have always said they don't want to look at the eyes and tail! " laughed Tuk Tuk Thai Restaurant owner, Katy, whose whole fish with red chili sauce ranks among the best dishes in the city, period.   "So we never featured them even though whole fish is a popular dish in other parts of the world.
Her  Seafood Specialty Menu star is the Pla Rad Prik, a crisped whole pomfret fish with spicy curry sauce, topped with fresh chili and crispy Thai basil. The flavors dance through this dish.
Tuk Tuk Thai (www.tuktukthaila.com) 8875 W. Pico Blvd., Los Angeles, Ca  90035, (310) 860-1872.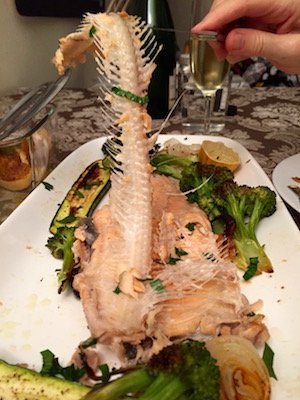 How things are happily changing.  Whole fish is considered a good luck dish for Asian holidays.  It is also an easy dish to eat since the fish just breaks apart and the major bone is left on the table.
In many Southeast Asian cuisines  it usually arrives with a spicy ginger chile sauce, just as it does at Tuk Tuk and at sister restaurant, Chao Krung.
The option of two different sauces brings out different flavors of the extra-crispy-crunchy fish  at Katy's family restaurant, Chao Krung on Fairfax.  The more dense Red Chili Sauce has heat and a hint of sweetness in it; the lighter, clear sauce has a kick to it.  Katy's younger sister (by a year), Amanda oversees the kitchen now that "mom" has hung up her kitchen apron — for most of the time anyway.
The glorious, extra crispy skin on the Talapia proves Amanda's expertise at updating Thai classics, just she does in her California-inspired Burbank restaurant,  Chadaka.  The  same whole talapia in chili paste spices is a popular dish on Amanda's  menu
Chadaka Thai Restaurant, 310 North San Fernando Blvd, Burbank, CA 91502, (818) 848-8520.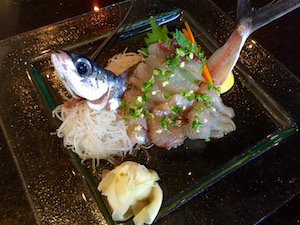 For diners wishing a smaller version of a whole The "Flying Fish" is a popular whole fish item in many Japanese sushi restaurants.  KURA Executive Chef Daniel Son does his take with white fish from his Thursday "mystery box," floating it on a bed of daikon radish curl waves.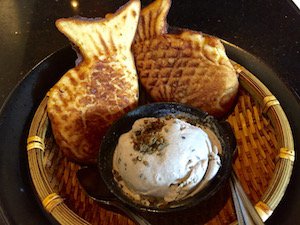 There are also whole fish – made of dough and bean paste – in the popular street food dessert accompanied by ice cream!
Kura – www.kura-sushi.com, 8162 Sunset Blvd., Los Angeles, CA  90046 (323) 656-6347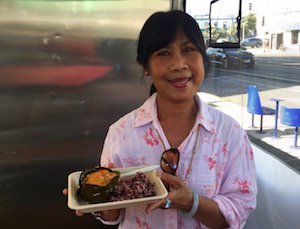 If you need a partner to eat a whole fish here is an extraordinary individual fish dish to try.  The bamboo-wrapped whole fish by Chao Krung Supta Kontee, at the Chang Sensory Trail event.  It was superb even the next day reheated.