"Must-Try" Off-the Menu Famous Jordanian Classics at Jo Jo's Mediterranean in Tarzana
(Gerry Furth-Sides) The "insider" tip for new   Jo Jo's Mediterranean Grill is that the mysterious, unidentified  image on the menu turns out to be the famous, colossal ruins in Baalbek (Lebanon) to introduce Lebanese favorites featured on Jordanian owner's Malik Haddad's menu.
Most commonly billed Mediterranean to encompass even more than growing Middle Eastern popularity,  the more academically correct term is Levantine Cuisine which covers Jordan, Palestine, Syria and Lebanon and Jordan – all  influenced by the powerful, far-reaching Ottoman Empire umbrella when Turkey reigned over the area.  For instance, Malik told us that Lebanese spices are used in the famous Jordanian specials listed below.  To update the menu  even more to the lighter California palate, vegetable oil is always substituted for butter in recipes that don't require olive oil for which Jordan is famous.
Jo Jo's on Facebook or the sign outside is the only  "insider's" way to know when special Jordanian dishes will be offered.  These include famous Mansaf, Maklouba (M'lloukhiya), and M'sakhan.  Mansaf, a traditional Levantine dish made of stuffed lamb cooked in a sauce of fermented dried yogurt and served with rice or bulgur.  It is considered the national dish of Jordan and a cultural symbol for generosity.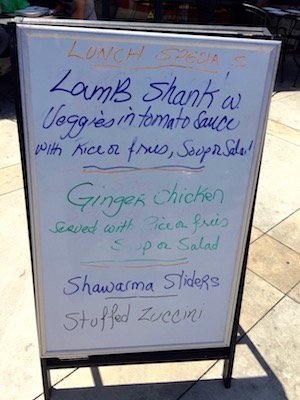 Lamb Shanks are made in the traditional way and the fermented items have an uncommon taste to the uninitiated  "so some people  ask  if the meat is spoiled," laughs Malik.  It's all part of the fun and the sense of community that Malik creates.  In the outside back patio at the edge of the (free) parking lot, diners linger over a meal even in the hot Tarzana sun.
There is something for everyone on the menu.  Common, popular everyday Middle Eastern snacks start the Vegetarian Appetizer section with addictive  balls of deeply textured Falafel, rippled with deep-fried crunch on the outside, creamy on the inside with blended fava beans and chick peas, and served with tahini sauce, tomatoes and pickles.  (The plate of 5 pieces is $5.95 or 8 pieces for $7.95.
Hummus (chick peas blended with tahini, lemon, garlic, deep) uses Jordanian seasonings, starting with the Za'atar, a mixture of sesame seeds and thyme with oregano, sage or sumac often added to the mix.  Pita is often just rolled into the mixture and eaten alone.
Baba Ghannouj is another favorite (eggplant charred and blended with tahini sauce into a spread at$5.50 a plate.).  The eggplant is fire-roasted in the performance kitchen.  Additional small bite dishes to try include creamy, homemade Labne yogurt, the Vegetarian Combo ($10.95) with Hummus, Tabbouli, vegetarian grape leaves or Dolmas, Falafel and Baba Ghannouj.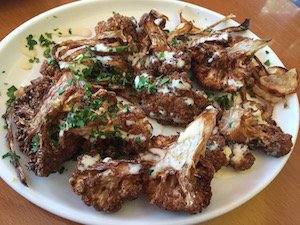 Cauliflower ($5.50), simply sautéed and topped with tahini sauce and parsley makes a rich, satisfying dish because of the beautiful seasoning ($5.50), only one of  the list of 12 vegetarian starters.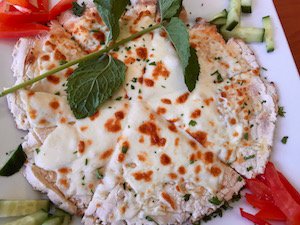 Stuffed, pillowy Pita Sandwiches ($6 to $8, big enough to share) arrive as multi-textured layers.  Here melted cheese and torn mint with a toss of julienne cucumbers and fresh tomato makes a simple piece of inviting Pita inviting into a light meal.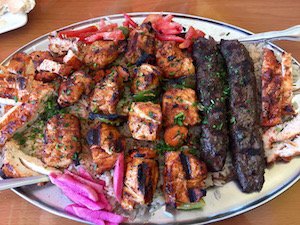 The Shish Combo ($17.95) gives a wonderful introduction to the shish kabob, shish tarok and shish kata.  The meat is so fresh and of quality that only parsley, garlic and green pepper are added to it.
Fattoush, the fresh, crispy romain lettuce with tomato, cucumber, parsley, also comes under the SALAD heading ($6.95, to which a meat or chicken shawarma can be added for an extra $4.99.) Other salads include a Greek Salad,  Spinach Feta and Housemade Yogurt & Cucumber topped by dry mint.
Daily lunch specials ($9.95 and $10.95 for Shish Kabob) are served with a choice of rice or fries, soup or salad, hummus and for $2 extra a choice of grilled veggies or any salad on the menu.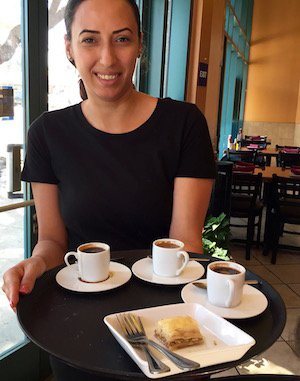 The focus on the new Jojo's Mediterranean Grill is savory so Malik sources desserts like Baklava (2 pieces for $2.99) from the best nearby bakery.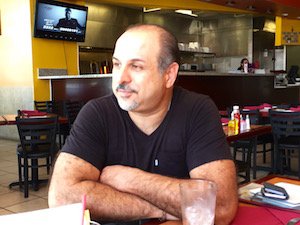 Named after the family son, Jo'Jo's Mediterranean Grill as a family-driven corner restaurant is strong in both authentic, homemade food and warm Middle Eastern hospitality. Synchronisticity places it on the site of a Panda Express, a company also started by an immigrant entrepreneur,  Chinese-born American Andrew Cherng, who did very well for himself.
Irrepressible owner and fit Martial Artist, Malik is by profession an electrical engineer so he is able "to use systems" to streamline his operation and have time to get to know customers.  Well-trained by a master chef who once cooked for the Royal Family that Malik met while living in Detroit, he nevertheless laughs at his schedule, "I can't keep up with myself."   At that point I lose track of the conversation because  I was so stunned at Malik living in the 90's depressed Detroit area and happily making a terrific go of it.  In his words, "I thought it was just great – except for not having the Mediterranean (California) climate."
Jojo's Mediterranean Grill, 18507 Ventura Blvd (parking lot entrance on Reseda); (818) 654-5886. http://www.jojosgrill.com/.