TRY TURKISH FOOD AT THE KITCHEN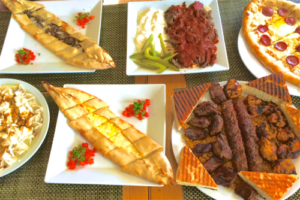 Want to go out for Thai food? Tacos?  Pizza?  Sure. For Turkish food? What's that?
Turkish cuisine is just not known in Los Angeles, even though Turkish ingredients are easy to get–I even found pomegranate vinegar from Izmir at my neighborhood 99 Cents Only Store. Izmir is Turkey's third largest city.
To put customers at ease, The Kitchen @ Westwood calls its food Mediterranean.  And Turkey does have a long Mediterranean coast. There is, however, a sign outside that says it  offers Turkish cuisine–along with pastas and pizza.