Tuk Tuk Thai Continues a Los Angeles Legacy
(Gerry Furth-Sides) All the fun – and the theatrics–  of a sensual and rich ancient Thai heritage founded in a country of abundant natural resources shine and contrast in Katy Noochlaor's Tuk Tuk Thai Restaurant. The feeling is substantial and lush, yet the whimsy that runs through all Thai life (everyone, but everyone had a short, playful nickname, for example) runs deep.
The name itself is a smile. Tuk-tuks are a fun name to say out loud and they are motorized, three-wheeled little vehicles that transport one or two people and are notoriously practical and noisy and a little-unsteady. The streets of Bangkok are filled with them.
Add to this the energy of the former, very popular Indian restaurant, Raja, to make it a special place in the neighborhood.
Katy beams when she talks growing up in her family's restaurant, Chao Krung, across from CBS on Fairfax Ave – the second Thai restaurant in Los Angeles. There she learned the classics and when she opened Tuk Tuk at the turn of the century, she made her menu more contemporary and took along her aunt, Taraporn Ratanamanee as chef.
Green curry remains so popular a classic it cannot be taken off the menu. It's dish anyone frequenting a Thai restaurant knows and loves, possibly because green is a color associated with fresh, light, spring-season foods. and here the kitchen sources fresh Thai eggplants rather than Italian to remain authentic. There is a cautionary note on the Curry menu labeling the dish served with jasmine or brown rice and a protein choice, as "traditionally spicy."
Papaya salad was the signature dish that made Tuk Tuk Thai's reputation when it opened. Katy's staff encourages diners to try new dishes on the continually evolving menu such standbys as Pad Thai,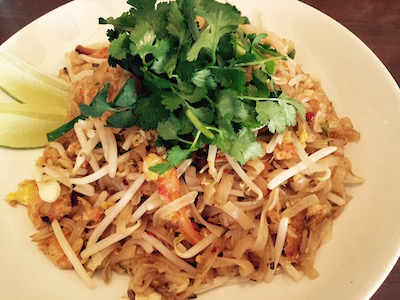 rice noodle dishes and Chicken Satay remain on the menu.. (unlike another Thai chef who insists his favorite customers not eat These days a salad can be more complex and pad thai have been the signature dishes since Tuk Tuk opened.
Phia Goong is a tumble of shrimp cooked on the grill with a hint of char and salad greens, with grape tomatoes and green onions woven throughout it.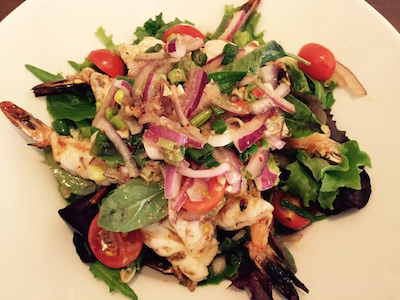 Every Asian culture has their own version of egg rolls but what makes Thai egg rolls stand out over is the sauce and at Tuk Tuk, the crab filling. Five Crab Egg Rolls really more like light, spring rolls, sit on a platter, each cylinder plumped up with minced crab, chicken, carrot, cabbage and black (shitake) mushrooms, then flash-fried to maintain their lightness. Still the classic shines through in its garnish. The Crab Egg Rolls are nestled into a bed of mint and greens topped with carrot shavings and a plum chili sauce.
Thai Curry Dumplings bursting with scallop and shrimp bathe in coconut and green curry paste the party orange in this dish arriving in pepper rings, along with pops of color in diced pepper and scallions.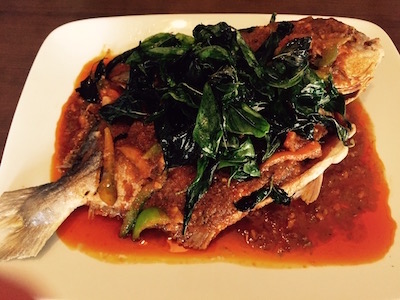 The star of Seafood Specialty Menu show is the Pla Rad Prik, crisped whole pomfret fish with spicy curry sauce, topped with fresh chili and crispy Thai basil. The flavors dance through this dish.
Complementing this sdish is Pad Ped Talay (literally translating into spicy-hot, stir-fried seafood. It is the entire ocean and includes shrimp, scallop, calamari and white fish sautéed with fresh chili, ginger, lime leaf, green peppercorn and Thai basil. The dish is served with a bowl of rice.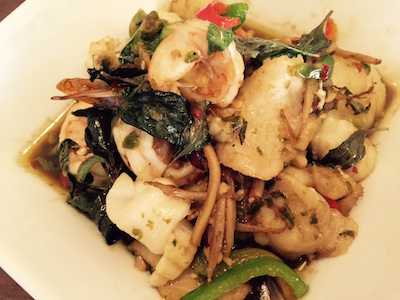 Thai basil gives the dishes a distinct, more pungent flavor and stronger aroma than other basils. It is recognizable by its darker color.
Guay Teow Pu Crab Noodles are simple enough stir-fried rice noodles with crabmeat, egg, fresh chili and bean sprouts, delicately season and spicy. Yet the complementary flavors are so well balanced it satisfies
And the red paste base and crushed peanuts with mint cap makes the housemade coconut ice cream into a rich sundae.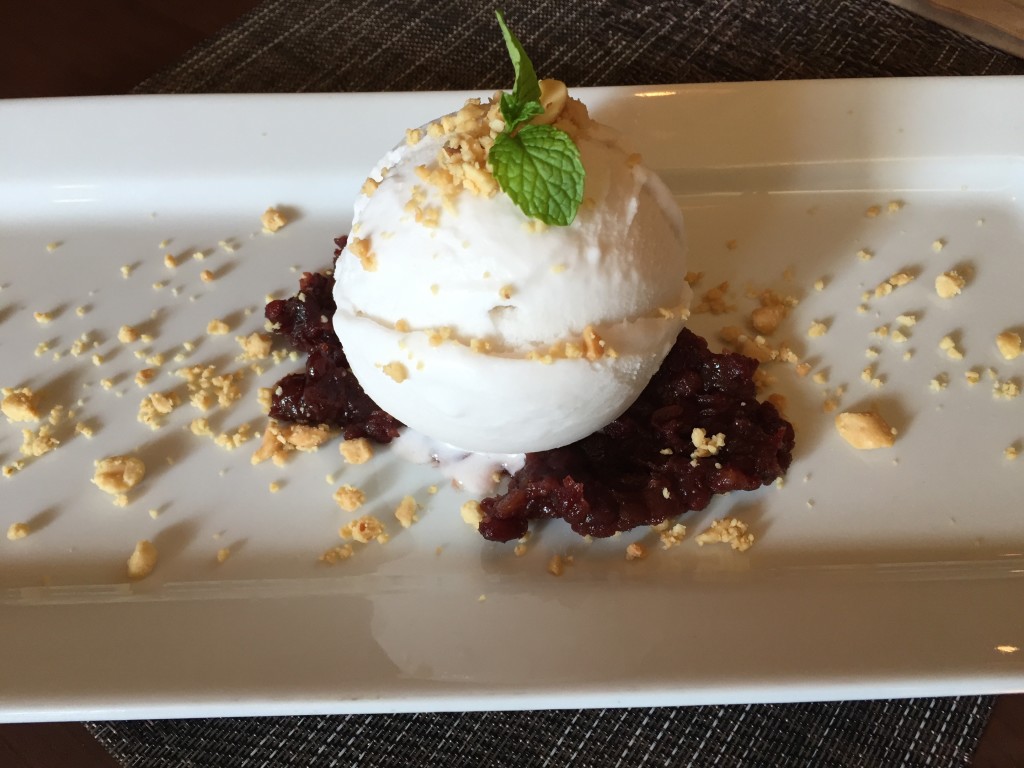 "The kitchen team headed by my family, means the recipes are the authentic ones our family passed down. And we can continually play with the flavors to add our own updated twist," Katy beams.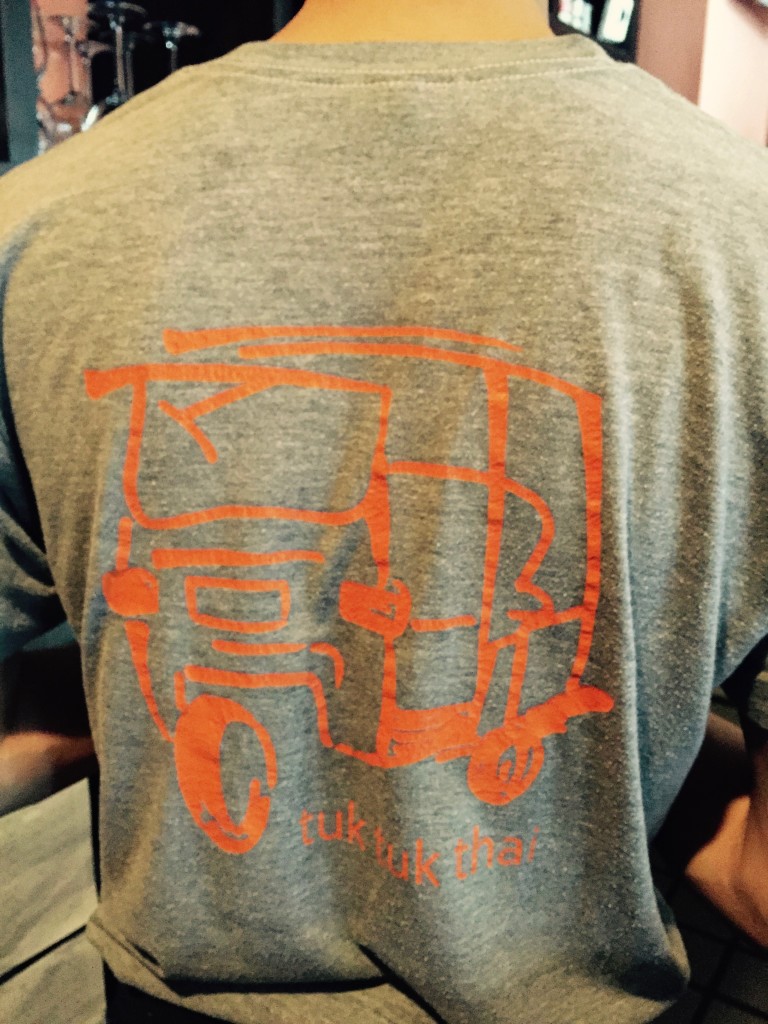 Tuk Tuk Thai (www.tuktukthaila.com) 8875 W. Pico Blvd., Los Angeles, Ca  90035, (310) 860-1872.