Wanderlust Presents "Find Your True Fork" Dinner Series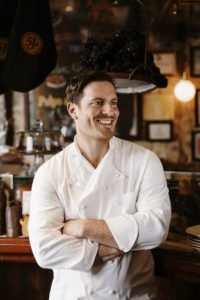 Chef-Restaurateur  Seamus Mullen 
(Gerry Furth-Sides. All photos courtesy of Rodales' Organic Life) Rodale's Organic Life has partnered with Wanderlust Hollywood to present Find Your True Fork dinner series. The program showcases healthy, sustainable and ethical food choices through the lens of acclaimed, influential chefs.
Guests will explore widely discussed eating lifestyles: Sustainable, Vegan, Paleo, Raw, Local and Ayurveda.   The experience offers insight into why people choose them and "how to find the true fork that suits you."
Each of the events in the six-part series spotlights one chef's unique approach to ethical, mindful eating.  A delicious multi-course meal will be accompanied by cocktails and conversation at Wanderlust Hollywood.
The Find Your True Fork  series is also a peek inside the upcoming book Wanderlust: Find Your True Fork, from author and creator of the wildly popular Wanderlust Festivals Jeff Krasno.  In the past we have highly recommended book selections published by Rodale's Organic Life on this website, and we look forward to this one.
The dinners take place at Wanderlust Hollywood (1357 N. Highland Avenue, Los Angeles) and begin at 7pm. Tickets are $80/dinner or attend all six for $360. Purchase tickets here
Find Your True Fork Dinner Series Program
Thursday, May 18– Anya Fernald presents Sustainable
Anya Fernald is the Co-Founder and CEO of Belcampo, America's premier eco-conscious source for carnivores. Belcampo's organic and Animal Welfare Approved farm and slaughterhouse sell meat via its restaurants and butcher shops throughout California. Anya started her career as a chef, a baker, and a cheesemaker, but left the kitchen behind to focus on building businesses that grow and sell great food. Anya has been a regular judge on the Food Network's Iron Chef since 2009.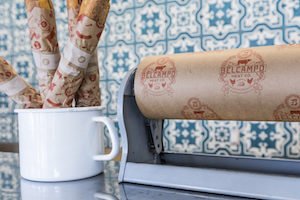 Sunday, June 4 – Jason Wrobel presents Vegan
Jason Wrobel is a world-renowned leader in organic raw vegan cuisine, culinary education and epicurean entertainment.  With  a focus on radical simplicity and artful presentation, he imbues his ecstatic raw food creations with the energy of fresh, local, organic produce and the healing properties of raw superfoods, which have rendered his dishes hands-down favorites among celebrity clients, and regular folk alike.
Thursday, June29 – Seamus Mullen presents Paleo
Seamus Mullen is an award-winning chef, restaurateur and author known for his inventive yet approachable Spanish cuisine. Seamus opened his first solo restaurant Tertulia in Manhattan in 2011, which was awarded two stars from The New York Times and was a finalist for the James Beard Foundation Award for Best New Restaurant. In 2013, he opened El Colmado, a Spanish tapas and wine bar, a food hall in New York's Hell's Kitchen. Seamus is also the creator of the Wanderlust Cafe.
Thursday, July 13 – Matthew Kenney presents Raw
Matthew Kenney graduated from the French Culinary Institute and, after working in upscale New York City kitchens, opened a number of his own highly regarded restaurants throughout the East Coast. He has earned several awards, including being named one of America's Best New Chefs by Food and Wine Magazine and was twice nominated as a Rising Star Chef in America by the James Beard Foundation. Matthew operates culinary academies in Venice, CA; Belfast, ME; and Miami, FL in addition to an online academy.
Thursday, July 27 – Kevin Callaghan presents Local
Kevin Callaghan is one of the nation's leading advocates of sustainable food and local farms and the founder of Acme Food & Beverage Co. in Carrboro, NC. His work maintains deep connections to the traditional foodways at the heart of the honest food of the American South. For the second year in a row, Kevin has been named the Executive Chef of the Wanderlust Festivals. This year will also mark the opening of his second restaurant.
 Thursday, August 17- Meredith Klein presenting Ayurveda
Meredith Klein is a Los Angeles-based private chef, founder of Pranaful as well as a mindfulness teacher who is passionate about helping individuals experience radical transformation through the practices of meditation and healthy, mindful eating. She creates internationally-inspired, Ayurvedically-influenced organic cuisine, and offers nourishment education workshops and consultations and one-on-one mindfulness-based life coaching.
Find Your True Fork sponsors include Lundberg Family Farms, NeoCell and Organic India.
RodalesOrganicLife.com is the leading online resource for authoritative news and information on healthy, happy living in harmony with the planet. We deliver inspiration, advice and information that helps our 2 million + readers live mindfully with intention and we feature popular content channels including Food, Home, Garden and Wellbeing.