Who is Alain Cohen and Why he offers Kosher – with no apologies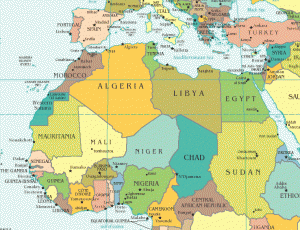 (Gerry Furth-Sides) Chef-owner Alain Cohen  understands that most people think of kosher food as bland and without imagination – that's because they're eating the Eastern European version.  Alain: I consider my treasured Tunisian recipes  as a reflection of my passion for delicious food that's kosher, and definitely kosher "with no apologies."
And that includes the recipes he developed over time for Shabbat, catered parties and his restaurant menus.  And he has experienced cuisines from all over the world, including the sophisticated foods of Paris where he grew up.
The history behind his statement is the  little-known secret is that Tunisia was home to a thriving Jewish community since the 12 century BC. Old Testament documentation reveals that the fishing tribe of Zebulon fished the coral in the area to make the blue color of their religious sacraments, and Jewish graves have been uncovered in the ruins of Carthage.  The Jews brought their food with them from biblical Israel and integrated their dishes with the native Berber cuisine and all the subsequent strata that form modern Tunisian cuisine.
However, with the departure of the French leading to Arab ruler ship in the early sixties, following the Algerian war, Tunisian Jews embarked upon yet another Odyssey. They mainly went to France as a whole community and replanted their roots in Paris, Marseille and Nice.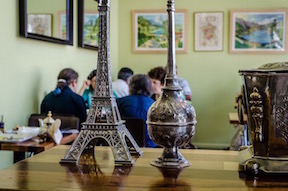 Alain Cohen's family was among them. His story is contemporary, timeless and brings with it to Los Angeles a history of splendid food.
I was born in Tunisia. My family traces their roots back to the destruction of the first temple of Jerusalem in 586 AD. In 1961 my family was part of the exodus that moved to Paris. We brought a suitcase and a few possessions with us. That suitcase was our table the first night we arrived and moved into our apartment.
My dad opened a little place that served drinks and kemia (small appetizers, a little salty, to accompany light spirits).  I offer them today as an amuse bouche.
My mom did the cooking – and I remember everyone looking at me in the metro when I carried hampers of food from home to the restaurant after school!  He kept moving into bigger and bigger places until our family owned the landmark kosher Tunisian restaurant, Les Ailes ("the Wings") in 1973. I started working there when I was nine years old.   When I was a teen-ager I adapted the restaurant to more contemporary French Tunisian fusion cuisine.  Les Ailes remained the Still a hub of the Tunisian Jewish community of Paris, and on the must-visit foodie list until it closed a couple of years ago.
But by 1991 I had crossed the Atlantic to establish roots in Los Angeles, bringing with me all the memories and the recipes of my family. In love with the movies, Iarrived in Hollywood to attend film school, but even there I began cooking for more and more new friends until I knew I had to rejoin the culinary world full time.   After a series of learning jobs, ranging from catering at the prolific Raleigh Studios to learning from Nancy Silverton at the legendary LaBakery, the magic of using only the finest and freshest ingredients to prepare truly artisanal sandwiches.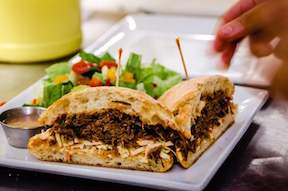 In answer to the call for kosher catering and in-house dining, I then created a café and catering service that now serves hospitals, airports, hotels, institutions, schools and even the celebrity parties catered by Wolfgang Puck and Patina.
During the whole time, I cooked for friends and family in numbers that grew and grew and grew until I began cooking professionally again – first with sandwiches and then provisions, and now full service with a catering and a national commissary operation at Got Kosher? Restaurant and Bakery.  Again, the numbers are growing and growing as we prepare for our second expansion.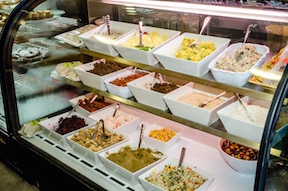 (www.gotkosher.com)8914 W. Pico Blvd. (1 blk W of Robertson),Los Angeles, CA 90035, 310.858.1920