Wondrous New Wines from Ancient Valpolicella Terroirs
(Gerry Furth-Sides) Icy glaciers, serene cloudless skies and a sense of the deep find their way into the  wondrous new wines from the ancient regions of Valpolicella and Lugana  in northern Italy.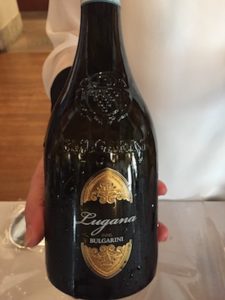 A cavernous, shadowy urban hall was the scene of a recent wine tasting in Los Angeles.  But the wines carried guests away to Tuscany after the first sip, creating instant aficianados.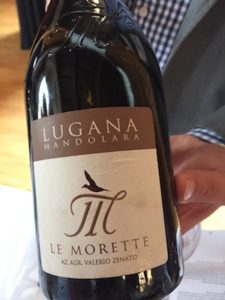 Valpolicella the viticultural zone of the province of Verona, east of Lake Garda, known affectionately as the "pearl of Verona."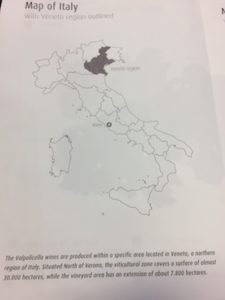 Nature bestowed such gifts upon  the rugged landscape with its  complex geographic and historic origins, filled with natural beauties and artistic value.  The wines are the very essence of the glaciers, lakes, mountains and bold terrain.
With any new wine, let alone a more rare one, it is a challenge to spread the word in the competitive United States market, especially since Valpolicella is a blended wine  (currently 17% of exported Valpolicella DOC reaches the U.S.)  to make matters more interesting in a typically Italian way.
So we were were lucky to find ourselves at both a Walk-Around Tasting and a luncheon recently as The Consorzios of Valpolicella and of Lugana  presented their wines from the regions of Valpolicella and Lugana.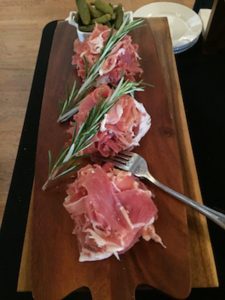 With  beautifully laid out platters of classic Italian antipasti in the background, each representative was so pleased to provide a background to their wines, along with a flight of tastings.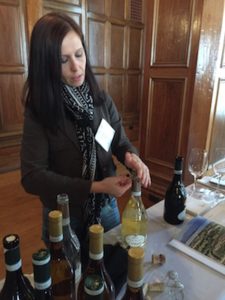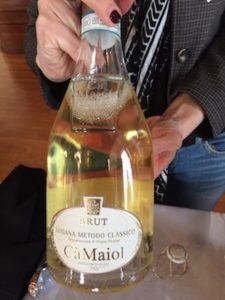 The corvina grape must make up to 40 to 70 percent of the mix, with rondinella 20 to 40 percent and molinara 5 to 25 percent.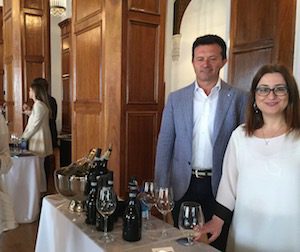 There is a lot of room for variation because up to 15 percent of the blend can include barbera, sangiovese, negrara or rossignola, while up to 5 percent can come from other red grapes.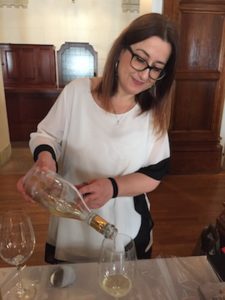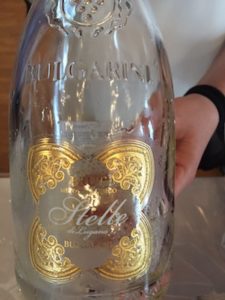 Valpolicella producers also began to use techniques of concentrating and darkening the wines as taste changed over the years, often with grapes (semi-dried Ripasso method) used for Amarone.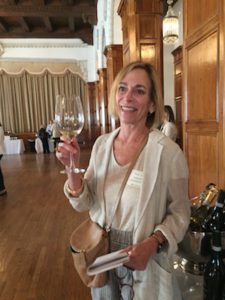 The results were bigger, richer wines, somewhere between classic Valpolicellas and Amarones.
The "basic" Lugana is the production engine for the entire brand, its cornerstone, the quality measure for the entire area: its driving force covers almost 90% of the PDO.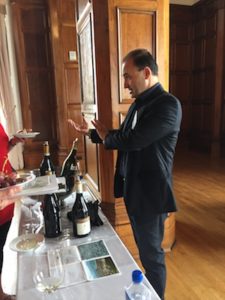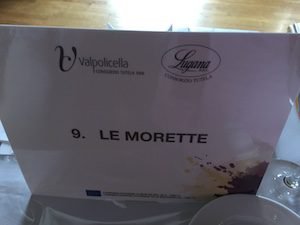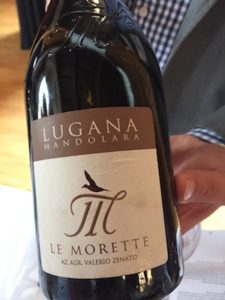 It is a pale straw like yellow with greenish reflections; the delicate bouquet, just perceptible, offers a mixed floral sensation with a note of almond; the taste is gentle, stylized, well defined, tense and tasty.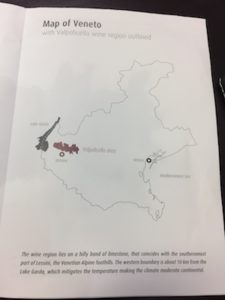 The hilly agricultural and marble-quarrying region of small holdings north of the Adige is famous for wine production – which accounts for its incredibly refined but considerable minerality.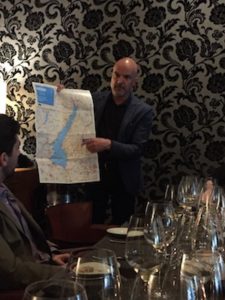 Valpolicella may not be as well known a name, but this appellation ranks just after Chiani  in total Italian Denominazione di Origine Controllata (DOC) wine production.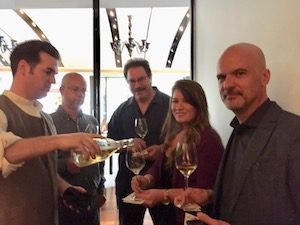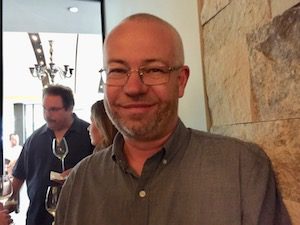 The practice of  winemaking in the region has surprisingly existed since at least the time of the ancient Greeks.  Valpolicella achieved DOC status in 1968, adding dessert wines in 2009.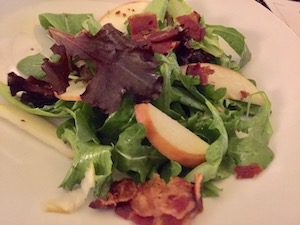 At the pairing luncheon, the Drago Centro kitchen prepared a luncheon.  First up was a pink lady apple salad with smoked bacon, candied walnuts, mixed greens, champagne vinaigrette.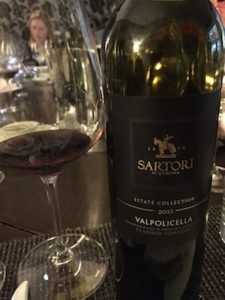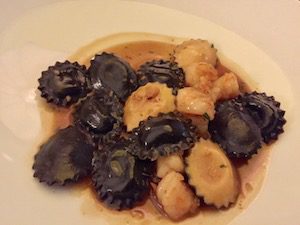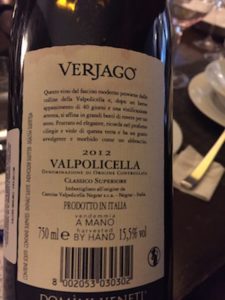 Black & white shrimp ravioli, lemon zest and white wine comprised the second course.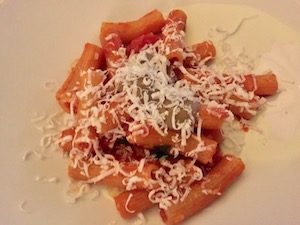 Notes in this wine equally brought out the best in the alternate choice of rigatoni all norma, tomatoes, eggplant ricotta salata.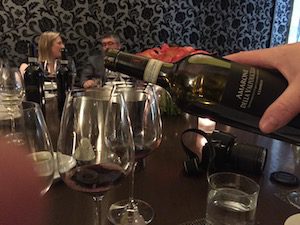 The red is typically made from three grape varieties: Corvina Veronese, Rondinella, and Molinara. Most basic Valpolicellas are light, fragrant table wines produced in a  novello style, similar to Beaujolais nouveau, released only a few weeks after harvest.   It stands up to the most substantial pasta dishes.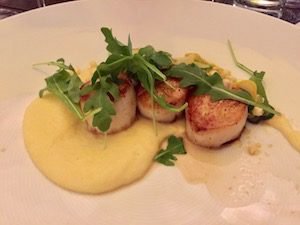 Diver scallops, soft polenta, zucchini, corn and arugula for the third course.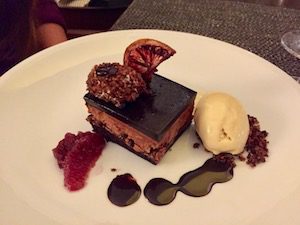 Desserts were a choice of chocolate mousse cake, blood orange, marsala zabaglione and creme fraiche mousse. (above) or pistachio tart, raspberry sorbet, lychee, vanilla creme (below)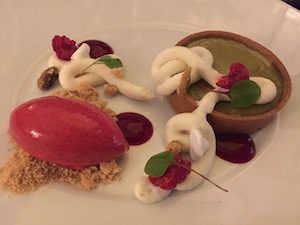 The wineries were limited to 17 in Los Angeles and 14 in San Francisco to keep the focus.  Different wineries were featured in individual appointments and a special wine pairing luncheon.
With interest in "green" winemaking taking root in California in recent years, the Valpolicella Consorzio also sought to educate their audiences about the ambitious "RRR" sustainability project.
Olga Bussinello, Director of the Consorzio Tutela Vini Valpolicella DOC, talked about "preserve and respect in terms of pioneering sustainability policies such as RRR (Reduce, Respect, and Retrench) Certification."
"The popularity of Lugana is fairly recent and is growing rapidly, especially in export countries like the U.S.," said Carlo Veronese, Director of Consorzio Tutela Vini Lugana. "The California tasting events were a great success for Lugana and its producers, who spent quality time educating the trade and media on our less-well-known wine region."