WORLD TAPAS DAY celebration at SLS Hotel in Los Angeles
SLS Hotel in Los Angeles celebrated WORLD TAPAS DAY, October 22, in style with traditional and modern "small bites," La Rioja wines and a "Cortador de Jamon" carving the famous Jamon Iberico.  The best news is that the tapas continue to be available on the Bazaar menu.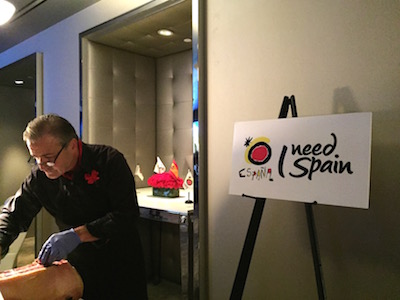 The scene was fittingly the American home of world-famous Spanish Chef and restaurateur, José Andrés, not only often credited with bringing the small plates concept to the U.S. but considered "perhaps the prime example of modern tapas."  Tapas include Paella, Cotton Candy with Avocado, Iberia Ham, Pulpo a La Galega or grilled Octopus, Tortilla Espanola New Way, Croqueta de Pollo, Philly Cheesesteak, Flan Eggs and Pan Con Chocolate Eggs.  The delectable Cotton Candy with Foie Gras is shown below, prepared on site.  The small cube of Foie Gras is surrounded by the clouds of Foie Gras essence.
Below are the liquid olives, the jamon and a crusty bread.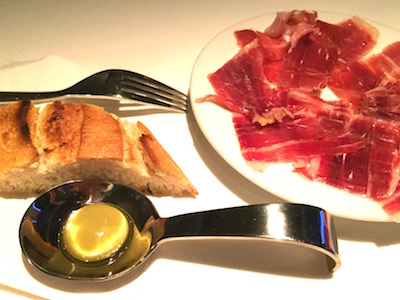 The liquid olives with their flavors as vibrant as any Spanish color.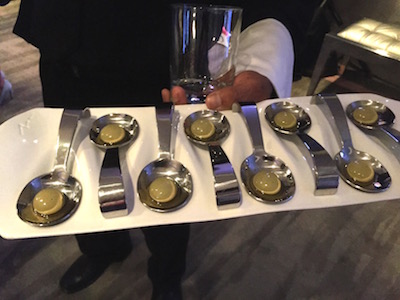 Bazaar remains a rare successful tapas restaurant in America, although the "small plate" tapas concept took root long ago and continues to grow. Bazaar also currently ranks among "restaurant row" neighbor luminaries as Morton's Steakhouse and Lawry's the Prime Rib, becoming legendary after a succession of failed places in the same spot.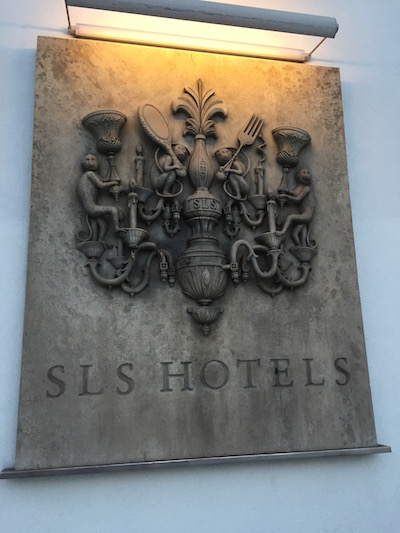 It is an integral part of the quirky story of tapas, from a humble origin in the regional inns of historic Spain, to evolving into a key element in many international cuisines — think Chinese dim sum; Korean banchan; Middle Eastern mezze; and Italian Cicheti. Celebrated Spanish restaurateur Ferran Adrià, calls tapas "the most exportable gastronomic concept we have."
In some regions tapas are called pintxos referring to the pincho or toothpick that runs through them.   So at the more modest size restaurants in Los Angeles, Joe Miller's Bar Pintxo in Santa Monica also features daily changing "small tastes" displayed in a glass case at the dining bar.
Tapas has also come to be a symbol of Spanish culture – a social lifestyle of shared eating and drinking, along with a healthy Mediterranean diet featuring locale flavor and quality. Spain remains uniquely vibrant, glorious and sophisticated in the culinary world. It is recognized as a leader in the global culinary landscape (171 restaurants have at least one Michelin star; 21 restaurants have two and 8 have three stars…and Spain's El Celler de Can Roca was named the World's Best Restaurant in 2015. In 2015 Spain led all countries with seven restaurants named among the 50 best in the world.
TAPAS refers to a wide variety of hot or cold appetizers generally in Spanish cuisine. In addition to a culinary experience, the serving of tapas is an integral part of the Spanish lifestyle and culture – one can eat "en libertad" – a freedom to eat and socialize any time of day. Many diners wander from place to place, "Going Tapas" sharing plates, while 'eating standing up."
Legend says this culinary specialty was first enjoyed in the 17th century as a snack for field workers during the long hours between breakfast and lunchtime. Others believe it began in the 19th century when travelers in Spain – mainly in the Andalusia region – stopped at inns along the road. Since few innkeepers could write and few travelers could read, the inns offered guests a sample of their dishes on a small pot cover or tapa.   The original tapas were slices of bread or meat which drinkers in taverns used to cover their glasses between sips. Bartenders wisely used a salty meat which activated thirst and increased drink sales.