You're a Big Fat American Pig, and I Love You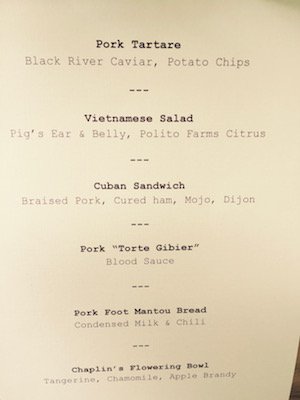 (Gerry Furth-Sides) The little dishes on little plates were playful, even whimsical at times when it all started just a couple of years ago. One of the first was a simple pork belly on a piece of toast offered by Chloe at the beach. It was almost as if the chefs wanted to tiptoe around Michelle Obama's directive for the obese to lose weight.
It was certainly nothing to alert anyone about what would become a chefs craze for pork that has gone wild these days.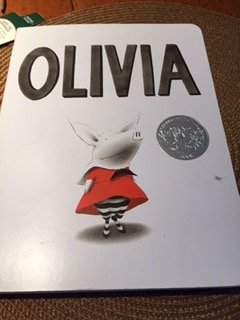 Even ethnic dishes are getting into the act – and my favorite of books about the irrepressible OLIVIA.
At Chadaka Thai in Burbank, once owner Katy Noochor-la and her chef sister, Amanda Kuntee learned that customers liked pork they put two dishes on the menu that became instant hits.  The famous Crispy Pork Kra Pow Thai dish with twice-cooked pork belly, sweet basil, fresh garlic, chili, bell peppers and green beans is joined by  Crispy Pork Belly with Chinese Broccoli is joined by Crispy Pork Belly with Chinese Broccoli, twice cooked pork belly stir-fried with fresh garlic,m roasted chilies and Chinese Broccoli.
How do I define "craze?" Fig Bistro (at the beach) former Executive Chef Ray Garcia left his mark in a "pork sandwich" creation – that's bacon wrapped around a pork belly- That's "Bacon Wrapped Bacon," served with Tomatoes, Arugula, Fuerte Avocado. Guests snapped them up as soon as grinning Chef Garcia put them on a plate. As Garcia put it, "who doesn't like bacon? They're selling like hot cakes!"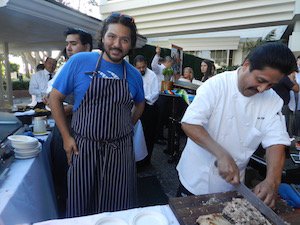 Chef Garcia tucks pork into a lot of his other dishes, including a Short Rib and pancetta Meatloat. Pork with Short Ribs! If crunchy (texture fun) and fat (flavor) are key, this has it, and beyond. And, of course, pork pairs perfectly with fruit, and with cocktails.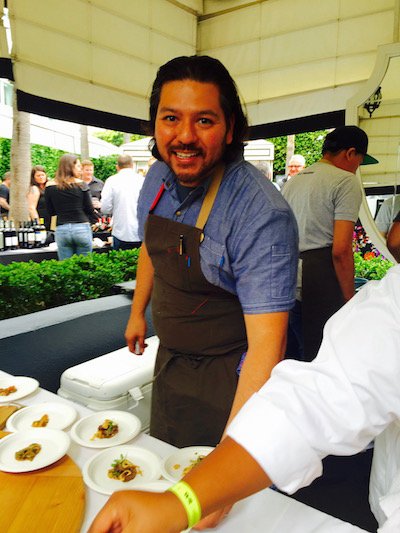 Chef Jason Neroni of The Rose Cafe in Venice didn't stop at pork belly.  Here he serves up an Asian inspired dish, Vietnamese Salad made of Pig's Ear & Belly, Polito Farms Citrus.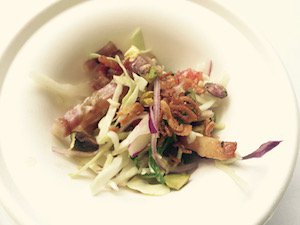 Pork belly and bones and confit are the "Caesar salad" of yesteryear. Rustic Canyon's delightful pork belly with fava beans and peppers is one example.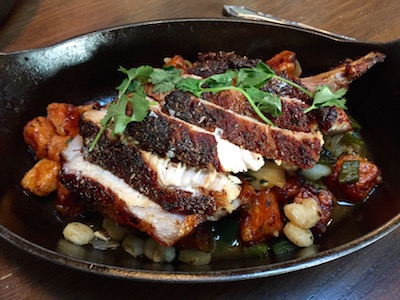 TART chef
At Hanjip Korean BBQ in Culver City, Marinated Pork Belly (Mae-won-sam-gyup-sal) is joined on the menu with Classic Pork Belly (Sam-gyup-sal) and Pork Neck Jowl (Han-jong-sal).
To control your own crunch, moving east, you are the cook your own at elegant Korean table grills and can fawn over the richest, purest pork belly raw before you cook it. At the ever-evolving, always "out there" Church and State downtown, pork shanks (the joint that looks like your knee) is a best seller.
Farther west, Animal's fun-loving, talented executive chefs (one always in the house), Jon Shook and Danny Vitolo, serve pork belly (braised) sliders, and pig's ears are "Favorite Thing" TV- famous, as is their bacon crumble chocolate cake. You can make them at home from their cookbook.
Down the street at a Smithfield Foods event at PistolaLA, pork belly with beluga lentils and pesto was the hit of the evening. Slow-Roasted DURoC Pork Belly – trendy in  LA  for years now – was the clear favorite and there was enough of it on the dish to satisfy any pork belly lover! The crispy skin, tender meat is evident even in the photo.  Here it was prepared with beluga lentils, caramelized shallots & salsa verde.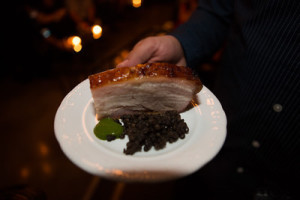 Crispy Pork cheek "Milanese" with wild arugula, sweet 100 tomatoes, lemon & parmigiano-reggiano was a clever play on the classic Italian. Sweet tomatoes were an invigorating substitute for a sauce, updating a classic by making it lighter while retaining the same flavors.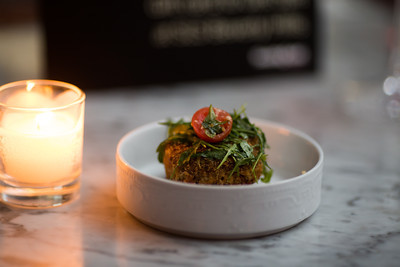 At Craftbar  owned by Top Chef judge and famed New York restaurateur, Tom Coliccio, Crispy pork belly with fresh huckleberry and a jalapeño vinaigrette is representative of Executive Chef Anthony Zappola's sophisticated, sleek seasonal menu.  Smart, stylish Tavern in Brentwood, headed by nationally acclaimed and inspired Chef Suzanne Goin, offers a typically colorful, boldly flavored, and decadently large pork confit with sweet potatoes, spinach and romesco, It is a far cry from the much more modest pork belly on toast dish she served at her other restaurant Lucque two years ago (which we made up for by adding on duck confit!).
At the new Salt's Cure (www.saltscure.com), the smell of sizzling meat can be any part of a whole pig that the chefs have brought back from a farm, using all the parts.
Over the hill, killer Chicharron skewers and pig's trotter are hits at the Laurel Tavern in Studio City.  And even at the more traditional Saddlepeak Lodge, Chef Adam Horton serves Wild boar "spread" with grilled toast; Pork belly with vadouvan, apple, yogurt and cucumber and Elk with almond, bacon, brandied cherries and squash.
But wait! Just the other evening on "Next Iron Chef," legendary chef Ming Tsai prepared "lardo," essentially pork fat shaped into flat flowers, that sent him packing. Does this mean times they are a changing?
It may be in the restaurant world where excess in pork dishes has exceeded its limit. But this week the New York Times Magazine, no less, came out with a magazine article on how a high fat diet filled with bacon can be, as the title reads, "A Big, Fat Miracle." Fred Vogelstein asked the question right up top, "Who would have ever thought that bacon could be this good for you?" "A pork-laden diet" and "the idea of food as medicine" were actually in the same paragraph.
Yes! And my own final hoorah for the wonderful smart pig, is if "you are what you eat," I'd rather be a pig than a cow – or a chicken.  And what happened to the whole and wonderful ham as a dish – other than it went spiral?  It's still here and a slice of ham still makes the best leftover dish in the world with a dab of mayo and a piece of lettucebetween two slices of almost any  kind of bread .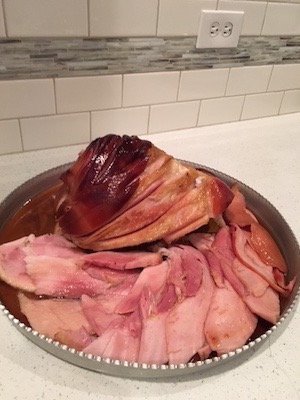 p.s. Chloe is now defunct but not to worry. The Library Ale  on Main Street has pork belly skewers with a spicy maple glaze, cilantro & lime and that says it all. Ah.