800 Degree Pizza in New Playa Vista Location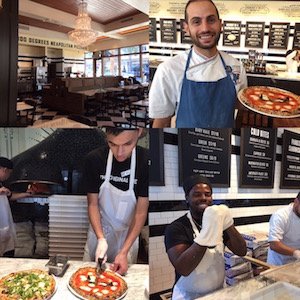 The new 800-Degrees Neapolitan Pizzeria is the latest restaurant addition to the Playa Vista neighborhood of Los Angeles at 12751 West Millennium Drive at the Runway Development.  Known for their authentic (guild approved actually) Neapolitan-style wood-fired pizza and top-quality, gourmet side dishes, 800 Degrees lives up to their  slogan having " an Italian soul and American heart."
As a "front of the house" girl myself,  they "had me" after someone  picked up for phone and then patiently walked me through the directions from the parking lot.  The genuinely friendly service extended throughout our entire visit.  The staff is clearly happy to be here.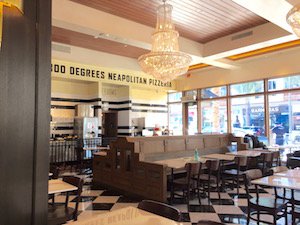 Since its debut in 2012 in Los Angeles, 800 Degrees has been wildly popular (see related article) as much for their polished and elegant "date worthy" and actually "old world" atmosphere that somehow encompasses the entire room as their authentic, Old World pizzas with hand-stretched dough and premium-quality cheeses, produce and charcuterie.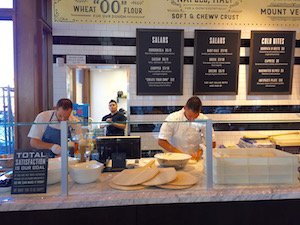 The new Playa Vista location  exclusively features a selection of Neapolitan panozzo sandwiches made on pizza-dough bread, stuffed with artisanal ingredients and wood oven-baked (with almond wood!) until crisp. 800 Degrees Pizza also offers a selection of fresh, made-to-order salads, a variety of Hot and Cold bites, a Burrata menu and a locally-churned artisanal gelato.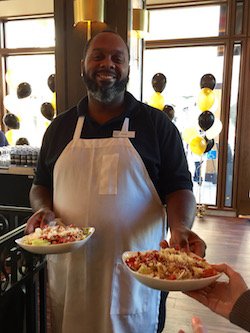 When you enter, the entire wall to the east is the cafeteria style performance kitchen where you place your order,  and can see all the fixings as you pass by each section.
The SALAD station comes first and the dishes are substantial and generously portioned as they are strong in straightforward ingredients that are the best to be found locally and in Italy.  The Chopped Salad above holds assorted vegetables, cheese and meats in an oregano vinaigrette, and is offered in two sizes ($7 / $10).  The dish was quite nice but the leftover we took home was exceptionally satisfying after the dressing seeped into the ingredients.
We would try the Gorgonzola ($6/$9) with butter lettuce, candied walnuts and dried cranberries.  Other choices include the Greek, Green with Parmigiana Reggiani, lemon and olive oil and a Caesar along with the trendy Baby Kale ($7/$10 made more interested with dried figs, goat cheese, pine nuts, balsamic and olive oil.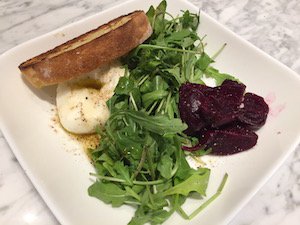 Next come the CoLD BITES.  The Burrata & Beets ($8) stars creamy burrata (from a local producer) with roasted beets, balsamic, arugula and warm bread.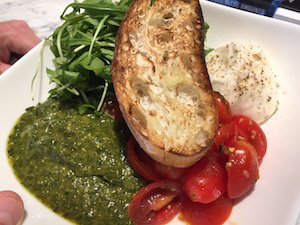 The caprese ($8) features the house burrata with cherry tomatoes, pesto and warm bread — crusty on the outside and chewy to the bite with the special touch of the 800-degree oven.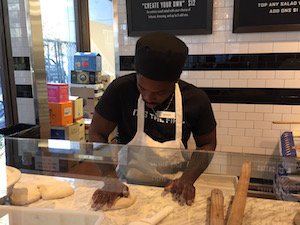 Pizzas are hand thrown and you see every step of the process as you move through the line.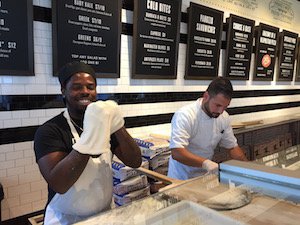 You CHOOSE A BASE that number three.  First is the classic Margherita ($8.95) with crushed tomato, fresh mozzarella, Parmigiana reggiano, olive oil and basil.
SELECT ADD ONS ($1 from a long and tempting list and A maximum 2-3 per pie are suggested.    PROTEINS (such as sausage, pepperoni, anchovies, smoked bacon, egg, both vegan and beef meatballs – bacon marmalade at $3) , VEGETABLES (such as sweet corn, peppadew peppers, sun-dried tomatoes, roasted pineapple, butternut squash, raw red or cartelized onions) or CHEESES (feta, smoked provolone, Daiya vegan, fontina or truffle porino at $3).   Substitute imported mozzarella di Bufala is $5 extra.  
The classic Margherita that started it all with the Queen Margherita's birthday and chefs who wanted the colors of the Italian flag on the pie. It is the standard by which all pies are judged.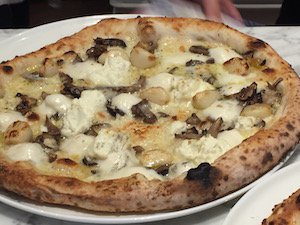 The Bianca (white with cheeses) with mushrooms and onions added. .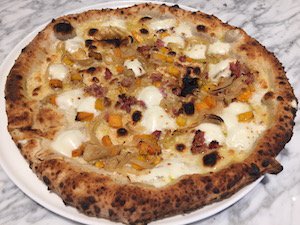 Here roasted pineapple and chicken add to the fresh mozzarella.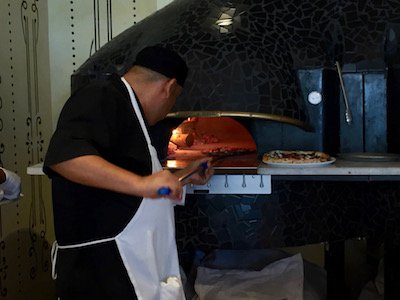 HOT BITES include meatballs ($7), Broccolini ($6), Baked Goat cheese ($9), Truffle Cheese Bread ($12) and Spicy Feta Garli Gread ($7).
A  selection of craft beers and wine, including eight beers on tap.
800 Degrees locations are open seven days a week with many restaurants open until 2 a.m. For more information, please visit 800degreespizza.com
"The new community at Playa Vista has the ideal mix of residential combined with bustling business nearby, including a number of top tech firms," said founder, Chef Anthony Carron, formerly of the Michael Mina Group.   The new location is the 16th outlet for the acclaimed international brand, and the seventh in Los Angeles.
800 Degrees was founded in January 2012 by Chef Anthony Carron, with In addition to its Los Angeles restaurants, 800 Degrees operates locations in Las Vegas, Tokyo, Dubai, Santa Monica, LAX Airport, Downtown Los Angeles, and Hollywood.