Akbar Restaurant: The Secret is in the Sauce (read Spices)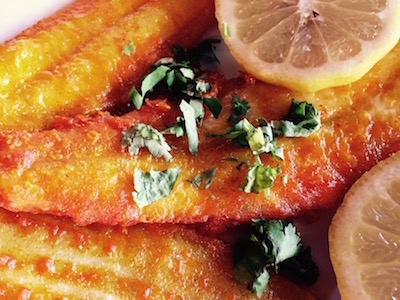 (Gerry Furth-Sides) The secret of what makes an Indian restaurant a standout are sauces, and spices are  secret of those sauces.  They are the secret of Akbar Cuisine of India Restaurant top ten Los Angeles Indian Restaurant rankings for the 30 years they have been in business, with all five spaces remain family owned and operated with this category of expertise.  In fact, second generation, Executive chef and owner Avinash Kapoor sources spices directly from India and grinds them himself, a time-consuming and often costly operation. All gourmets know that a good chef in India rarely uses the same spice mixture twice.They know that the difference between a good dish and a great one can also be in the order of when you put the spices in while cooking and what the placement is as well.
In this case, "Avi," as he is known to family, friend, staff and customers – of which there are many – also continually evolves his classic menu with new contemporary dishes using a variety of the spices. The regular menu is filled with both popular dishes and ones not often found in other Indian restaurants.  The eagerly awaited fall menu dishes are being given a final polish now.  Want proof?  The seasonal wine dinners at all five of the restaurants sell out in two hours.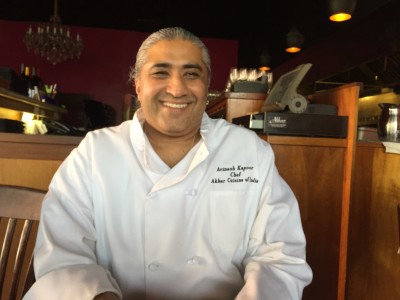 Avi's new creations start with Makai Pakora, fresh corn fritters (usually done with cauliflower and onion), coated in yellow lentil and rice flour batter, and a sprinkling of Serrano and cayenne pepper and fried to a golden brown.  The pop of flavors and textures match the pop of color, staring the most appealing of colors to the palate, red and orange. The Makai Pakora has all the snap and addictive qualities of popcorn, augmented by the summery smoothness of farmer's market tomatoes contrasting with the "heat" in the fritters.  A traditional tray of condiments to either add to the heat or smooth it out holds "green" chutney (fresh mint, scallion, cilantro, green chili and lime juice; coconut chutney and a very pickled veggie).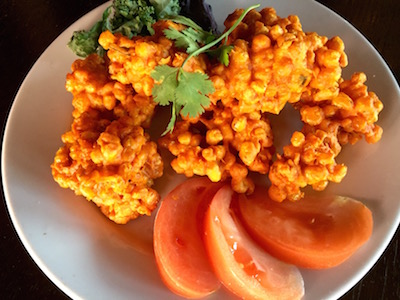 Watermelon Salad arrives as an appetite cleanser although it is a perfect first course salad or a dessert.   Watermelon is international but here the cubes of melon are dressed in white wine vinaigrette, tossed with mint, red onion and tiny solid paneer (cheese) cubes. This brings up a discussion of cheese made in-house or not and with new regulations, the Akbar cheese if made off-site but by the Akbar chefs to ensure quality.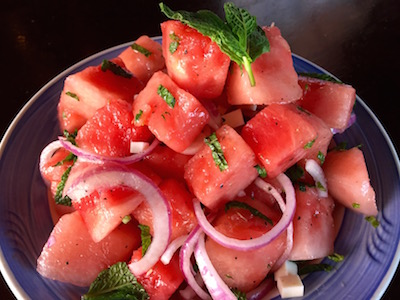 A very on-trend new American health dish is the kale salad. At Akbar Cuisine of India, the greens are dressed in a mango balsamic vinaigrette after being massaged to make the leaves tender; stems are also removed. Blue Cheese and mango add contrasting notes of sweet and tangy, silky and creamy. Although every ingredient added to the kale is a diner favorite, this is a salad for kale lovers.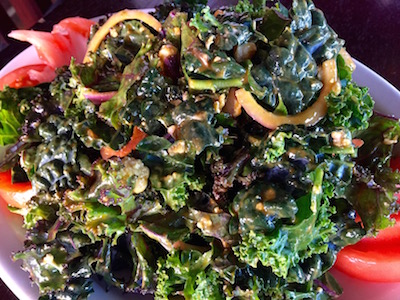 Harwra kofta, dense spinach patties with a delicate and smooth cashew crème sauce, is not usually found on Indian restaurant menus.   It is a dish from the south, from Goa, where the cuisine involves lots of intricate pastes.  The sauce was such a hit everyone at the table was using it as a dip for the herb and cheese infused naan right out of the tandoor, the rice and just plain eating it straight.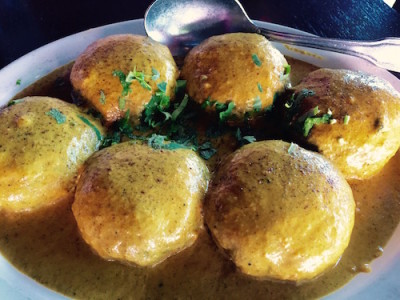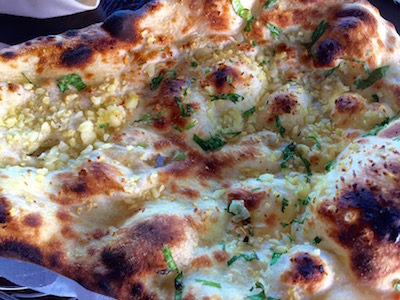 For the carnivores (me), an entire meal could be made out of the perfect Lamb Keema, roasted lamb, minced and mixed with white onion, is enhanced with ground together Serrano chilies, turmeric, garlic, ginger, black pepper and cayenne, then topped with cilantro.   It is a dish that satisfies on all levels with being filling.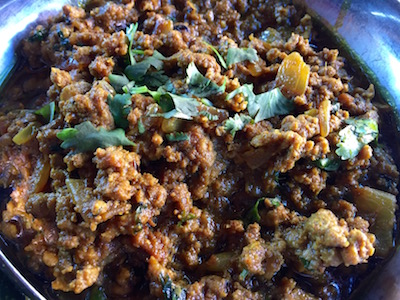 The same could be said about a meal of the Rex Sole ("king" sole), which Avi discovered was the freshest in the morning market and which he treated with a light hand. Simply coated in gram flour and fried only enough to crust the top while leaving the inside tender, a dash of lemon and a few shreds of cilantro gave it the final polish.
Completing a trio of stellar Fish and Meat, and proving that he is skilled at preparing two kinds of fish in different ways, Bhuna, (catfish), also fresh in the market that morning, was perfectly cooked to remain tender with a crispy thin skin and then layered on top with caramelized onion, tomato, and garlic, with just enough heat to make the taste linger.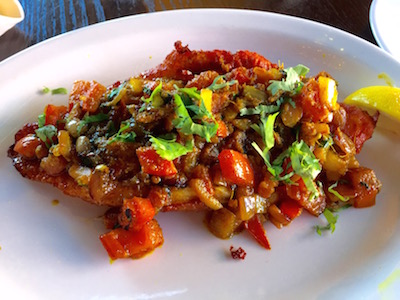 Though I must confess that the light, long-grained rice was so beautifully prepared it seemed to float on the plate, proving once again the difference between more ordinary heavy rice and basmati.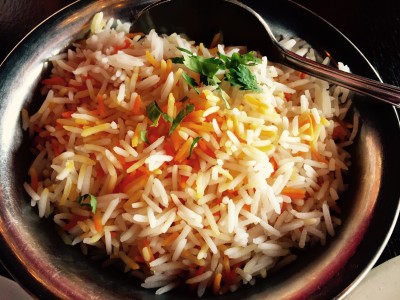 Avi doesn't exactly fit into the category of second generation restaurant owner. After all, he was at his father's side in the family restaurants learning the trade while growing up as a teen-ager. Not only does he know the business inside out, but he seems to know all the rest of the players in town, too.   Hours can go by just listening to him talk in a quiet way about restaurant (and Indian cuisine) history, a smile always playing on his face as he mulls over some of the high points and the customer quirks of the past.
Avi laughs that just by changing one ingredient to a more familiar English name in a dish on a menu, can increase the number of times it is picked many times over.  He also likes to "play" with dishes that feature much loved childhood flavors and textures, like the yogurt ice dish he whipped up for dessert — and noted several times that it needed different kitchen equipment he had ordered to really froth  it up.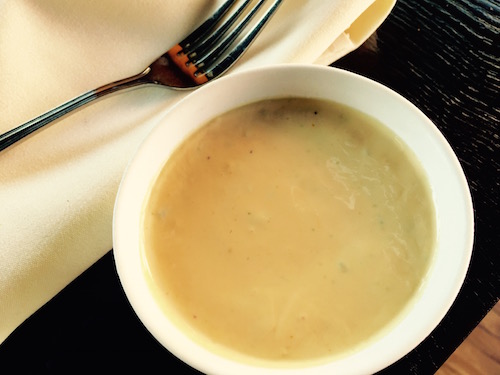 Diners can usually watch him and the staff at work in the performance kitchens that preceded the trend of new chefs across the city.   The seasonal wine dinners at all five of the restaurants sell out in less than two hours.   This means at any one of the five (Marina Del Rey, Hermosa Beach, Santa Monica, Los Angeles and Pasadena.   He, like other award-winning restaurant owners, continually check their restaurants so that there is a family member on site at one of them at all times.
While individual dishes are unusual and gourmet, a number of diners opt for the plated Lunch specials $11) served with dal, rice, naan and katchumber salad.
Akbar Cuisine of India (www.akbarcuisineofindia.com), 3115 Washington Blvd, Marina del Rey, CA  (free side parking lot). Order online for pickup or delivery below.