American Cali-Delphia Regional Menu at Venice Whaler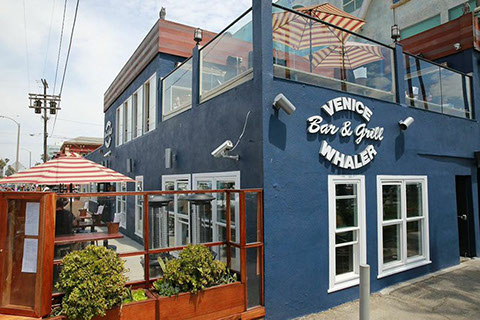 The historic Venice Whaler has been standing guard at the foot of the Venice Pier right on the Pacific Ocean beach for 70 years. And what a place. The place on its own screams, "Location, location and location" but Head Chef (and avid surfer), Nick Liberato, hails from Philadelphia and combines wast and west coast cuisines into his own, original"Calidelphia."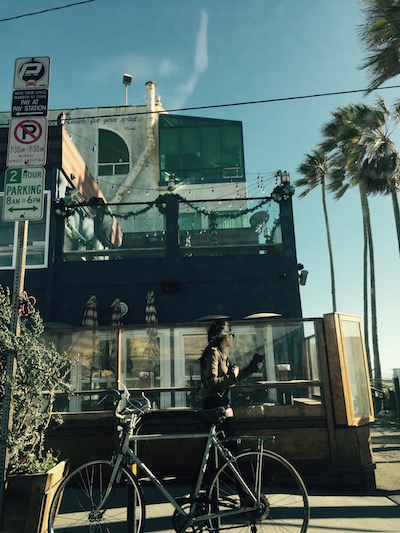 Even at the door, the fresh air, the friendliest and most professional service anywhere draws in crowds at all times – we were greeted like old friends when we arrived the first time – or rather were blown in by 20 mph winds in chilling winter weather.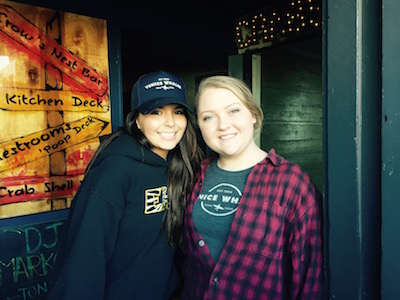 The food was terrific, yes, but the staff even more so. The stand-out moment was when we mentioned espresso with dessert and Sam, our server, without hesitation said, "I'm not sure if they have the brand you like but I'll run over to our Whaler takeaway counter around the side to that they have for you!" Wow.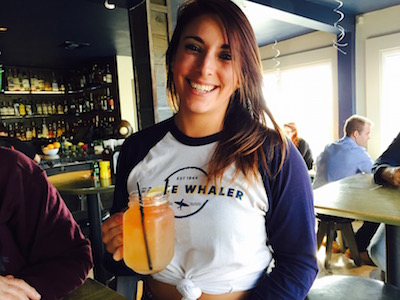 Chef Nick's gutsy "Calidelphia" cuisine was so powerful, he even created and named his successful catering company after it. This provided the outgoing chef with lots of experience in knowing customer taste. And from his stint at David Meyers elite, Comme Ca, he learned to further refine his food with French Technique.   The result is "upscale dive-bar food," bold and big and made with fresh ingredients from local farms and the neighborhood farmer's market.  TV viewers know him from the show, "Bar Rescue."
One east coast stand out in the FROM THE SEA section, is the hearty Connecticut-style Lobster Roll with warm butter, lemon and chives ($22).   The generously portioned, moist and succulent chunked lobster rests on a genuine "lobster" roll. I remember when Menemsha Restaurant (named after the Cape Cod island) down the street had to fly in these rolls from the east coast). Here the wonderful, local Hans Rockenwagner provides all the bread.  Where other "chic" restaurants sell a petite quarter of a lobster roll for $10, this is a great price.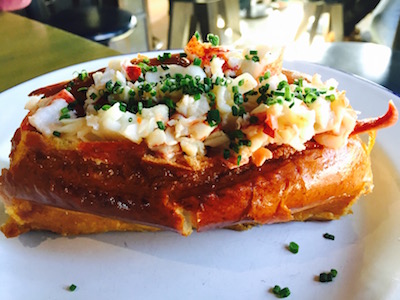 Chef Nick's "Caledelphia" touch is also apparent in the Clam and Corn Chowder with Slab Bacon, potato, cream and sourdough ($10) and Beach Mussels with fennel pollen, kaffir lime cream and grilled sourdough ($18)
Nick told us that his biggest seller on his seasonally changing menu, is the signature Whaler Burger ($11), packed with cheddar, onion slaw, secret sauce (served a la carte) in The WHALER CLASSICS menu section.   Made with the better cuts of beef, it tends to be a little on the dry, chewy side, unless prepared medium rare.
The large portion of regular fries in a rolled up "newspaper," which were recommended over the sweet potato fries, turned out to be long, thin, crisp and perfectly fried, with garlic aioli and ketchup ($5). These fries are in the SMALL BITES & SHAREABLES section – and the serving size more than proves the emphasis is on the latter word.

The Crispy Brussels Sprouts in the Salad section with Fresno chili, roasted grapes, parmesan capers ($13) looked huge but what happened with it as a takeaway really made us wonder how we ever finished our burgers.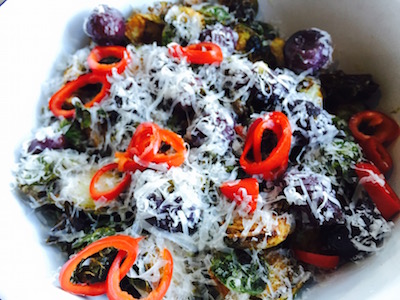 Someone at the table is a vegetarian — fine!  Bacon comes on the side in a wonderful enamel bowl.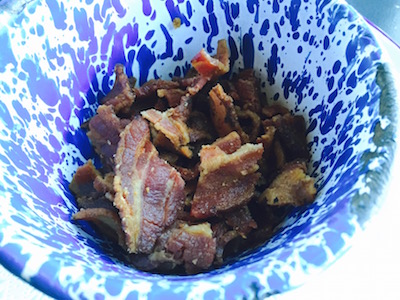 The Venice Whaler has gusto and is such a generous portion, there were three full meals out of it at home, topped with wild sardines or grilled chicken, and it tasted better and better each time!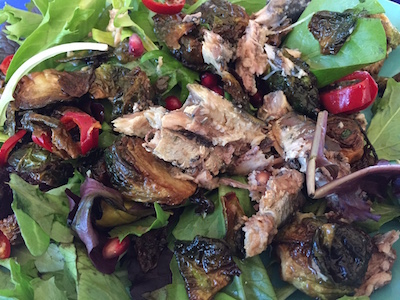 You could see another Venice Whaler classic, a huge portion of Belgian beer-battered fish 'n' chips with tartar sauce and malt vinegar ($16) , being served all around the room. When we asked the couple at the next table if we could photograph their dish, they acted as if this was the most brilliant idea in the world!
The room, by the way, filled up by 2 pm after the second floor filled up a little by 1 pm on a Friday afternoon!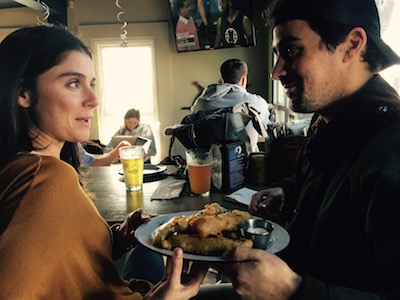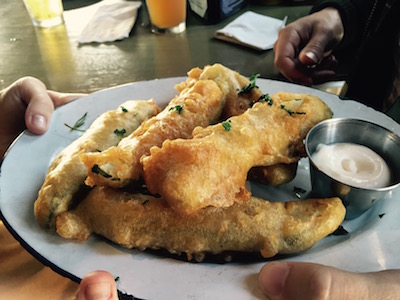 Other enticing classics include French Dip Prime Rib with fresh grated horseradish cream, au jus ($13); California chicken Club with avocado, bacon, jack cheese, purple slaw on a brioche bun ($12); Amber's Fried Chicken Sandwich with jalapeno slaw and pickles ($11) and the Short Rib Grilled Cheese Sandwich with jack, cheddar and pickles ($11).
Sam's dessert suggestion of Key Lime Pie with fresh whipped cream and lime zest ($9) arrived as a lovely, full tart. And yes, the Artisan coffee section (roasted at the local Intelligentia) not only offers espresso, but latte ($4), cappuccino ($4) or decaf coffee ($3) and affogato, coffee with gelato ($5).  Now that would be a dangerous item to order, and keep ordering, and keep ordering, spiked, on a warm afternoon upstairs on the patio overlooking the ocean.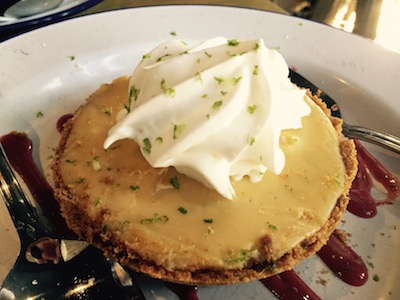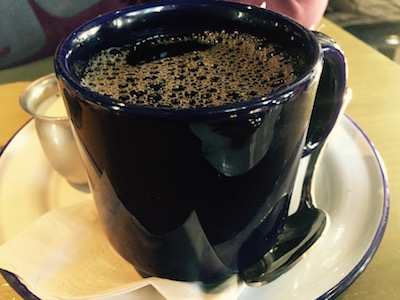 The two-story beachside "shack" dates back to the 60's and 70's when it was a popular hangout for bands the likes of the Beach Boys and The Doors –  Jim Morrison lived right down Speedway in Venice for years. When the Venice Whaler was renovated this past year, the eclectic crowd of locals was pleased, in the current Googlized era of Venice gentrification, that new owner Mike Dobson kept the weathered facade and classic, natural, weatherbeaten, nautical interior. Local mural artist, Jonas Never, painted a large mural on the side of the building, inspired by the famous V-J Day Kiss photo.
The Crab Shell Bar downstairs offers live music every night from 9 PM – 2AM and serves sophisticated craft cocktails, local beers and wine.   We substituted gin for Svedka vodka or Wild Turkey bourbon in exhilarating The Moscow Whale, a riff on the Moscow Mule.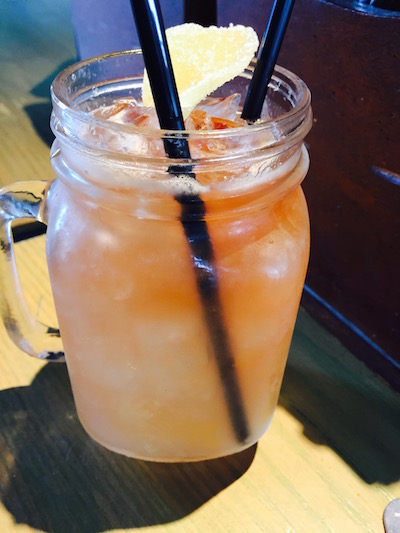 Server Sam pulled out all the stops and read off a list of our choice of gins. A note on the side of the Boiler Makers ($9) of a shot and ½ beer is "must order two or more! Another eye-opener is the One Armed Matador with grapefruit radler, blood orange bitters and blanco tequila.
Bartender Anthony Settecase is in charge of the "Beach Booze." To give an idea of what is in store, "The Crab Shell" Bloody Mary honors the Whaler's original name when it opened in the 40's, and features a whole crab claw as a garnish.

For the holidays, Bar Director Settecase marries classic Christmas flavors of eggnog and a hot toddy with the Noggy Toddy, a creamy mixture of Atlantico reserve run, allspice, honey syrup, whole egg and cinnamon.
The Venice Whaler, 10 West Washington Boulevard, Venice, CA 90292; 310.821.8737; www.venicewhaler.com
Open at 7 AM for pick-up!