American TASTELA "Block Party" Goes International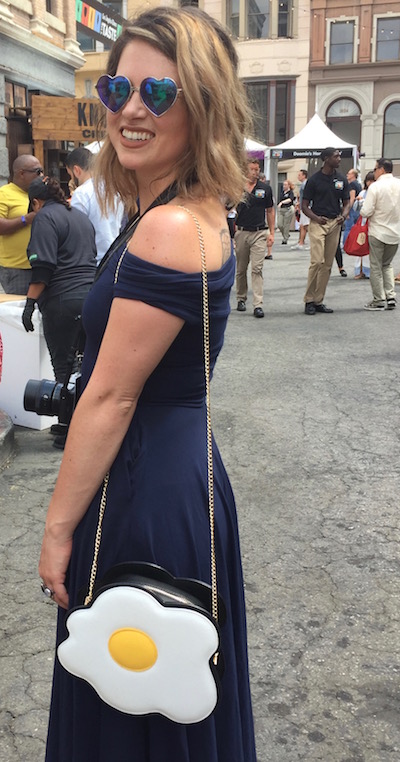 (Gerry Furth-Sides) A festive crowd ready to explore "bites" repenting "LA's Culinary Landscape"  discovered Mexican, African and Middle-Eastern cuisine added to the Asian influence at THE TASTE's  Sunday Block Party.  Friendly Paramount Studio guards opened the gates at 11; the front section was jammed with people in 15 minutes.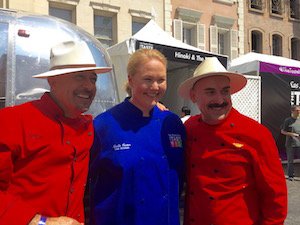 A series of cooking demos at two stages plus panels were also at the party hosted by Noelle Carter, LA Times Test Kitchen Director (shown above in middle with Chefs Ramiro and Jaime), and Mary Sue Milliken, Co-Chef/Owner, Border Grill, the second pioneering Mexican restaurant  of popular Milliken and Susan Feniger.  It was nostalgic because this will be the last event for their second Border Grill about to close.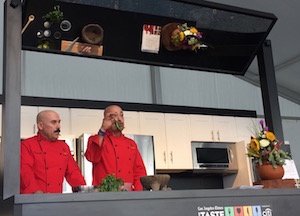 Latin food was represented by Here the magnificent "team" of Ramiro Arvizu and Jaime Martin del Campo (La Casita Mexicana/Mexicano) here explain how to tell a spicy from a non-spicy pepper.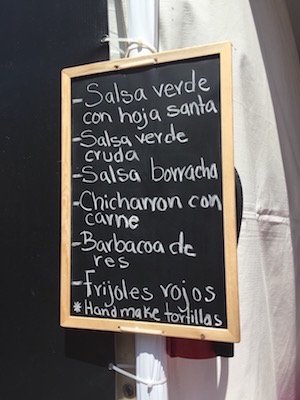 … and posed for photos.  Hard to believe that they are former airline executives!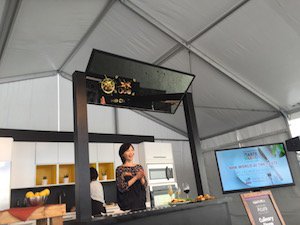 And Japan among the Asian chefs again took center stage.  Here, engaging chef-researcher Chef Rika was flown in for the week-end just for TASTELA.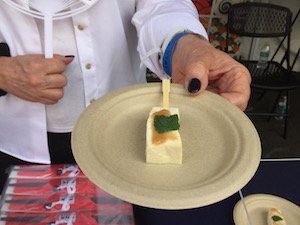 Chef Rika Yukimasa's whimsical, airy Tofu on a Stick were served at the KCET booth which had information about her show. (http:/www.nhk.or.jp/dwc) .  The chef-researcher's series airs on the international service,  NHK WORLD, Japan's largest broadcasting organization and stand-alone 24-hour English-language TV news and lifestyle network.
On the show, Chef Rika demonstrates easy original Japanese recipes and talks about Japanese food culture.   As a former resident of northern California, she is able to incorporate ideas for the American way of life into her signature lifestyle and cooking program even though it is on a Japanese TV station.  The broadcasts are in English.
The KCET booth also promoted a new show on ethnic food in LA called, "THE MIGRANT KITCHEN," five 10-12 minute weekly web episodes premiering online at KCET.ORG/TheMigrantKitchen on September 20.  A TV broadcast takes place on October 25.  The show is produced by the staff of Life & Thyme print/online magazine.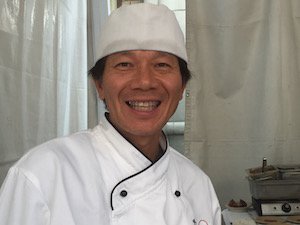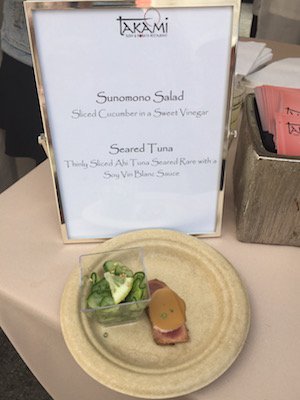 A rare appearance by Takami sushi & Robata Restaurant.  The Sunomono Salad and Seared Tuna quickly became a favorite textured, refreshing bite for a warm afternoon.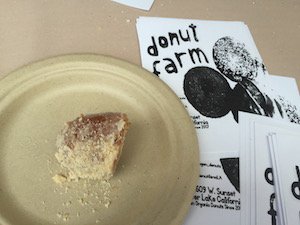 Even the super friendly guys at Donut Farm has a Matcha Tea donut!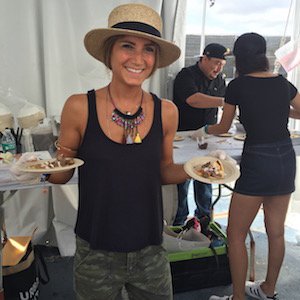 Middle Eastern Cuisine added to the mix with Chicken Shwarma fresh off the grill on Pita Chips from 10e restaurant ( http://10erestaurant). And THEBlvd restaurant at the Beverly Regent Seasons Hotel served their  signature event dish, Grilled Lamb Koftas with Paquillo Hummus, Crumbled Feta and Pickled Persian Cucumber & Onion – two servings were the order of the day.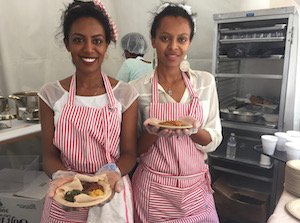 Traveling south to the African continent, Lalibela served a variety of dishes that earned them reputation as about the best Ethiopian in the Fairfax district.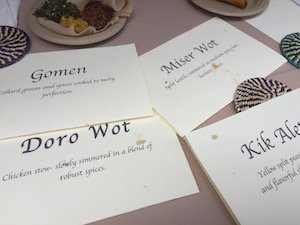 Thoughtful, informative dish descriptions were on the table, detailing Sambas, Kategna, Dora Wot and Miser Wot, Kik Aletcha, Gomen plus Ethiopian Coffee and Tea.   The injera bread has to be experienced and is marvelous ("like a rolled ace bandage according to one fan").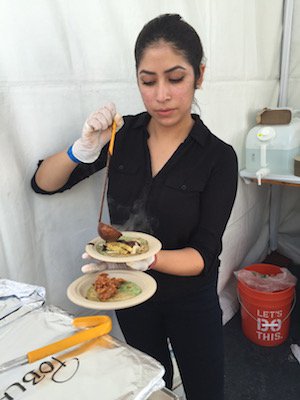 Chiguacle amor Ancestral represented Oaxacan cuisine.  Here a cook carefully finishes up dishes of Pollo con Mole with Puebla Mole or Oaxaca Mole served on freshly made tortillas de Nopal and a vegetarian Veginita Pibil, Jackfruit in a Yucatan Marinade.  Their VEGAN sign even had an exclamation point after it — very Southern Californian.  And very salty and very sweet.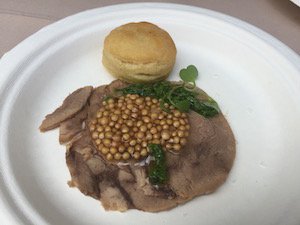 Next up came the new American Regional.  We should have known that the "out of the box" dish was not Chef Sean Lowenthal, owner of Little Beast.  Alejandro Serna, general manager quickly told us it was a chef connected to the former "bad boy" genius, Brendon Collins who created this favorite bite and introduced us.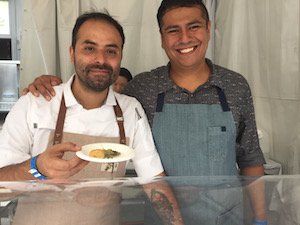 The mastermind behind the taste is Chef De Cuisine at Little Beast,  Chilean Jose A. Perez, shown above with the GM. He was former sous chef of Collins' now shuttered Waterloo & City.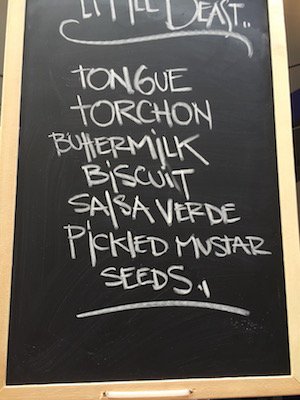 Born and raised in Chile, the son of a farmer and a salon keeper, Chef Perez "believes food should be an experience- one that is dreamed up in the head, translated through the hands and shared with others." Bravo!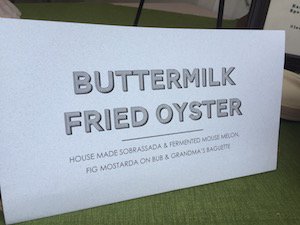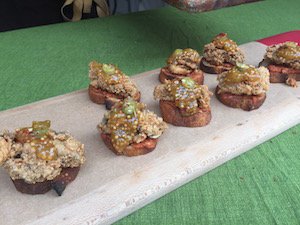 If we have to call it American regional, a favorite and a surprising bite was the Buttermilk Fried Oyster from L & E Oysters in Silverlake.  They tasted even better than their portrait.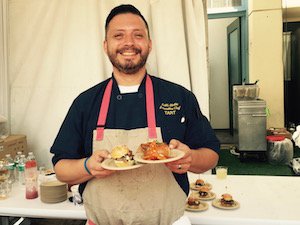 Tart and Little Tart Executive Chef Keith holds another two favorite American Regional bites from Little Tart across from the Original Farmers Market: Tart Burger and the Cho Dog.  The Cho Dog was packed with Smoked Polish sausage, Bacon, Onions, Kimchi, Pickled Habanero & Mayo on a buttered sausage roll.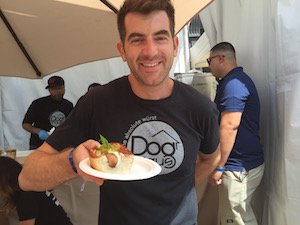 Dog Haus elevates the hot dog and was one of the crowd favorites.  The friendly staff added to the fun.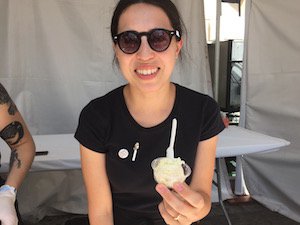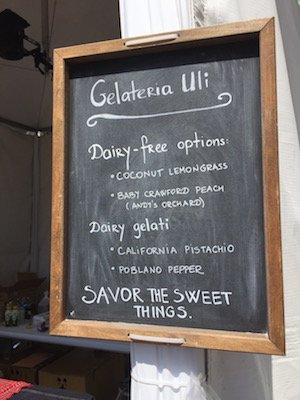 And Ice Cream!  An abundance of ice cream both days – and to think that Robin Rose Ice Cream went out of business in the nineties because it was "not in fashion."  Uli Gelateria got our attention because of the beautiful vintage "scoop" pin she wears.  "There are only the three in the world and we have them so we're careful," she told us.  From the Ukraine, Uli fell in love with gelato and being an entrepreneur created her company shortly after.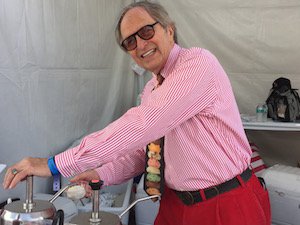 Dandy Don Dunsmore comes from a rock and roll background and has become a mainstay on the food scene.  
His scooper on Saturday was too enticing not to take on a hot fudge sundae with coffee ice cream.
And below the classic from Santa Barbara, McConnell's with Marionberry-Lemon that screamed California.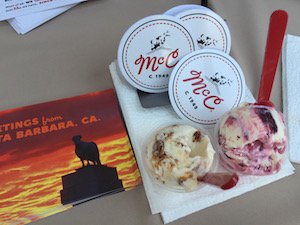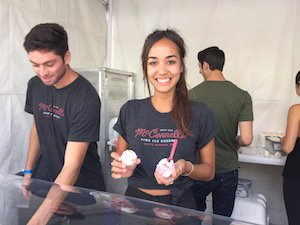 And we are done.