Andre's Italian – First White Tablecloth to Go Casual 50 Years Ago
(Gerry Furth-Sides) Arrive 15 minutes before the 11:00 AM opening and there is already a zigzag line of customers forming, eyeing  new arrivals. The place does 800 covers a day during the week-end, and that's a lot even considering the cafeteria style service.  The phenomenal host and manager, Aron Celnik is already behind the cash register overseeing the dining room.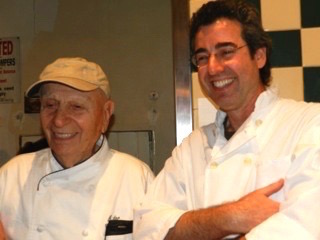 Andre's Italian Restaurant was conceived as a simple idea: provide wholesome and gratifying Italian food in a relaxed casual atmosphere at prices every family could afford.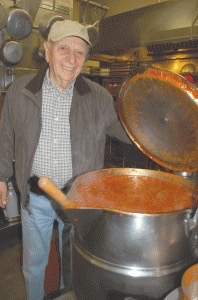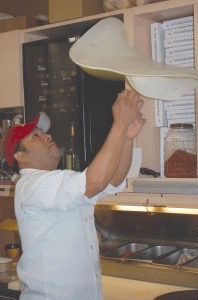 Born in northern Italy, Chef Andreone received his formal training at the famed Le Cordon Bleu culinary school in Paris, France. As a young chef, Andre emigrated to the United States and from the time of his arrival worked for several top rated dining establishments of the time. In 1959 he opened a full service restaurant named Andre's of Beverly Hills on a posh corner near La Cienega's "Restaurant Row." It quickly came to define what is now known as "Continental Cuisine" The food was billed as "Continental Cuisine" at the, a phrase it seems was used for what we call Mediterranean today in order not to scare off people who might not be familiar with Italian food. That's because when Andre's opened its doors , spaghetti and pizza were just starting to become popular.
Chef Andreone's eponymous restaurant was a huge critical and popular hit. At the same time he quickly developed a reputation and earned numerous awards for having the most reasonably priced good food in a full service restaurant in Beverly Hills.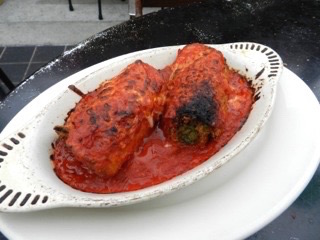 It was so long ago when a date took me to Andre's fine dining on a date, then considered "the" place in Beverly Hills, all I remember – as though it was yesterday – was the ritual and what I was wearing (A "little black dress" with matching short jacket lined in teal, and high heels, of course.  But, ah, what impressive ritual!   First to arrive was the huge platter of antipasti— then a salad – then spinach noodles with red sauce – then the entrée (I'm sure I chose meat) and finally profiterole dessert, always on the house.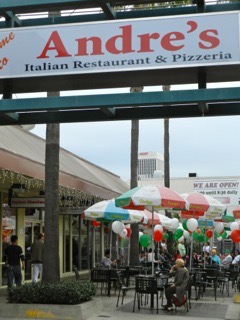 Chef Andre's philosophy of providing his customers with value played a big part in his decision to open the more casual neighborhood Andre's in 1963 and see through his vision of how every family could enjoy a healthy and satisfying meal together without having to "break the bank."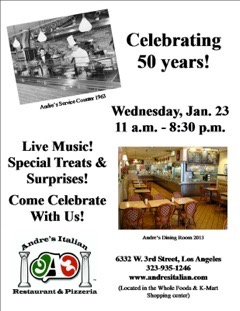 It did not bother Andreone a bit when critics began writing about the same quality food at both places with a major price different difference in price, with some patrons joined into the discussion.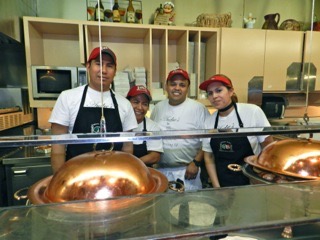 And he doesn't even remember when one day about six limousines with secret service men inside converged on the Town  to clear the way for Robert Kennedy!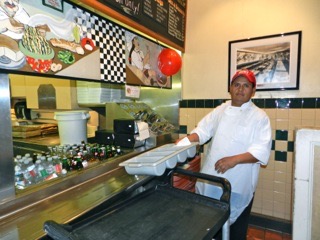 Only a gelato case (and recently an espresso machine) was added in the back through the years.  Andres at the Mart grew from a small Italian cafeteria to a sprawling double front cafe with ample  patio seating.  The place goes full tilt every single day with diners moving down a line with their trays at such a quick pace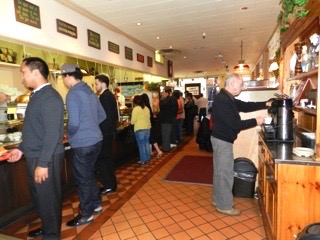 there is barely time for new customers to look at the blackboard menu over the set up section just inside the door.  There are daily specials (osso bucco on Tuesday!) and wine and beer are in the fridge at the front.
Watching the cooks with their efficient movements in the open kitchen are a symphony – and runners filling the huge pots and tower of plates behind the counter. And still offering very good pasta, almost all of it homemade in the back, and pizza at rock bottom prices.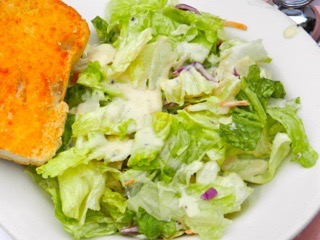 Since noodles are a mainstay of Asian cultures, Korean faces have popping up more and more at Andres.
Only Andres in the Town and Country Mart remains today. Andre's declined in popularity throughout the eighties. A decade later it barely made news when it was sold to new owners who rebranded it as Andre's La Trattoria di Beverly Hills but lacked Andreone's skill at running it. A string of new owners and remodels later and the original site has become a rental space.   Andreone looks down, raises his eyebrows and shakes his head at the thought. He explains that after working 7 days a week, 12-14 hour days, and 40 plus years of property appreciation, Andre decided that he would be wise to rent out the premises and devote a little extra time to his casual eatery style 
Now Andre can be found every day (at least when he's in town – he has homes in Canada and Italy for summer and winter) behind the stove and greeting his devoted customers – and making pasta in the back checking the pots he himself designed so they could be moved up and down on a pulley system.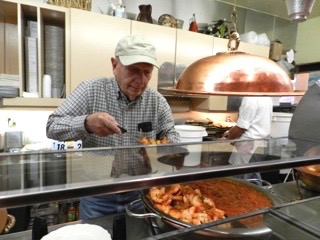 The family stayed in the business. Grand niece (He married my grandfather's sister, Stephanie, told us that her dad, who had been helping run the business almost since it opened recently retired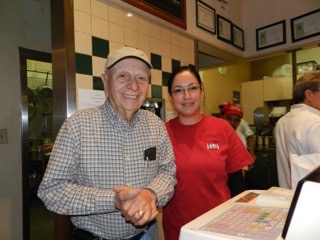 The ghost still shows up on maps and restaurant guides as Andre's of Beverly Hills even though that hasn't been the name of the business in that building for more than a dozen years.
Andre's, (323) 935-1246, 6332 W. Third Street in the Town and Country mall across from Farmers Market. Andre's is located inside a little courtyard a few doors to the east of the Whole Foods Market, and yes, K-Mart to east.