At India's Clay Pit: (Don't) Take my Chicken Tikka Masala. Please.
(Gerry Furth-Sides) Chicken Tikka Masala, Chicken Tikka Masala. Chicken Tikka Masala. The most frequently ordered dish in an Indian Restaurant continues oddly on, especially since it is not even really Indian. And there are so many other dishes to try. So why not "Take a  different authentic dish instead."
The new India's Clay Pit in Silverlake is the perfect place to try new dishes. The clearly organized, elegant menu is designed around sauces and stews with an option of proteins, unlike most restaurant menus, despite the fact that just about every owner will tell you that the sauces are what categorizes a  dish.
For example, at India's Clay Pit,  all Tikka Masala dishes come under one heading, described as a "tomato based sauce with ground almond and a delicate touch of cream." Protein choices include Chicken, Fish (Salmon), Lamb and King Prawns.
Less spicy than a Masala and found on most Indian menus, are Korma dishes, meaning an onion base sauce with ground nuts, saffron and a delicate touch of cream. The Urdu-based word, Korma meaning "braise" tells it all, literally meaning "cooked meat." So this dish will invariably feature tender meat or veggies after a braise with water and stock into a spiced sauce with yogurt, cream, nut or seed paste. The intensity and form can vary from kitchen to kitchen but the ingredients will  be the same.
To continue ordering by category, under the vegetable heading, the Paneer (cheese) Korma will be Farmer's cheese, this time braised in the Korma style with ground almonds and a touch of cream.  Reading the ingredients you will be right. This is not a spicy dish.
While perusing the menu, start with Appetizer and Salad courses, and a classic way to begin is with the fried Samosa and Pakora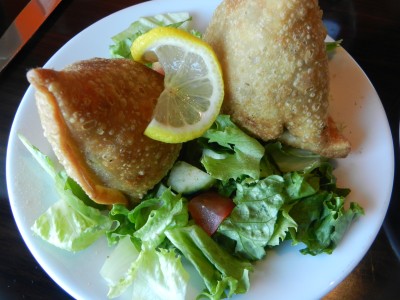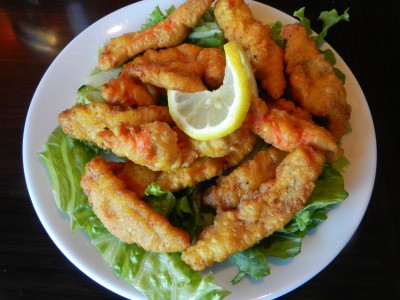 that typically includes dipping sauces of Mango chutney, Lime Pickle and Raita (a yogur-based condiment that cools the palate from spicy dishes.  Vindaloo dishes are indeed for those who loves spicy, with a choice of Chicken, Lamb or Shrimp/Fish. Yet you know it will be spicy because it is in the description of its base, "Traditional Spicy curry served with potatoes and a touch of lemon juice."
Chef Specials include Butter Chicken or murgh Makhani. Makhani always means marinated in a yogurt and spice mixture and served in a mild curry sauce that includes butter. The rather modern dish was created in the 1950's in Delhi, an area known for producing strong, international restaurant owners.
Dansak, meaning "cooked with lentils and a touch of lemon juice," offers another rich yet mild selection. India's Clay Pit offers chicken, shrimp or lamb Dansak. Chicken is one of the most popular. Karahi means "stir fried with onions, bell-pepper and tomato," and the Lamb Karahi pairs well with Dansak for a table share.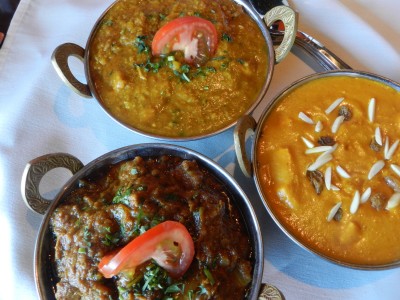 Rice is a specialty of Indian restaurants with many versions, all light and fragrant and often long-grained. This is very special rice and deserving of a try. The origin of Biryani is unknown but the word means "rice" in Persian. What is important is that it is Northern Indian and associated with the exceptionally rich Mughhals, from which we get the English word, "Mogul!"   India's Clay Pit offers Biryani's with veggies, mushroom, chicken, lamb or shrimp.
A Pullao dish is  beautiful rice, tinged with the color of the seasoned broth it is cooked in, and although very popular in Muslim cuisine it has rippled right through the culinary world. You might know it by another name, "Rice Pilaf," and this is a good way to remember this rice.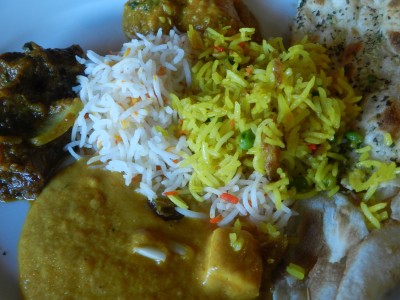 Kashmiri Pullao, known as an elaborate mixed rice dish, originated in the Northern Indian mountainous (Himalayas) state of Kashmir.   Whereas regional cooking categorizes Indian cuisine much more accurately than by current India, Pakistan and Bangladesh nationality, Kashmir's historic independence is reflected in their cuisine.   India's Clay Pit dots their sumptuous Kashmiri Pullao with almonds, raisins and peas. Pistachios are also often used. The royalty of the dish stems from the use of saffron in it, and an extraordinary balance of ginger and garlic.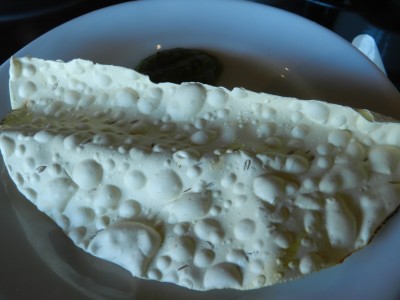 A dozen Breads or Rotis prepared in the Tandoori, plus a list of Beverages (including beer), Desserts and Condiments, complete the menu. This includes the popular Mango and Sweet Lassi, a refreshing drink made with the pulp of mango and with yogurt.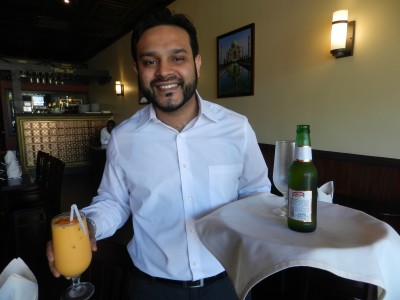 For those focusing on a main dish,  a Dinner Combo is offered with soup, slad, rice, plain naan and dessert for an additional $6 to the A La Carte menu.
The owner and friendly wait staff are also happy to answer questions and offer suggestions.   The double-front space is inviting, newly painted in mustard and brick red with wood appointments.   India's Clay Pit is on oasis, sitting in a strip mall with free parking, a few hundred yards away from the crazy-busy intersection of Virgil, Beverly and Silverlake.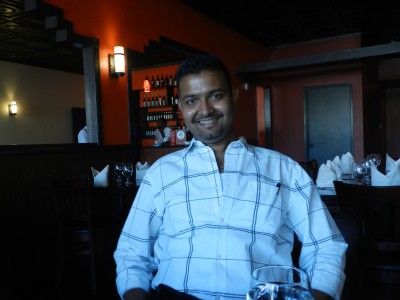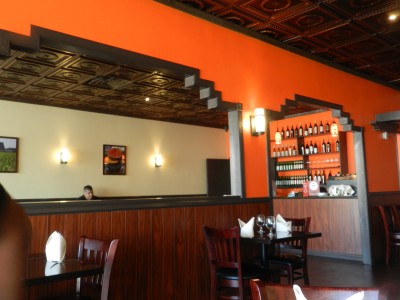 To get an idea of the jumbled and peculiar popularity of Chicken tikka masala, it earned second place in a recent British survey (in England) as the country's second most popular dish to cook — after Chinese stir fry.   That Chicken Tikka Masala is about as much an Indian dish as a Chinese stir fry is Chinese, pretty much sums up the situation.  The story goes that an Indian restaurant owner not that long ago in London, too tired to answer a customer's complaint of chicken tikka being "dry," just ordered the sauce to be poured over it.  Of course, to add to the irony of it all, the British Foreign Secretary already had, over a decade before the survey in 2001, declared it "a true British national dish, not only because it is the most popular, but because it is a perfect illustration of the way Britain absorbs and adapts external influences."
Chicken Tikka, however, is in fact an Indian dish. "Tikka refers to small pieces; in this instance usually boneless pieces of chicken marinated overnight in yogurt and spices and then cooked over burning charcoal in the tandoor. In the masala version it is then cooked into a creamy sauce spiced with ginger, garlic and onions, and served as a main course.
I myself plead "not guilty" to ordering either versions of the dish – more because I am not a fan of tomato-based dishes since most restaurant dishes with tomato sauce taste acidic. Now that I have eaten it prepared properly, I may change my mind.
(www.Indiasclaypit.com), 309 N. Virgil Avenue, Los Angeles, Ca 90004. Order online for pickup or delivery below.