Best Espuña Chorizo Recipe: Add Not One Thing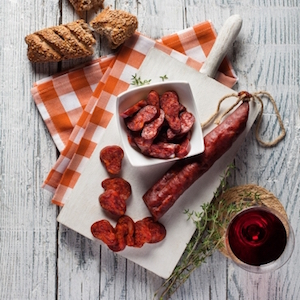 As most of the top chefs in the world will tell you, when you are cooking with superb products, the key is to "do as little as you can to let them shine through."
Espuña products prove this as we learned firsthand.  Our box arrived and when we opened it, the products each wrapped in brown butcher paper and tied with string, we felt as though we were on "Chopped" and ready to go.  Here is why: New to the United States, they are the best commercial product out there on the market comparable to the reliableColumbus Italian.
Esteve Espuña, a third generation charcutier, introduces Espuña,cured meat products to the U.S. through The Charcuterie Shack.  This online destination features some of the world's best cured meat products including Spanish chorizo and serrano ham, Italian finocchiona and more.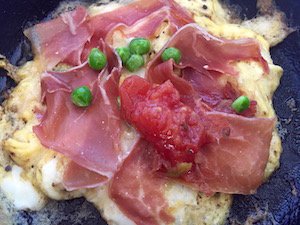 The company policy explains that "Our sets are seasonal, we build them based on both seasonal availability and our own quality check — we eat it first– it our motto.   For that reason we apologize in advance if some of our products become unavailable over the year, we only sell the best products at their peak time."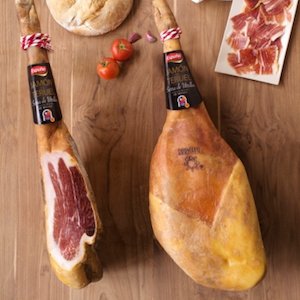 As the grandson of one of Spain's premier cured meat producers, Esteve also shares tips and insight on how to make true Spanish-style chorizo at home.
The story begins in a small Catalan region in Spain, with a long-standing history of producing some of the region's best dry-cured pork products. Known for combining traditional practices with the region's finest ingredients, La Garrotxa's charcuterists are considered among the best in the world.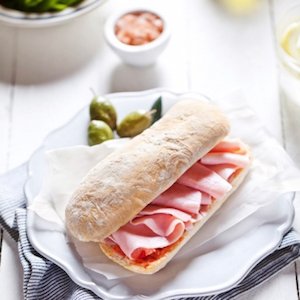 At a young age, our founder, Esteve Espuña, realized that he too shared this passion of producing dry- cured meats in the traditional way, and wanted to stake his place among the legends in La Garrotxa. He soon embarked on a journey to learn everything he could about the traditional dry-curing process.
Esteve began to handcraft sausages in small batches at his home in La Garrotxa, while also working with experienced craftsmen throughout the region to further his knowledge of the traditional dry- curing process. Overtime, he expanded his range of experience with a variety of handcrafted dry- cured sausages, learned the best spices and flavors to include, and went from being a beginner sausage maker to an expert.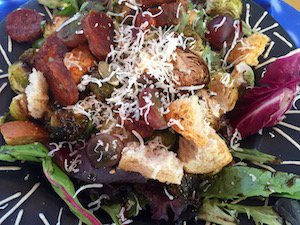 A salad prepared with España chorizo, grapes, croutons, greens and radiccio , roasted brussel sprouts, purple grapes, grape seed oil and balsamic vinegar, Spanish cheese
In 1947, with one employee by his side, Esteve ventured into business for himself and opened a small workshop in la Vall de Bianya. It was there where he began to develop his own unique recipes for handcrafted and authentic Spanish dry-cured sausages and chorizos. And with that Espuña was born.
Under Esteve's watchful eye the company expanded significantly, and in 1964 the facility was moved to Olot, a larger neighboring town. Espuña's headquarters remain in this facility today.
In 1975, Esteve's son, Xavier, took over the company and made sure to maintain his father's tradition of handcrafting Spanish charcuterie. Under Xavier Espuña's leadership, the company grew significantly as he focused on launching new Spanish specialties and expanding distribution of Espuña's product line to countries all over the world. It was during Xavier's tenure that dry-cured Serrano Ham – a customer favorite – was added to the product line.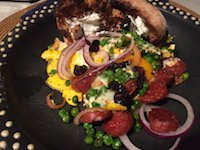 In 2014, a third generation began working to craft Spanish charcuterie in the Espuña tradition: Xavier's son Esteve. Esteve grew up listening to his father's charcuterie stories and is dedicated to continuing his family's heritage of producing Espuña's world-class line of dry-cured meats, charcuterie, and tapas.
How is this being done? The facility in Utrillas, Teruel Spain is USDA approved to export our handcrafted products — including the finest Serrano Ham — to the United States. The crafted traditional, dry-cured handcrafted sausages using  time-tested, authentic recipes are now being produced in the United States in the same way as the company has done for  over 65 years in Spain.
OUR PROCESS
The finest Spanish dry-cured Serrano Ham
How is Serrano Ham made ?
Spain has numerous kinds of Serrano Ham. Each region produces its own variety and in turn each producer tries to di erentiate themselves. Espuña's Serrano Ham taste profile is closer to the Italian Prosciutto, less salty and less rancid than the common Serrano Ham.
Espuña is located in an area with a long tradition in cured products. To ensure the best quality product, we keep our curing process simple:
We source fresh hams from farms close to our facility in Olot
Place in curing salts
Air cure for a period of 9- to 15-months, depending on the product
When curing is done, we package the whole Serrano Ham pieces
We send the whole pieces of Serrano Ham to Utrillas where they are deboned and molded into blocks
Finally, it is sliced, packaged and ready to enjoy!