Best "Holy" Mole and Other Heavenly Dishes at Aro Latin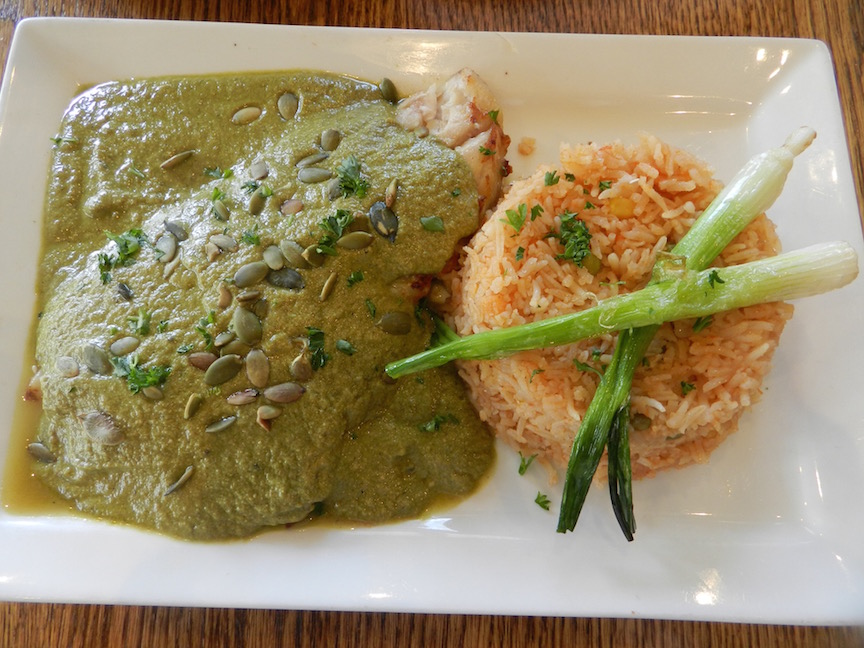 (Gerry Furth-Sides) Rocio Camacho's Oaxacan moles may have made the reputation at the year-old Aro Latin Restaurant for a year now (above  Sopes de Certo stylishly hones together recently fashionable pork belly, orange marinade, achiote. trendy pork belly version above), but the outstanding fish plates (overseen by owner Karan Raina) and desserts created by his El Salvadoran wife, co-owner and pastry chef, Candy Garcia Raina, are not to be missed.   These dishes also helped earn the "destination" label to Aro Latin located on a historic, quaint street of shops in South Pasadena. When was the last time you saw a street with Farmer's Market on Thursday evening and a piano music shop? And would you believe that a set of well to do businessmen created the mixed use architecture street in the -20's to house their mistresses on the second floors of the commercial buildings?
Yes, Chef Camacho is entitled to all the praise she receives. The key in perfecting a mole is individually highlighting spice and sauce, and at the same time unifying the flavors. There was one other place we knew on a level as high: Mexicano. So we were not surprised to learn that is was the very same Chef Camacho who cooked for the ebullient duo, Jaime Martin Del Campo and Ramiro Arviaza, at La Casita Mexicana in Bell before they opened Mexicano in Baldwin Hills (reviewed in these pages).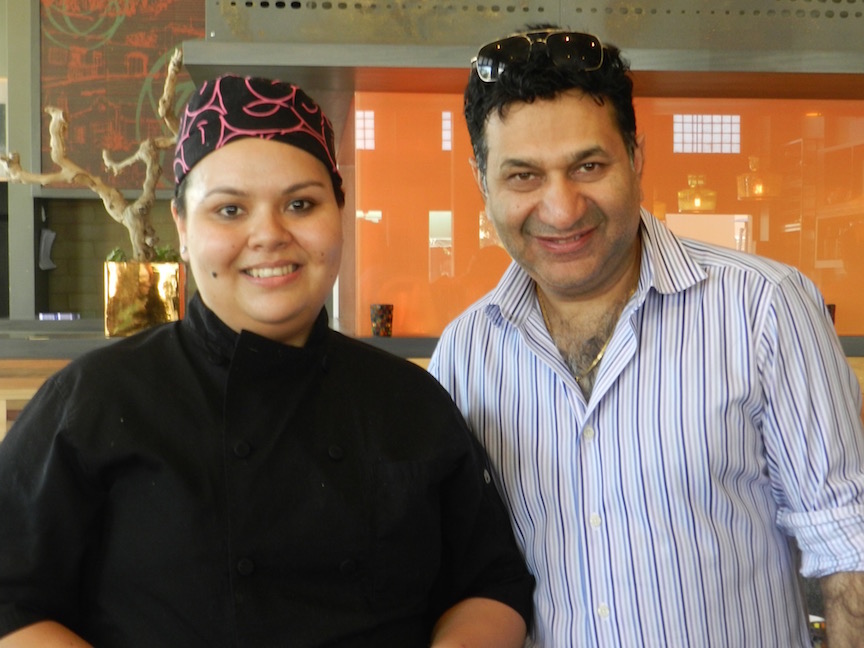 Rocio consults in several places, and here it is her daughter, Grecia Comacho, chef de cuisine, who works the kitchen with Raina on a daily basis to create not only near flawless moles and salsas but also the more Indian-inspired chutneys, relishes and marinades.   The match works because both Indian and Mexican (and certainly Central American) cuisines have as a base, sauces.
Ten to Try
Branzino a la parilla, marinatate ($26), whole grilled fresh branzino, turned out to be the standout dish for me, succulent, delicate and meaty. Even filleted, the crunch of the skin gave it the pop of bone.  Shown here with the Coliflor, this colorful picture says it all.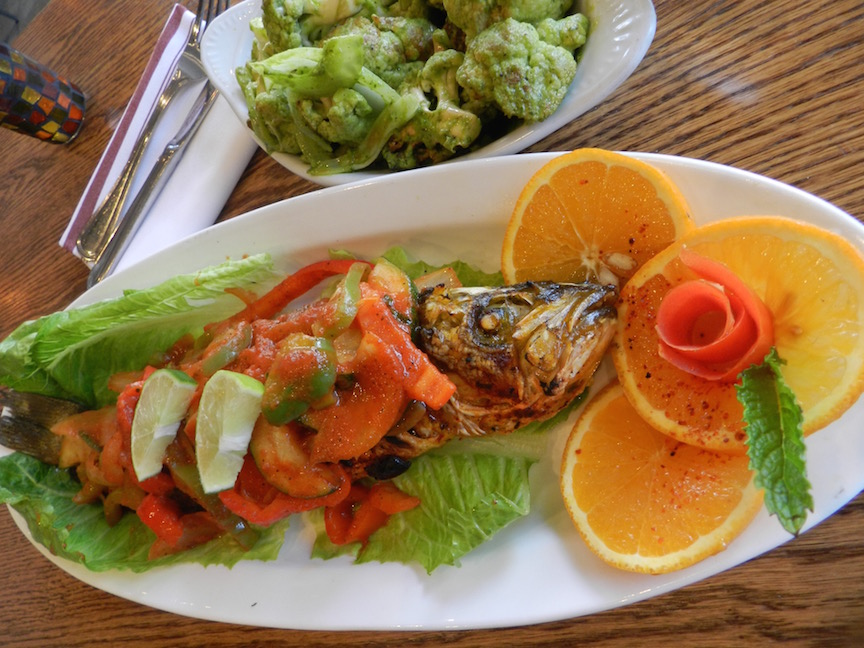 Salsa Aro, the house staple of chips with  "tooth" to them, chile morita salsa, tomatillo chipotle salsa and pecan walnut salsa. It is the second all-around favorite item of diners.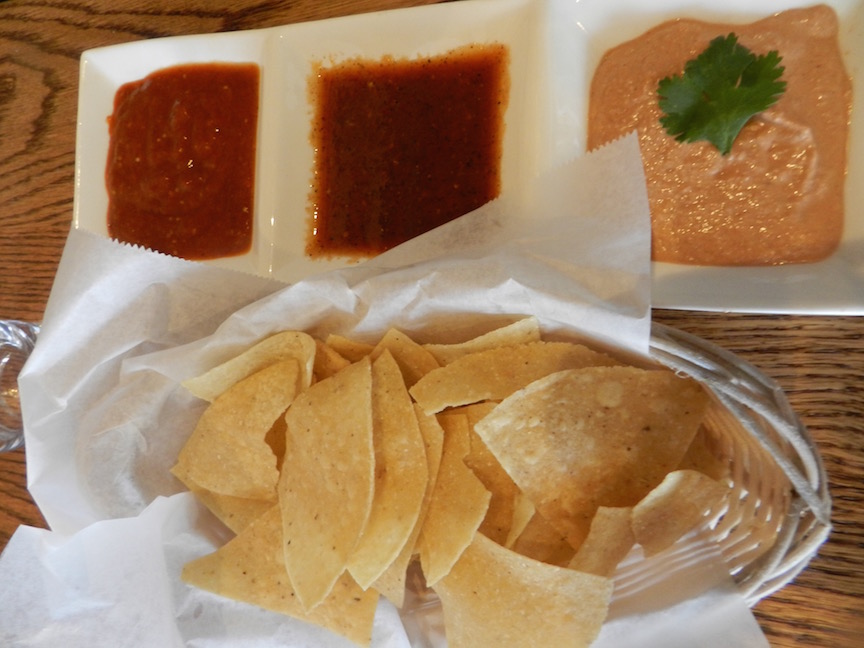 Ceviche  a cocktail glass filled with  ahi tuna, mango, jicama chunks, Serrano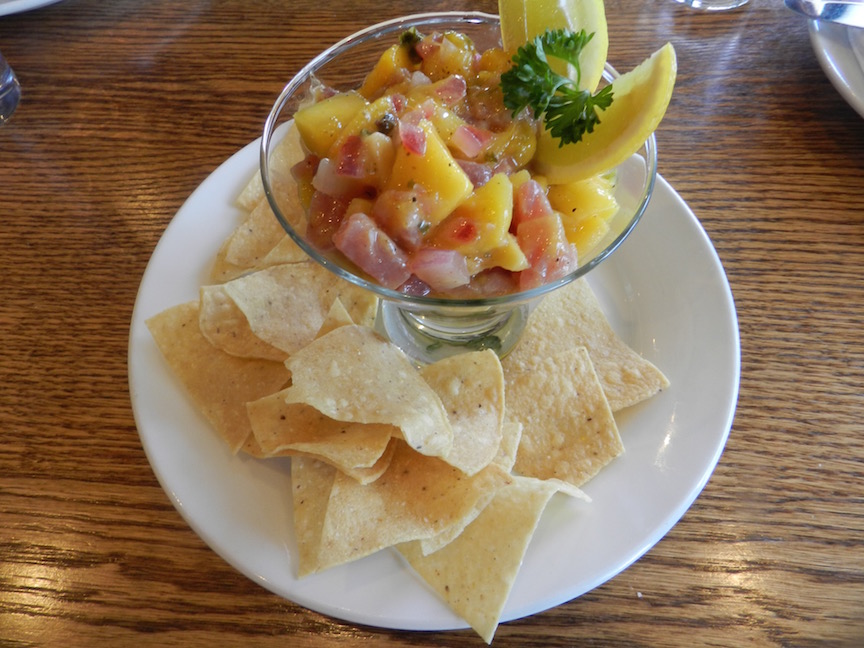 Chutney de Pescado  turns filet of snapper cooked in a banana leaf to keep in the juiciness and flavor, spanish fried rice, mole verde, peach habanero lime chutney into an entire entrée or a shared plate. The layers and layers of flavor include sweet and tart.  Mole Polano con olio (18) features chicken, mole poblano, spanish fried rice.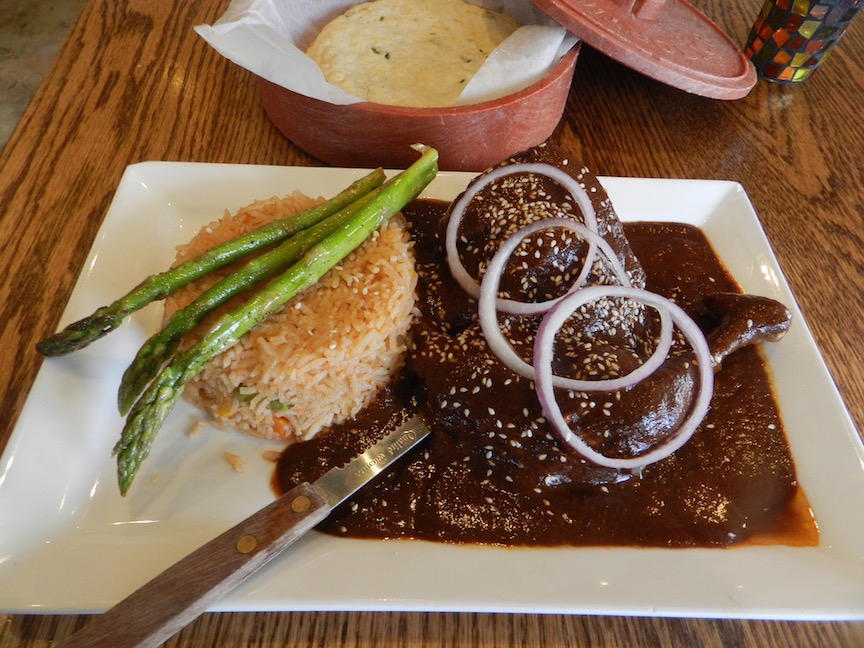 Below are the three types of peppers used in the dish.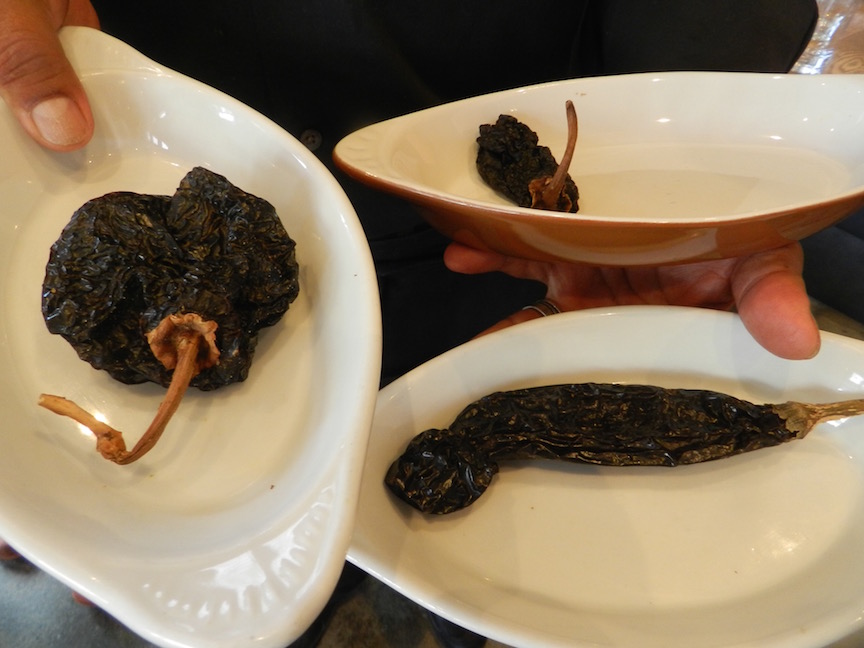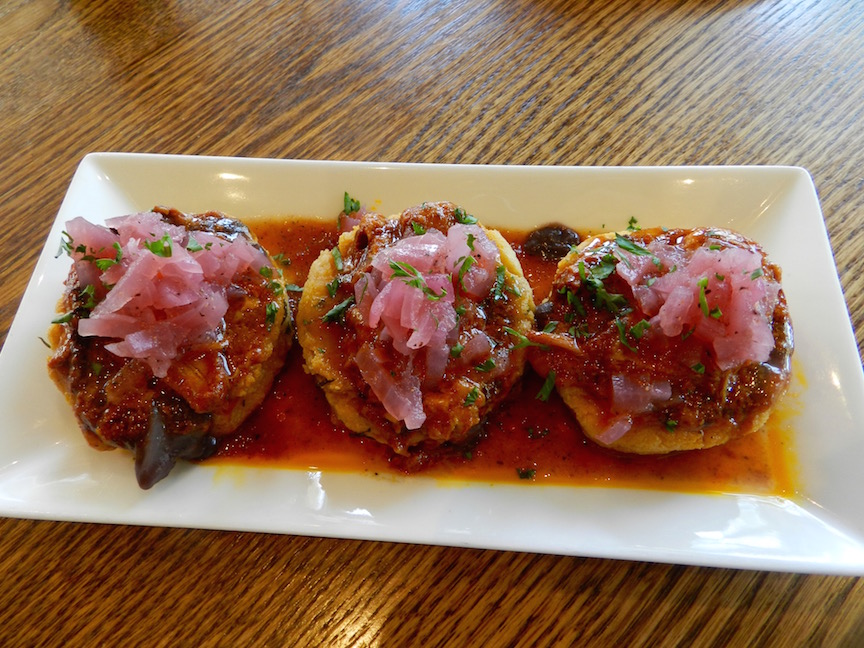 Esquites are what the folks write home about in most popular reviews.   The roasted sweet corn and queso fresco form a natural subtle opposite, seamless pairing of opposites with chipotle and a Spanish paprika salsa. Spanish paprika completely tones down into a heat the usual spikiness of wilder Hungarian paprika and still holds up to a layer of crème on top.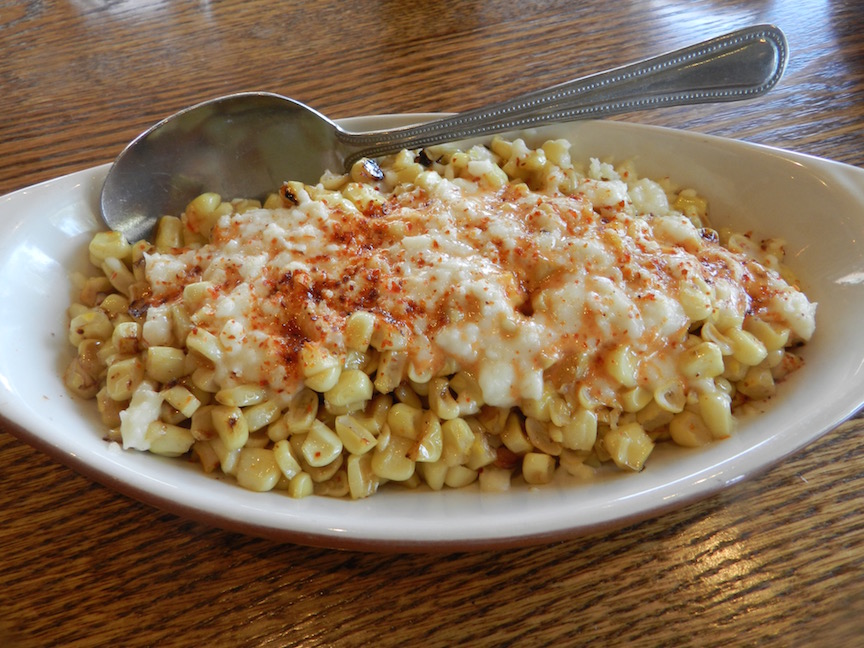 Along with Coliflor , shown above with the branzino, root vegetable star of the winter menu, Coles de Bruselas, brussel sprouts incredibly tender yet stir fried and with a crunch on the outside, dressed in vinegar and olive oil.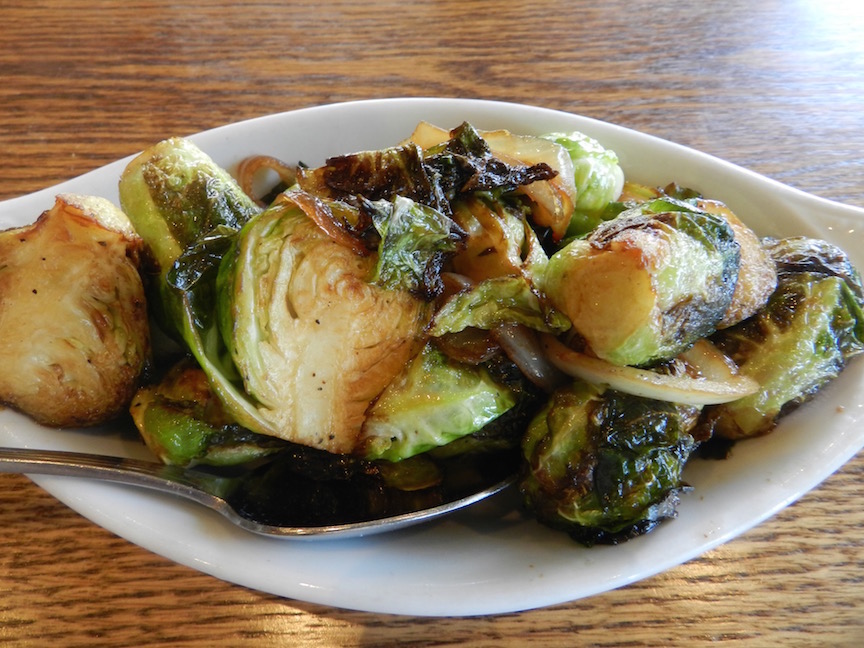 Costillitas (baby back ribs) add a new meaning to "baby back" in a Latin setting of coconut milk, Cuban roast peppers, fresh rosemary, mango relish and cayenne pepper.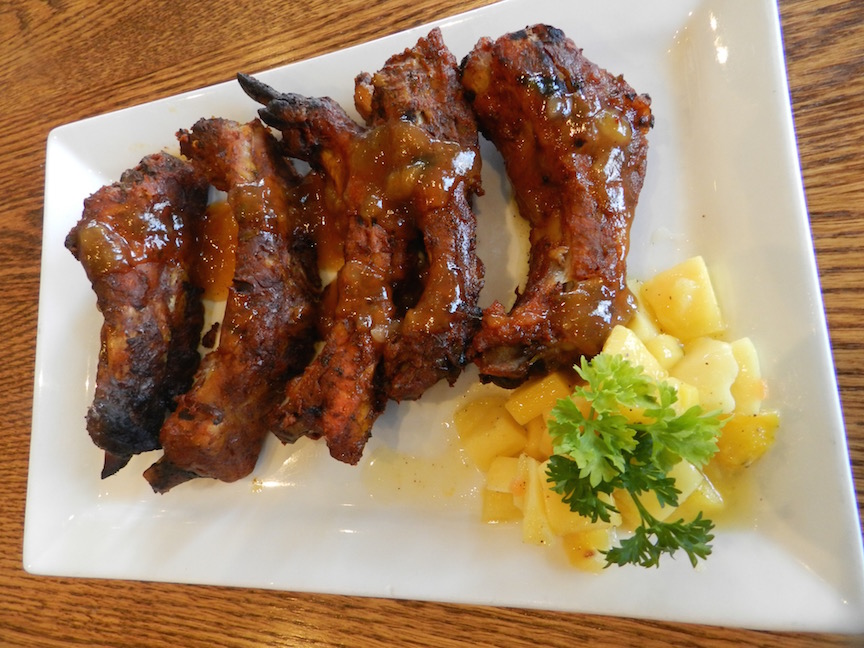 Coco Tres leeches, pastry chef Candy's dense cake with coconut flakes soaked in three types of milk, served on a couli of fresh mango sauce.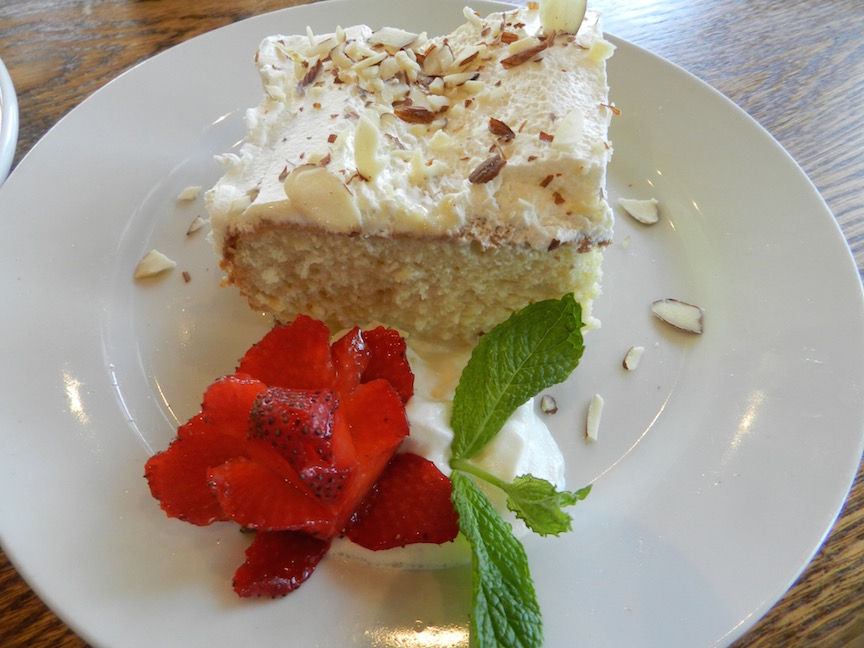 The Raina's other restaurant, Radhika, named for Karan's mother, is just down the street. Karan Raina is a hands-on guy, happily moving between his two restaurants and overseeing and greeting guests.  One lazy, hot afternoon when we popped in for a Mexican version of the Italian Caffe Correcto served in Italy as a cappuccino infused with grappa, and were happily sipping a just sweet enough Mexican iced coffee, laced with cinnamon and tequila, Karan dropped in — checking on the two restaurants in between his tennis match and before a daily run!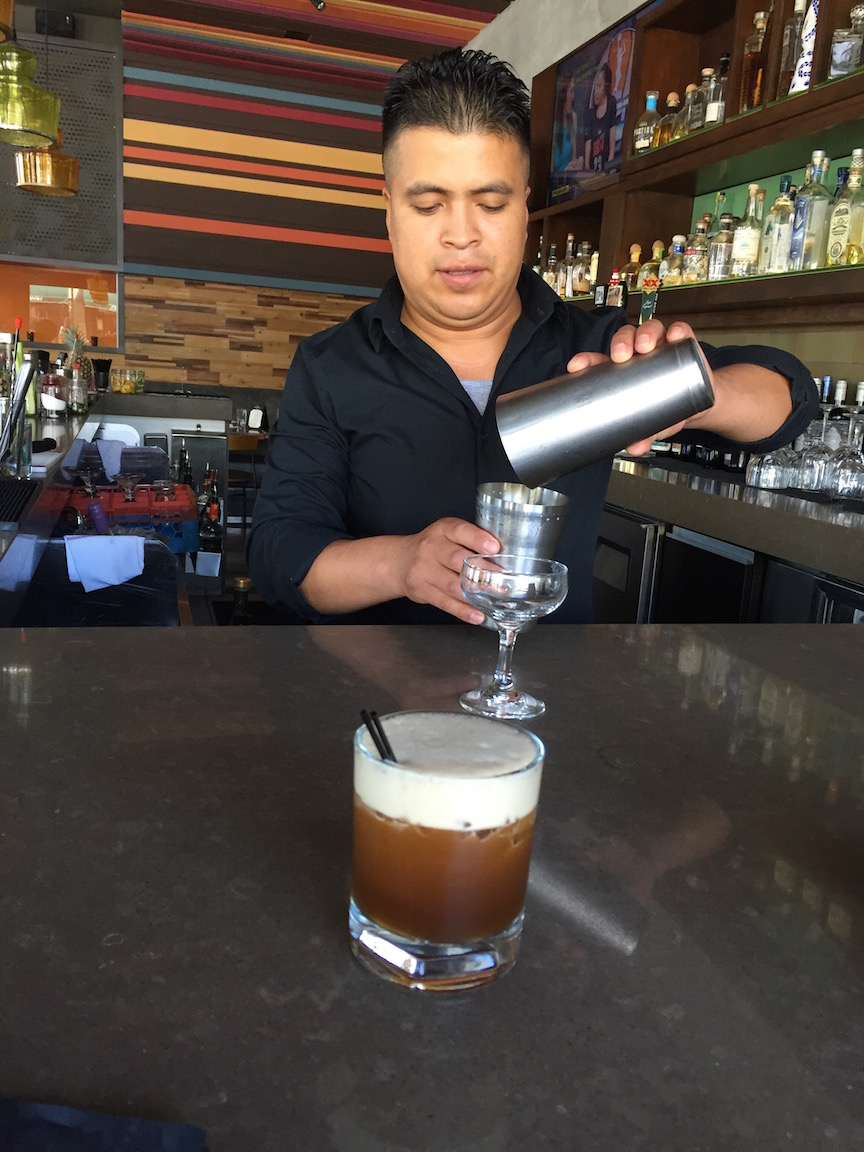 Again not exactly a surprise then, Raina was born in the Punjabi region and proves the area's reputation for producing successful, hard-working restaurateurs.  He trained in the British hotel system in India, where he also spent time in the kitchen with Indian chefs who carry down centuries of refined culinary traditions that focus on nuanced taste combinations and distinctive textures. Raina met his wife, Candy Garcia, while he was managing Latin restaurants in Los Angeles. Though Candy is now a full-time nurse, her love of baking and pastry propels her to continue overseeing the pastries.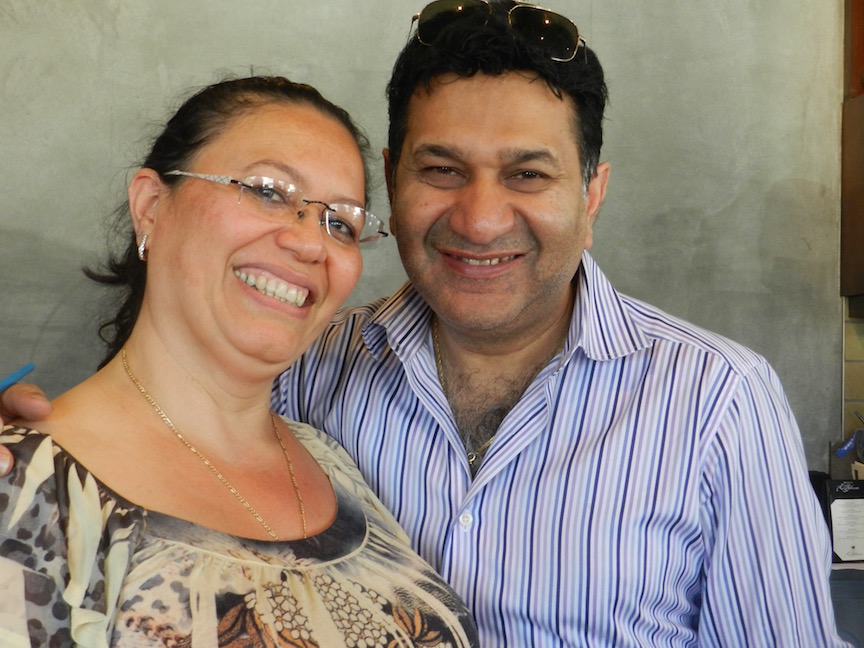 Akar Studios in Santa Monica transformed the distinctive 1907 building space,  a one-time bakery, into its stylish, contemporary, organic and inviting interior. A large, rustic bar on one side shows the consideration of the management with a set-in, unobtrusive TV.  Banquette tables along the colorful back wall housing the kitchen, and tables along the windows on the side. The ceilings are in the high category that mark old historic Los Angeles, as doesthe free two-hour street parking without meters outside (!)
Aro Latin, 1019 Mission Street, South Pasadena, CA, 91030, (626)799-9400 (www.arolatin.com) Order online for pickup or delivery below.