Best Indian Summer Snacks From Tim's Cascade
There are potato chips (most of which are addictively fun to eat) and there are "potato chips."  Tim's Cascade Snacks are "potato chips."  Why? They are just thin enough to retain their strong have more of a snap; they are more flavorful, available in more varieties and more interesting varieties, and in a taste-test win hands down.  A mainstream newspaper food writer recently gave her unsolicited comments after trying a few this with another couple of brands at a party. In her words,  "theBuffalo Blue and the Hulapeno have just the right amount of heat and the texture is perfect."  A week later she added, "they are the best for a midnight snack; they answer every craving."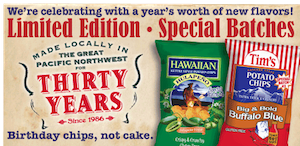 Fan favorites from the past head up the current limited edition favors for their 30th Anniversary.  Tim's has been cooking  potato chips in the shadow of the Cascade Mountains since 1986.
She was referring to the third offering in the Special Batch creations, which brings  a complex combination of tangy buffalo sauce and subtle blue cheese.   Tim's has blended the best ingredients from a favorite hot sauce and kicked it up a bit with cayenne pepper and natural smoke flavors. Then it was mellowed it out with a creamy hint of blue cheese.
Tim's Big & Bold Buffalo Blue Chips are the perfect combination of the tangy heat of buffalo wings paired with the creaminess of blue cheese, which makes this the ultimate game day favorite snack. These chips are Gluten free and made with no preservatives or artificial flavors. Big & Bold Buffalo Blue Chips are the third release of Tim's Cascade Snacks Special Batches, and will be in stores for a limited time.
Hulapeno is the fourth Special Batch release from Tim's Cascade Snacks, and offers a balance of intense flavor with a spicy bite of jalapeño peppers, with just the right amount of heat.  The chips were developed after research showed that 78 percent of mainstream consumers say they enjoy moderately spicy foods. Additionally, Hulapeno Chips ($3.49).
These new limited edition flavors will be in stores for a limited time and will launch a new tradition.  Every year from now on, Tim's Cascade Snacks will now offer Special Batch items for Hawaiian Kettle Style Potato Chips and Tim's Cascade Style Potato Chips with unique flavor trends.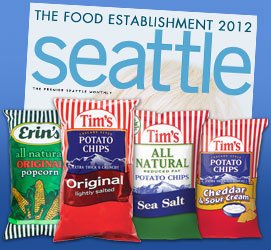 These new limited edition snacks start with premium potatoes direct from local family owned farms in the Great Pacific Northwest. Only the finest blends of real seasonings and spices are used.
The first two Special Batch flavors proved extremely popular in the Spring 2016: Island Lemon and Coney Island.  Tim's Cascade Snacks is launching two more new Special Batch flavors: Big & Bold Buffalo Blue and Hulapeno Chips.
For over three decades, Tim's Cascade Snacks has stayed true to its mission.  From the time they started in 1986, Tim's has supported local farms and businesses, many of whom started out with the company from its inception, 30 years ago.
Additionally, Tim's has supported the sustainable movement well before it was the thing to do. The Association of Washington business announced Tim's Cascade Chips as the recipient of their Environmental Excellence Award of the Decade.  Tim's was also recognized for water conservation, packaging reduction and a 10 year continuing Environmental Commitment Award in May 2001.
Further information is available at www.pinnaclefoods.com.