Best LA Places to Celebrate Taco Day October 4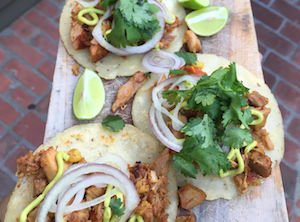 (photo The Raymond 1998) Executive Chef Tim Guiltinan goes all out in his regular menu at our favorite The Raymond 1886 in Pasadena.  He celebrates Taco day  all day long with Suckling Pig Tacos Al Pastor, rich with pineapple, avocado and salsa rosa.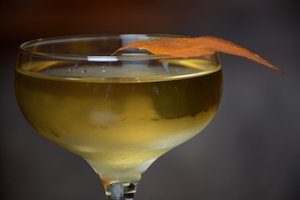 Pair these elevated tacos with any one of 1886 Bar's extraordinary mezcal creations like the The Chic Marigold with El Silencio Mezcal Espadin, Siete Luegas Reposado, Calle 23 Plata, Peach Massenez, Pipet Habanero Shrub Bitters, Cynar 70, Lime syrup and a habanero chip garnish – we always have a challenge leaving the drink menu and this is no exception.  Good thing you don't have to watch for the small restaurant sign on the road after one of these!
The Raymond 1886 hours on National Taco Day, Oct 4:   11:30 am to 2:30 pm for Lunch and from 5:30 pm to 10:00 pm, with the Bar open until 12:00 am; 1250 South Fair Oaks Avenue, Pasadena, CA 91105; 626.441.3136; www.TheRaymond.com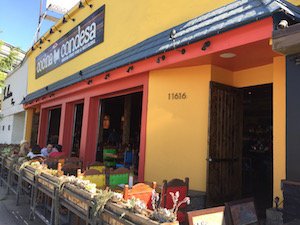 Coming west, Smoked Brisket Tacos with Chipotle Salsa,  Mango Habanero Pico de Gallo, Blue Corn Masa are the feature of the day created by Mayan-inspired Executive Chef Eddie Garcia at Cocina Condesa in Studio City.  A long list of additional tacos  on the menu.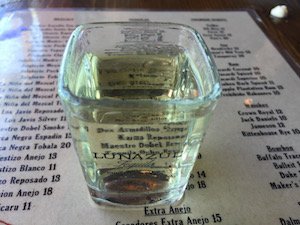 True to its restaurant description of a Mezcaleria, the list of Reposed and Anejo and Double anejo tequilas  and mezcals fill one entire menu page.
Please see the website for more details about Cocina Condesa events, http://www.cocinacondesa.com,
11616 Ventura Boulevard, Studio City, CA 91604 (818) 579-4264.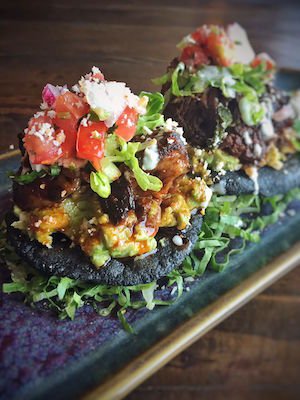 (Super Taco photo courtesy of SOL Cocina Playa Vista) At the resort-like SOL COCINA PLAYA VISTA near the ocean, with no less than 14 Specialty Tacos on the menu you can eat one every day for two weeks.   The Short Rib Taco (above) topped with red chile salsa takes the favorite street food item into the realm of an entree dish.  Grilled chicken, melted cheese and ghost chiles (hot!) ramp up the heat in the fire-spiced Viper Taco.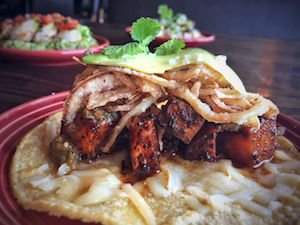 For the vegetarians, three options include a Spice-Roasted Butternut Squash (above) with crispy onions, roasted green chile salsa and red pepper salsa and a Mushroom Taco (below).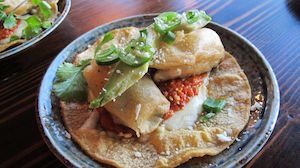 Juicy bite-sized shrimp are offered three different ways including the Shrimp Taco Dorado with chipotle-garlic shrimp, Jack cheese, mango salsa, guacamole and cilantro. A  Fish Taco Gobernador features  garlic sautéed wild-caught fish topped with cheese, salsa Gobernador, avocado and onion.
SOL Cocina Playa Vista hosts a National Taco Day Happy Hour from 3:00 pm to 6:00 with offer like the Lemon Mezcal Grilled Chicken Street Tacosand the Pork Carnitas Street Tacos for only $4.50 (two per order).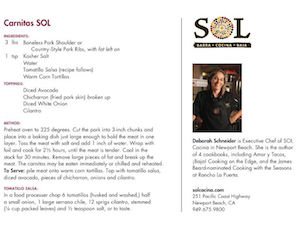 Executive Chef Deborah Schneider and highly respected Mexican cookbook author shares several of her Super Taco Recipes the the holiday (see above), including the Agave Shrimp Taco, Ghost Chile Viper Taco and even her Roasted Butternut Squash Taco recipe.
SOL Cocina Playa Vista will be open on National Taco Day, Tuesday, October 4th, 2016 from 10:00 am to 10:00 pm; 12775 West Millennium Drive #160, Playa Vista, CA 90094; 424.289.0066; www.solcocina.com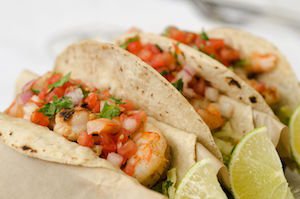 (Bob Hobson photo courtesy of Red O) Red O Santa Monica celebrates Taco Day with Chicken Tacos (shredded chicken, tinga sauce, fried plantains, queso fresco, crema, avocado and crispy plantain chips),  Carnitas Tacos (cilantro-lime yogurt, chipotle purée, radish and green Mexican knob onions). Crispy Style Short Rib Tacos with roasted tomato-serrano sauce, onions, cilantro, Monterrey Jack cheese and potato chips will satisfy all the paleos in the group.  For the undecided, Red O even offers a Specialty Taco Plate at Dinnertime, with a duo of Chicken Tinga and Short Rib Tacos served with Mexican red rice, refried black beans and queso fresco.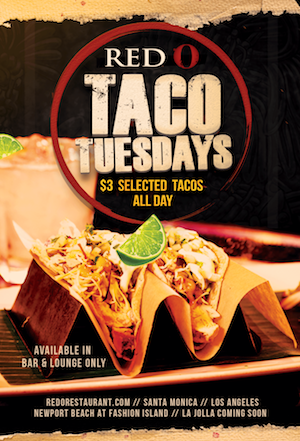 National Taco Day also coincides with Taco Tuesdays at Red O Santa Monica available at the bar and lounge all day long where selected Tacos are  $3.00 Selected Tacos.
Hours: Tuesday, October 4th, 2016 from 11:30 am to 3:00 pm for Lunch and 5:00 pm to 10:00 pm for Dinner; 1541 Ocean Avenue, Suite 120, Santa Monica, CA 90401; 310.458.1600; www.RedORestaurant.com