Celebrate Dwali (Everyday) with Anupy Singla's Indian Dal Kit

November. 11 marks the start of Diwali, the five-day Hindu festival celebrating the start of the New Year.  With estimates of over three million practicing Hindus in the U.S., this "Festival of Lights" is making itw way its way into popular culture with the day being celebrated by taking over Times Square.
Food is an essential part of Diwali – Hindus celebrate with a family feast and share sweets (called mithai) as a way to shower blessings on their loved ones. Just in time for the festival, Anupy Singla – bestselling Indian cookbook author and former journalist – introduces her Indian Dal Kit.  
Beans and legumes are an inexpensive food, commonly found in diets all over the world. High in fiber, calcium, and iron, beans and legumes are also a great source of protein. Combined with high protein whole grains like buckwheat, brown rice, millet, quinoa and teff beans.  Legumes not only make a delicious meal, but often provide the full compliment of essential amino acids needed by humans.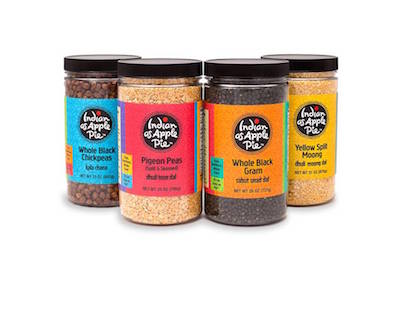 Healthy, inexpensive legumes are the "hot" new item on every foodie's list these days so you don't have to wait for a holiday to use Indian as Apple Pie.  The legumes in big, fat and very appealing bottles with the more delicate size beans inside all the most enticing even before being cooked.  And they can be prepared overnight if "I woke up to the most wonderful aroma of cooked legumes," enthused chef Annetta Kapon, Assistant Director Otis Graduate School.  "And they look beautiful when added to other dishes.
According to Chef Anupy, "the black chickpea and other recipes follow what is traditional  in Indian cuisine – the legumes are typically cooked more al dente than we are used to here in the west, and they typically like to have some broth for serving with rice and/or naan or roti."  And added, "That said, they could continue to cook past the recommended time for a softer chickpea with less of a bite to it, depending on personal preference."  Kapon also found that a lot less water can be used that are in the recipes on the bottles.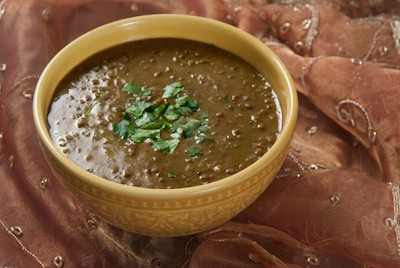 Here is a sample recipe for Kala Maa
3 cups (603 g) whole, dried black lentils with skin, cleaned and washed thoroughly
1 medium yellow or red onion, peeled and quartered
1 (2-inch [5 cm]) piece ginger, peeled and chopped
4 cloves garlic, peeled
4 –6 Thai, serrano, or cayenne chilies, stems removed, finely chopped
2 bunches fresh cilantro, washed and chopped (about 2 cups [473 mL]), divided
1 tablespoon (15 mL) ground cumin seed
1 tablespoon (15 mL) ground coriander seed
1 tablespoon (15 mL) garam masala
1 heaping tablespoon (15 mL) salt
1 teaspoon (5 mL) turmeric powder
1 teaspoon–1 tablespoon (5–15 mL) red chili powder
12 cups (2.84 L) water
1 teaspoon (5 mL) mustard oil (optional)
1/2 cup (118 mL) heavy whipping cream or plain yogurt (optional)
1 pat butter for garnish (optional)
Chopped onions, for garnish
Chopped tomatoes, for garnish
Directions
Put the black lentils in the slow cooker.
In a food processor, grind the onion, ginger, garlic, green chilies, and 1 cup (201g) of the cilantro. Add this mixture to the lentils along with the cumin, coriander, garam masala, salt, turmeric, red chili powder, and water.
3. Cook on high for four hours. Add the mustard oil, if desired. 4. Cook for another 4 hours. Mix in the remaining cilantro and add the cream or yogurt, if you wish. Garnish with a pat of butter and chopped onions and tomatoes. Serve with basmati or brown rice or with naan or roti, an onion salad, and yogurt.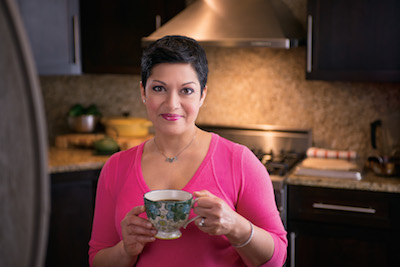 Anupy Singla is a former journalist turned cookbook author and entrepreneur. Born in India but raised outside Philadelphia, Singla is the co-founder of Indian As Apple Pie ( www.IndianAsApplePie.com), a company with a variety of recipes, custom spice blends and unique home goods designed to make Indian cuisine accessible to every type of home cook. Singla's commitment to healthful recipes and family-oriented cooking is inspired by her dedication to bring good, authentic food to her two daughters. Since her first book appeared four years ago, Singla's The Indian Slow Cooker and Vegan Indian Cooking have sold more than 100,000 copies and perennially topped Amazon's list of bestselling Indian cookbooks. Her latest addition, Indian for Everyone: The Home Cook's Guide to Traditional Favorites, mirrors her company in that it aims to make traditional Indian dishes accessible to all types of cooks and diets.
The Indian Dal Kit includes substantial large mouth bottles of yellow lentils, whole black chickpeas, pigeon peas, and whole black lentils for Diwali-style cooking.
The Indian Dal Kit ($34.99) turns out to be the perfect starter set for easily incorporating legumes into Indian cooking. When ordering, home cooks can mix and match the four ingredients to customize the kit to their personal tastes.
Kali Maa is one celebratory dish from Singla's book, The Indian Slow Cooker. One of Singla's favorite Diwali recipes, this festive dish relies on nutritious black lentils and is a staple in North India. The slow cooking time yields a rich and hearty meal.