Celebrating Frank Sinatra and Italian at Marino Ristorante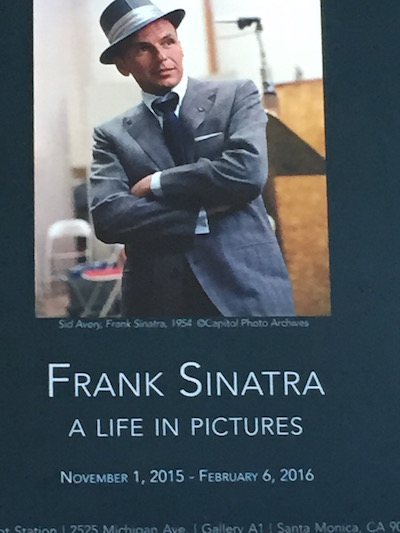 Any excuse is good enough reason to write about Frank Sinatra for me. Los Angeles is an "industry town," and you never know who you'll meet. I speak from experience.
When I met Frank Sinatra at a friend's restaurant years ago (Sofi), his daughter had planned a party for him, complete with strict rules regarding where restaurant guests were restricted even before he arrived. Well, Mr. Sinatra arrived with a couple of pals before the party and introduced himself to a few of the restaurant customers – and proved to be an absolute delight. He even serenaded Sofi afterward from the patio and laughed his head off when she mistakenly thought it was one of her wait staff! At the time I admired him, later realizing his iconic talent and was even happier that I met him.
Mario Marino was recently tapped to host the Frank Sinatra-Audrey Hepburn exhibition at Bergemot Station to usher in the year of the Sinatra centennial, co-sponsored by KJAZZ and The Grammy Museum.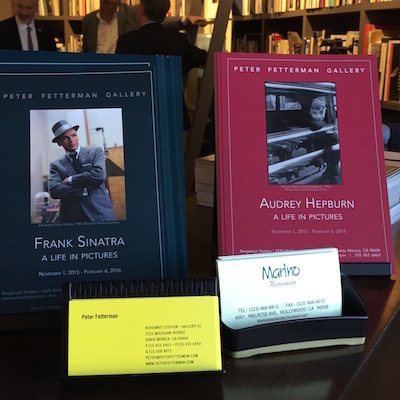 The exhibit honored both Frank Sinatra and Audrey Hepburn in photos.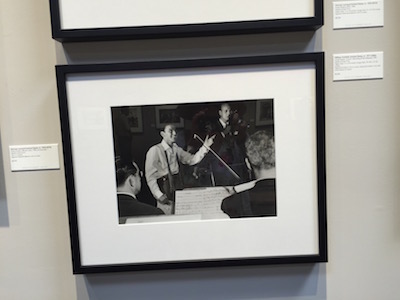 Below is Mario Marino with Nancy Sinatra trading stories.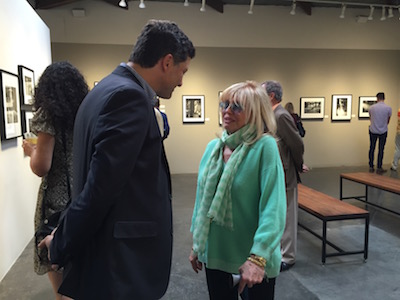 Mario and Jerry Sherrell of KJAZZ chat at the exhibit about an upcoming event honoring Frank Sinatra in a KJAZZ tie-in.  Jerry hosts the Frank Sinatra Show.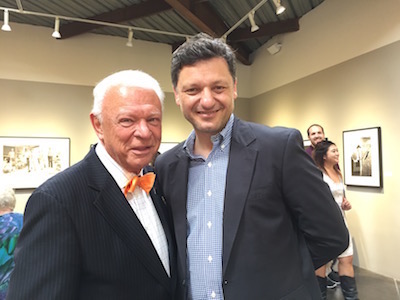 The classic Marino Ristorante comfort food was served at the event that ushered in the birthday year of the iconic Mr. Sinatra, though he probably would be happiest with a few friends and drinks..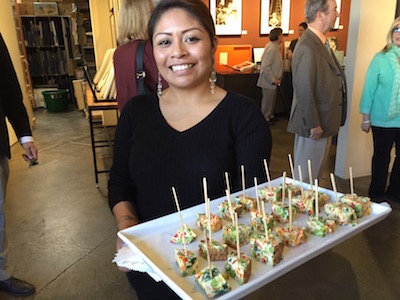 Still, icon is the term for Frank Sinatra. He was already legendary when he became a long-time customer of Marino Ristorante. His favorite seat was at the back family table, with a view of the entire room.
He also hung out with friends in the private side room where smoking cigars was allowed until recently.  Below is a party scene from the film"High Society" with Bing Crosby.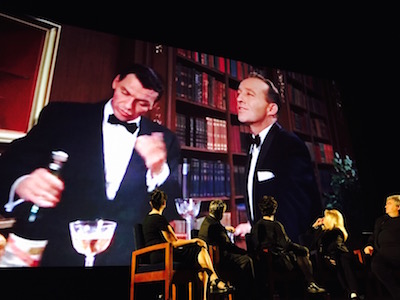 Frank's favorite dishes are still on the classic menu: Calamari Fritte; Rapini  (that Ciro used to go pick for him); Arugula planted in the back yard; Chicken Vesuvio with the mushrooms and Branzino
Marino means "The Sea" and Whole Branzino ($35), served with a medley of vegetables is a signature dish. The Mediterranean sea bass is oven baked in salt, then brought out and fileted tableside.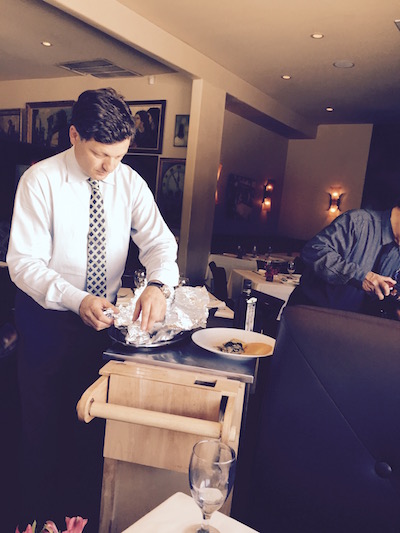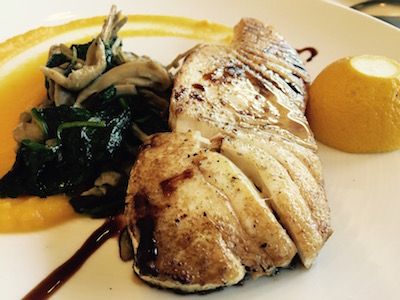 Marino (Ciro, known as Mario, Sr) after the two first met in New York at Patsy's. They met up again at the legendary Italian Villa Capri on Cahuenga in Hollywood, where Mario, Sr served as head captain.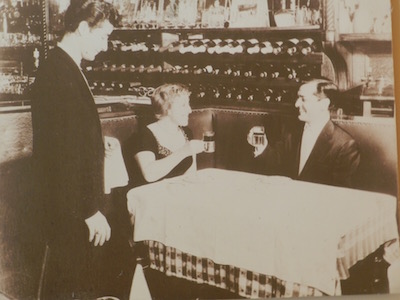 Frank, at the time, recruited Mario, Sr, and his brother, Sal, to come to his own home to cook for him from time to time. By that time, Mario had created Via Veneto on Sunset Blvd. However, so many chefs, owners, waiters came to hang out with each other and eat the good food
When he returned from Italy, Mario, Sr. opened his first café in 1960, Martoni's, which Frank then frequented on a daily basis. "We were the first Italian place here to offer take-out and catering,"Mario, Jr. told me, after Frank requested food from Martoni's to be delivered to his recording sessions."
The delivery and also take away would also became a fixture on Mario, Sr's new Marino Ristorante, which opened here in 1983.  Frank had his favorite seat at a table with a view of the entire room, and hung out in the back room where cigars were still allowed.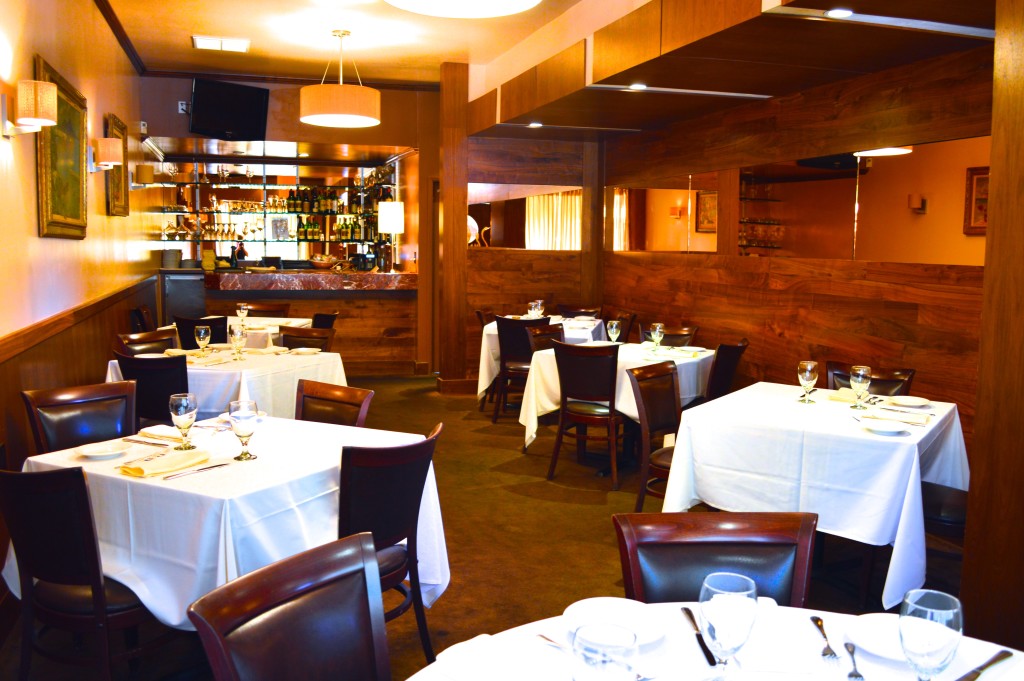 Marino, known as "the unofficial studio commissary." Marinos offers a Businessman's Lunch — either the Melrose for ($20) or the Mamma ($24), which are bargains.
Complimentary signature cheesecake dessert will be served at Marino Ristorante the week of December 12-19 to celebrate the birthday of "The Chairman of the Board."
Mario Marino, Jr. is host-owner at Marino Ristorante, 6001Melrose (west of Vine); Los Angeles, CA  90038, Ph.(323) 466-8812  Fax (323) 466-9010