Chadaka Thai: A Culinary Legacy
(Adreana Robbins)"Food is the window of our culture," said Katy Noochla-or (second-generation restaurateur), while hosting a tasting luncheon at Chadaka Thai in Burbank. I attended the event with a group of professional food writers, including international cookbook authors, Faye and Yakir Levy.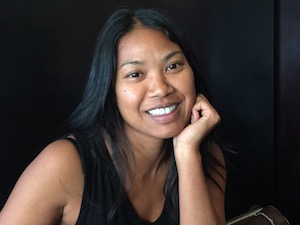 Noochla-or grew up in Chao Krung's kitchens, watching her mother and aunts cook. The experience fostered her passion for Thai cuisine and the hospitality industry.
Founded in 1976, Chao Krung is the oldest running Thai restaurant in Los Angeles. Noochla-or's mother, Supa Kuntee, continues to supervise the kitchen.
After years of working in all phases of the family restaurant, the young entrepreneur struck out on her own and within a few years opened Tuk Tuk Thai (Pico-Robertson area) and Rambutan in Silver Lake, which she operates with relatives.
Chadaka Thai, tucked into the heart of Burbank's Media District, serves traditional Thai fare in a casual and understated atmosphere. The establishment has a bar and serves craft beers, wine, or champagne, and offers an elaborate cocktail menu: Ginger Lemon-Tini, a Lychee-Tini, a Pink Orchid, a Mango-Tini, and a Dragon's Eye, to list a few.
Noochla-or selected our lunch menu while my companion sipped an X-rated Greyhound, an invigorating mix of X-Rated fusion liqueur and grapefruit juice, served by Manager, Rend, Katy's brother-in-law (left).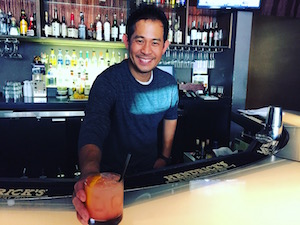 The Thai native arrived in Los Angeles at the age of 11 to join her family. She continues to steep herself in Thai culture by traveling through the country regularly, searching for new dishes. The kitchen showed off the variety with three noodle offerings, one curry dish, a chicken specialty, a pork selection and two exotic desserts.
Glass Noodle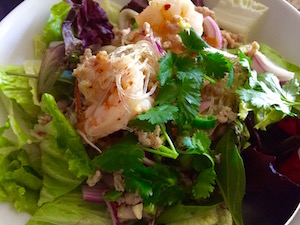 Salad, in the THAI NOODLE SECTION, served with ground chicken, juicy shrimp, calamari, and raw onions. The noodles are made with mung beans. If you order this, tell them to go easy on the lime juice unless you really like a lot of tartness.
The Khad Soi (curry noodle) is a blend of yellow and red curry,
coconut milk, soy sauce and palm sugar. Served in a large bowl, the popular favorite has chunky pieces of slow-cooked dark meat chicken. This flavorful plate is a standout and not to be missed.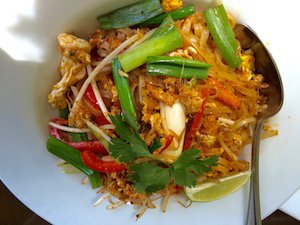 Generous helpings of crab sautéed in fresh garlic, green onion and bean sprouts make up the Crab Noodles dish.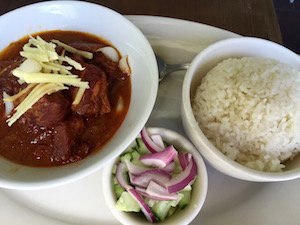 The Hung-Lay Curry, a spicy, red curry from Northern Thailand, has tenderized pork belly with sweet and sour flavorings.
And, of course, following the craze, there was a dish of Crispy Pork Bellies with Chinese Broccoli. Almost healthy! It turned out that fashion did not dictate this dish.   Katy told us that it came about because she noticed that Chadaka customers loved pork and this is a very traditional Thai dish fit in with the trend.
But the purest of dishes, the Thai Barbeque Chicken deserves honorable mention.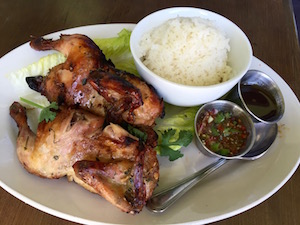 Chadaka uses Cornish game hen. It is brined overnight in lemongrass, garlic, ginger and chili oil. The rub dressing is prepared with a "family secret sauce." It is oven-cooked halfway and then finished off on a charcoal grill. I could have eaten an entire plate of this juicy bird. (No wonder they sell out on weekends! Best to go early if you're dining on a Friday or Saturday evening.)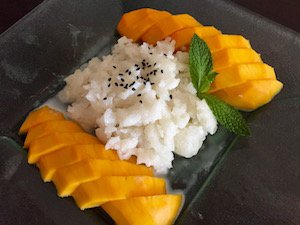 Another winner is Chadaka's Sweet Coconut Rice, soaked in coconut milk and steamed to perfection, allowing the Jasmine rice kernels to remain firm and never mushy. After eating every item, I was pleasantly satisfied, yet eager for more flavors. Thankfully, the meal concluded with dessert: coconut sticky rice, served with freshly ripened mango.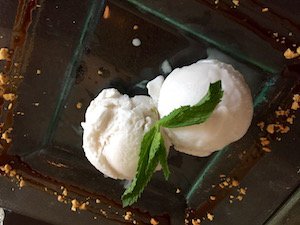 My sweet palate was further tantalized with coconut ice cream decorated with chocolate syrup and crushed peanuts. Both sweets should not be skipped.
My recommendation is to dine at Chadaka in a group (a minimum of four), and the more the merrier. Thai dining is best enjoyed as a collective experience, sampling and sharing a variety of fragrant dishes, just like our feast. The restaurant also has take out and catering options.
That afternoon, I was grateful to have been introduced to the food-writing duo of Faye and Yakir and Noochla-or's culinary legacy — a treasure trove of family recipes — worthy of a cookbook! Moreover, I felt as if I'd been transported to Thailand, as if I could see the colorful landscapes by tasting the food: the tropical flowers and fruits in Bangkok's Chatuchak Market, the rows of peaceful stone Buddhas,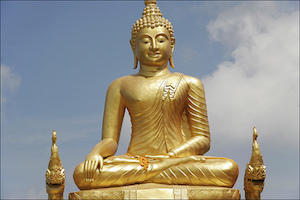 the golden Big Buddha in Ang Thong province, and, lastly, Phuket's sugar-white beaches and sapphire bays.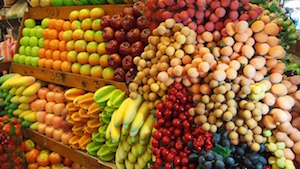 It has always been my dream to see Thailand . . . In the meantime, I know I can frequent any of Noochlaor's restaurants and feel as if I've entered a world of culinary delights. Perhaps travel writer, Deborah Cater, explained it best, "You have to taste a culture to understand it."
Chadaka Thai Restaurant, 310 North San Fernando Blvd, Burbank, CA 91502, (818) 848-8520.