Chef Jeff Lustre's Filipino Heritage Inspires New Demitasse Roastery & Kitchen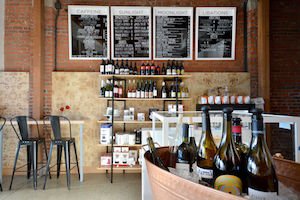 Executive Chef Jeff Lustre's menu, just in time for new full dinner service at  Demitasse Roastery & Kitchen in Hollywood, brings with it unusual ethnic dishes.
Lustre is inspired by his own use of French techniques  and the flavors he experienced firsthand during his extensive travels in China, Southeast Asia, Italy, Spain and Hawaii.  There is, however, a distinct Spanish and Filipino flair to many of the dishes, an homage to Chef Lustre's Filipino heritage. "This is my way of bringing a taste of home to the public on an elevated level."
Above are lumpia, perhaps the best known dish of Filipino cookery. Chef Lustre incorporated into his minced chicken spring roll, petite peas, Thai basil, and sweet chili sauce.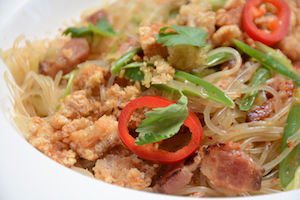 Another favorite of the Philippines, Pancit Guisado is a hearty stir- fried rice noodles, smoked bacon, and chayote.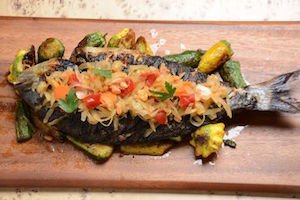 Dramatic Besugo grilled black sea bream accompanied with summer squash and green papaya escabeche, is a departure from chefs who shy away from service the whole fish.  We welcome this and would love to start a mainstream trend of it!  (All photos are by acuna-hansen)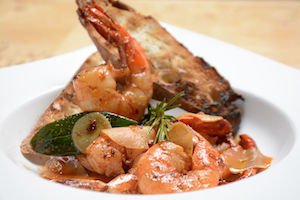 Playful Tako Tako is made with grilled octopus, cannellini beans and salsa pimenton. Light enough to be enjoyed on the warmest of L.A. evenings, the Estofado de Mariscos is a stew featuring salt spring black mussels, littleneck clams, and calamaretti, while succulent tiger prawns sautéed in garlic and Spanish olive oil are star of the Gambos Al Ajillo  (shown above).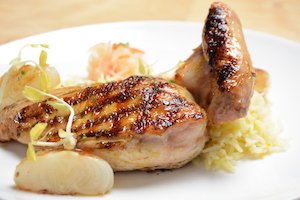 South Pacific flavors ring through the Chicken Inasal, comprised of sherry-lemongrass glaze, cardamom scented rice, acharya.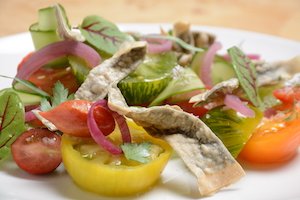 The Heirloom Tomato Salad with Persian cucumber, pickled onions, burnt onion and cilantro oil, and the Coho Salmon, accompanied by cherry tomatoes, avocado and kalamansi vinaigrette are considered "light bites. "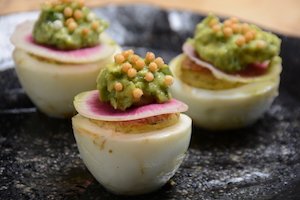 So are the theatrical  Deviled Eggs, dolloped with guacamole, radish, and bubu arare; resistance is futile!
A colorful  Watermelon Macéré features grilled gulf shrimp, watermelon radish, and mezcal gelée. "There is so much smoky sweetness happening in this dish," says owner Bobby Roshan. "It is so flavorful; I have never had anything like this anywhere else. It is one of the most unique and tastiest dishes I have had in years."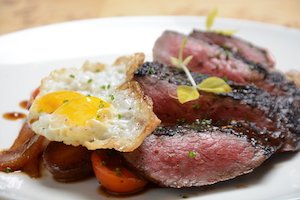 For the solid "meat and potatoes" guest , Chef Lustre has created the  Bistec A Lo Pobre, featuring flat iron steak, quail egg (!), pan fried potato and peppercorn sauce, and the Papas Bravas, with baby yukon gold, garbanzo, mojo picon aioli.
Two Demitasse classics arrive in the comfort-food category: Oxtail Caldereta featuring Mandilli de Sea pasta, celery root, and pecorino, and the incomparable Purple Yam Gnocchi, with Mais fonduta, enoki mushrooms and corn shoots.
Unquestionably, coffee is at the forefront of Demitasse, but at dinner, the limelight is shared with the Natural Wine Menu. Spearheaded by Manager Ryan Dance, the wine list follows owner Bobby Roshan's philosophy and approach to coffee. Dance elaborates, "As with our coffee, we are dedicated to offering wines with the least amount of manipulation as possible. From seed, to grape, to production, to the wine in your glass, we want wines that have been treated as a natural product, not an industrial one."
All wines are hand-picked with hyper cognizance of pairing with Chef Lustre's incomparable cuisine and swapped out frequently, based on quantity. Guests will not want to miss out on the 2015 German Riesling Clusserath Mosel St, or the organic French rosé, A Mi Chemin from Chateau de La Liquiere. If red is more your style, try the biodynamic 2015 Pinot Noir Farmlands by Johan Vineyardsof Oregon. Some vintages are organic, while others are biodynamic.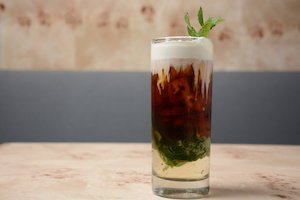 On the non-alcoholic front, coffee is king as always, with Hot Brewed Coffee to warm your soul, or Iced Coffee to cool you off — look at this beauty!  Special Coffee Flights offers one coffee brewed three ways: hot, iced and espresso. Demitasse also serves kombucha from Kombucha Dog, the only kombucha naturally fermented long enough to contain the lowest amount of sugar and the highest number of probiotics and antioxidants. "Kombucha really fits our ethos," explains Bobby.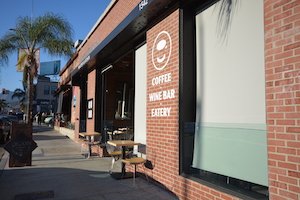 Demitasse Roastery & Kitchen is open for Dinner Tuesday through Saturday from 6:00 pm to 10:00 pm. For more information, please visit www.CafeDemitasse.com .
 Demitasse Roastery & Kitchen, 1542 North Cahuenga Boulevard, Hollywood, CA 90028 (323.498.5155), www.cafedemitasse.com