Chef Leonardo Lucarelli's Memoir: "Mincemeat"
(Gerry Furth-Sides) It takes a while to get into Chef Leonardo Lucarelli's Memoir: "Mincemeat" but  Lucarelli's passion for his calling as a chef deserves attention. However, as a reader who marks "memorable" passages with tiny post-it-like paper pieces, of the very few I have in this book, the first one is on page 158 when Lucarelli describes his jam-packed work day.  Compare this with Mark Kurlansky's impressive SALT, a book that is nearly double the size because of so many little such pieces.
Self-styled Italian chef-anthropologist, Lucarelli, delves more into his own emotional roller coaster of feelings toward his culinary world, while working in various restaurants and for the most part trying to outsmart those around him, rather than introduce readers to his world.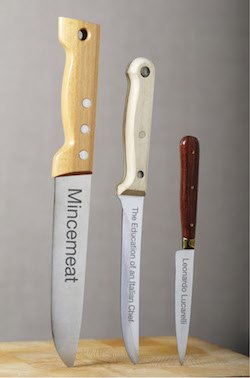 His accounts include being on the staff of  opening restaurants, training underpaid or just  incompetent sous-chefs, courting waitresses, riding high on drugs to work long hours.
In his debut Mincemeat: The Education of an Italian Chef, Lucarelli maintains that even among rogues and misfits, there is a moral code in the kitchen that must always be upheld above all else.  And sometimes, as Lucarelli details it, he is one to learn it the hardest  way.
Selected as an Indie Net Pick for this December, Mincemeat is a worthy addition to anyone who reads memoirs, and who has an interest in the hospitality more than the culinary arts — which I do.
One has to admire Lucarelli.  An Italian born in India while his parents were traveling, he grew up in Umbria and moved to Rome on his own for school. To pay for his degree in anthropology, he embarked on a series of restaurant jobs – taking  on monumental catering jobs almost solo at times.   Upon completion at university, he continued working as a cook full-time, moving on to 15 different restaurants in Italy. Lucarelli currently lives in Abruzzo, works as a consultant for several restaurants in Rome and a cooperative society.
Yet all his enticing descriptions of colleagues, including "those who are part of that multitude of money and mankind that ceaselessly crisscrossed the globe, a flow very bit as complex and ever-changing as the climate," there is never more than an evaluation based on the personal effect the person had on him.
Lucarelli's introspective, philosophical side, however can be thought-provoking.  He writes, "In an average life, extraordinary events, positive or negative, are rare and usually involve extraordinary people.  We who are not extraordinary tend to believe that any old garbage that happens to us is extraordinary.  And if people aren't interested in our fantastic stories, we feel cheated, which makes us competitive and mean.  Orlando's rivalry was catching.  Day after day I soaked up his arrogance, along with his speed and stubbornness."
And some of his descriptions do transport you to Bologna with him: "The city and I wake up at the same time.  Or at least that's what I like to think- the aroma of coffee, the sounds of shops opening and cars starting.  Because when a city awakens, not only do its inhabitants open their eyes and reconnect with the world, but its walls are bathed in a certain light and its street surrender once more to being trodden on and driven over."
Self-deprecating, "bad boy" story-teller, Anthony Bourdain in Kitchen Confidential, hooks readers with the first detailed, witty  description of the restaurant world he inhabited because he cares so much for his fellow workers and that he introduce them properly to us.  This is true even in the first magazine article in the  New Yorker magazine that preceded the book.
Southern-style story-teller, Bill Buford, folds us under his cape in Heat for a first-hand experience as he travels back and forth to Italy to learn historic culinary arts from masters — so intent on learning that we cheer him on to every victory (never mind that  New York Times Italian culinary  expert Faith Willinger frowns at his somewhat overblown descriptions of Italian chefs in order to make them good reading). When I was low and in-between projects at one time, I reread the book just for sheer enjoyment.  It worked.
And as for "must-read" books, I highly recommend Anthony Bourdain's list.  (http://www.businessinsider.com/anthony-bourdains-favorite-books-2013-7).   Ludwig Bemelmans and George Orwell (which was an 8th grade reading assignment I forgot soon after) are so remarkable that after reading them at the library, I immediately went out and bought them.  Add to that  Danny Meyer's book on the hospitality industry, "Setting the Table."  I don't even run a restaurant and my post-it-note inserts start on page 3 and are on in almost every page right to the end.