Cindy Crawford's New Mexican-Inspired Casa Burger at Umami Burger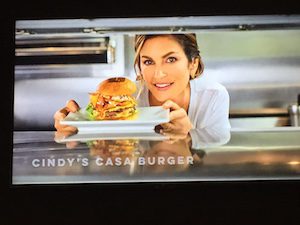 (Gerry Furth-Sides) Cindy's Casa Burger and husband Rande's Spicy Margarita are the new star-studded offerings in Umami Burger's ongoing Artist Series to benefit charity.  The two items are available March 17 – May 12th at all Umami Burger locations nationwide (excluding LAX) while supplies last.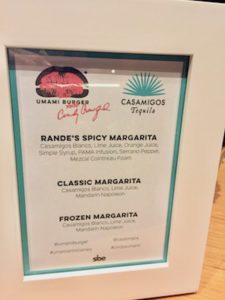 Power couple Cindy Crawford and Rande Gerber were on hand at the Santa Monica location to launch the items style. Each one had all the punch of the famous "umami" that reach all taste senses.  (https://www.umamiburger.com/our-story/)   To the new Latin-inspired burger and drink, we say, "Muy delicioso!"
The Casamigos Blanco tequila was also made as this novel cocktail — the secret is putting the drink glass upside down over the uncapped mini-bottle and then turning both right side up.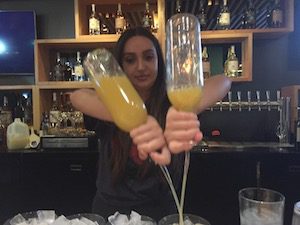 And then, as the bartender did in style,  pouring in the tequila around the bottle. Customers must be 21 years or older to consume alcohol.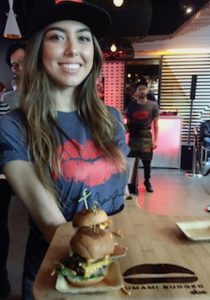 Cindy's Casa Burger starts with two Jalapeño-studded beet patties with miso-mustard, crushed avocado, fresh tomato, butter lettuce, American cheese, Umami house spread and caramelized onions.  Queso Fresco and tortilla chips tossed in Salsa Brava top it.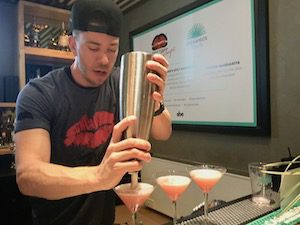 Rande's spicy – and intricately prepared- margarita features rande's own Casamigos Blanco (a company in partnership with George Clooney) with lime juice, orange juice, simple syrup, pama infusion, serrano pepper and mezcal cointreau foam.
The foam is the final, delicate touch on the margarita.  It has an unexpected kick.
$1 from each Casa Burger and Spicy Margarita sold will support american family children's hospital's "fighting cancer so kids won't have to" campaign.
Umami's behind-the-scenes  EXCLUSIVE VIDEO (above) explains Cindy's inspiration behind the burger. Cindy's casa burger is the 10th of the artist series, which included tv star alton brown, social media star cameron dallas, actress mindy kaling and michelin starred chef josé andrés.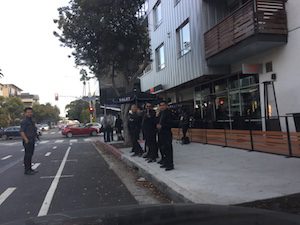 Umami Burger's opening celebration was festive.  Valets greeted guests at the small corner location near the beach.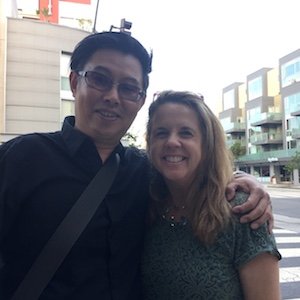 Our favorite, most talented and friendly top writers, Eddie Lin and Jill Weinlein,  arrived to be the first to try the newCindy's Casa Burger and Rande's Spicy Margarita.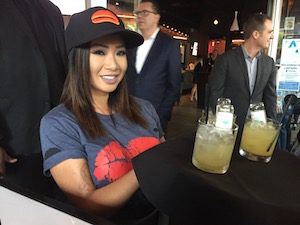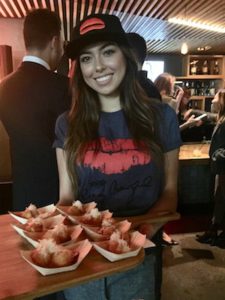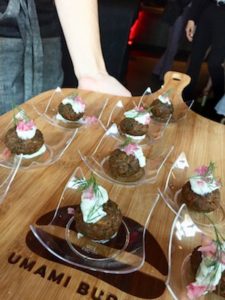 Fried cheeseballs and tasty falafels were also served, along with a brussels sprout skewer.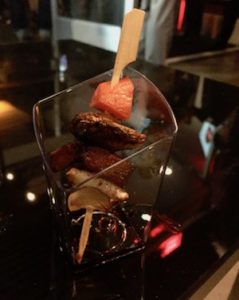 Umami Burger founder, Adam Fleishman, first wowed and impressed us at the Los Angeles Times Taste event, even more  than the burger with his passion.  And he continues to do so with his latest offering which are well thought out and ethnic inspired.