Danielle Chang Announces Lucky Chow Season 2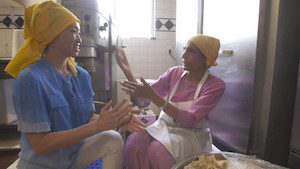 (Gerry Furth-Sides) (All images courtesy of LUCKYRICE) Danielle Chang, creator of America's No. 1 Asian food festival and a leading authority on the intersection of Asian cuisine and culture, is pleased to announce Season 2 of her national public television series LUCKY CHOW. In 7 new episodes, Chang follows her fascination with Asian food across the country into home kitchens and Michelin-starred restaurants, heirloom vegetable farms and industrial rice mills, sweaty sumo rings and ornate Buddhist temples.
"While filming LUCKY CHOW, I traveled cross the country to meet the chefs and personalities leading the Asian food movement," said Chang. "I was able to see first hand how Asian food today is not only everywhere, it's also constantly innovating and changing as a cuisine."
Chang, the vibrant and opinionated founder of the nationwide culinary festival LUCKYRICE, drops in on chefs and food-world personalities like Charles Phan, whose Slanted Door won the James Beard Award as America's best restaurant; a former financier who offers a light, healthy take on Indian classics at his fast-casual start-up Inday; and Lynda Trang Dai, once known as the Vietnamese Madonna, who's now the queen of banh mi sandwiches in Orange County's Little Saigon.
LUCKY CHOW rolls out across PBS stations nationwide with YouTube streaming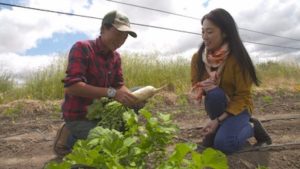 From its home base in downtown Manhattan, the LUCKYRICE Festival spotlights Asian culture through annual food and cocktail festivals. In 2017 LUCKYRICE Festivals will take place coast to coast in 8 cities: New York, Los Angeles, San Francisco, Houston, Miami, Las Vegas, Chicago and Brooklyn. LUCKYRICE works with hundreds of chefs across the country, and with theLUCKYRICE Culinary Council, which includesJosé Andrés, Daniel Boulud, Floyd Cardoz, David Chang, Susur Lee, Anita Lo, Masaharu Morimoto, Pichet Ong, Zakary Pelaccio, Eric Ripert,  Angelo Sosa and Jean-Georges Vongerichten. Please visit www.luckyrice.com for more information.
TRENDING JAPANESE, 201 (segment). Japan has mesmerized American foodies for generations, and a new wave of Japanese culinary culture continues to intoxicate us. Exploring American manifestations of otaku, the Japanese trope that combines cutting-edge pop culture with fetishistic obsession, Danielle visits New York's first cat cafe; a Brooklyn izakaya run by a Frenchman in thrall to Japanese anime and manga; and a California suburban mom who's a star on the international bento box circuit. On a more traditional note, Danielle gets in the sumo ring with a 600-pound opponent before she helps him make chanko nabe, the sumo wrestler's staple meal.
ASIAN FARM TO TABLE, 202 (segment)
Farmers are the new rock stars of the food world, and in this episode, Danielle visits agriculturists large and small, traditional and cutting edge. Ross Koda, a third-generation Japanese-American, who runs a renowned Central Valley rice farm and hopes to keep it in the family. Kristyn Leach, a Korean adoptee, who hand grows artisanal, heirloom Asian produce for one of San Francisco's most popular restaurants. And on the gorgeous Half Moon Bay coast, a pair of electricians who saw a gap in the market, operating America's first wasabi farm.
FOOD OF THE GODS, 203
The relationship between faith and food is evident at three Asian houses of worship: an imposing Buddhist temple where Danielle is served an artful vegetarian feast; a Sikh temple where she helps cook Indian flatbread for a communal meal where all are welcome; and a Queens mosque's annual food fair, where she samples Indonesian dishes and learns about life as a Muslim in America.