Ethnic Cuisine Inspires American Picnic Day April 23 Ideas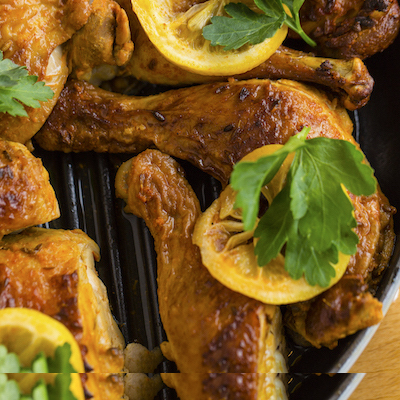 National Picnic Day marks the halfway point between spring and summer on April 23.  To prep for the holiday, chefs at Picnic LA created appealing dishes inspired by classic ethnic cuisine and by the diversity of local produce available within California.  The menu focuses on the abundant seasonal selection of locally sourced vegetables, salads and proteins.  All of the dishes that can easily be taken on the go, and a variety of picnic supplies from flannel blankets to denim totes to various sizes of baskets, Picnic LA has everything needed to help create the quintessential picnic experience.
Romaine Lettuce, Italian Marinated Artichoke and Walnut Salad starts the meal.  Italian in flavor, it's  one I prepared on television, representing the California  growers for Western Research Kitchens.  The director was at first  skeptical but it soon became an annual favorite.  Big, leafy, darker green "Romaine" did get its name from the Romans who loved it.  It's as elegant to prepare as it tastes because the Marinated Artichoke dressing is simply the juice from the jar.  Grapeseed oil and rice vinegar with seasoning works, too.
 Jidori Chicken Leg "Tagine"Moroccan spice-braised with charred leek tahini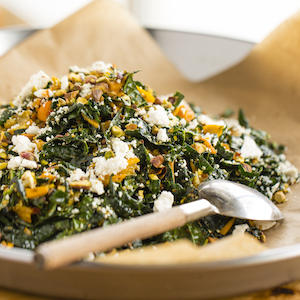 Linguine Vongole al Profumo Tropicale– Chef Tommy Tang
Tommy introduces the recipe this way: This Italian favorite rice noodles with white clam sauce, ginger infusion becomes instantly and distinctly Thai by flavoring the dish with ginger and substitutes rice noodles for wheat, and cilantro for flat leaf parsley.
16 oz               dried or fresh rice noodles
2 oz                 extra virgin olive oil
2 cloves           peeled garlic
1 teaspoon      salt
4 oz                 water
16 oz               small manila clams (with juice)
2 tablespoons  coarsely chopped cilantro
1 teaspoon      crushed red chili flakes (optional)
1 bunch fresh cilantro
2 tablespoons  freshly squeezed ginger juice
To make the sauce, heat the olive oil and the garlic in a large skillet on high heat until the garlic is browned. Remove from direct flame. Add the manila clams, cilantro and chili flakes and half the cilantro. As soon as the clams open, stop cooking and cover the pan.
Cook the noodles in slightly salted boiling water for 4 minutes or until tender but still firm. Drain.
Remove the clams from the skillet and set aside. Place noodles in the skillet and cook over medium heat for a minute. Add ginger juice and serve immediately. Layer the clams over the pasta. And garnish with remaining cilantro.
Serves 4
Thai Basil Pesto With Rice Noodles – Chef Tommy Tang
Spaghetti al Pesto is a classic Italian dish. This Asian version using smaller, darker and much stronger Thai basil and coconut milk remains perfectly balanced and delicious.
1 16oz pack dried rice noodles
Pesto
1/2 lb               Thai basil leaves
3 oz.                Pine nuts
2 oz.                Parmesan cheese
2 cloves           peeled garlic
¼ cup              extra virgin olive oil
1 teaspoon      salt
1 teaspoon      ground black pepper
Sauce
4 oz.                Coconut milk
1 oz.                Parmesan cheese
To make the pesto, strip basil leaves from each stem and discard stem. Place the basil leaves, Parmesan cheese and garlic in blender. Blend on low, adding pine nuts for texture. Slowly add the extra virgin olive oil to create a smooth paste. Blend as quickly as possible; over processing darkens your sauce.
Boil the noodles in salted water for 4 minutes. Drain. Place sauce ingredients and coconut milk into a medium skillet over high heat and bring to boil. Add salt and pepper to taste. Add to the cooked noodles and stir. Add Parmesan cheese.
Serve immediately.
Serves 4
French Apple Bread Pudding
3 eggs
1 (14 ounce) can Sweetened Condensed Milk
1 jar chunky applesauce
2 boxed custard mix
3/4cups hot water or rum
1/4 cup melted butter
1/2 teaspoon each ground cinnamon and nutmeg
1 teaspoon vanilla
4 cups Parisian sourdough bread, but or shredded
Preheat oven to 350°. In a large bowl, beat eggs, add sweetened condensed milk, applesauce or apples, water, melted butter, cinnamon, and vanilla. Stir in bread and raisins, moistening completely. Turn into a buttered 9-inch baking dish. Bake 1 hour or until a knife inserted in center comes out clean.
Cool. Serve warm with ice cream or whipped topping or caramel sauce.
Bon appétit with dishes from around the world.