Ten (non-Burgers) to Try and Why at Bareburger in Santa Monica
(Gerry Furth-Sides) New Santa Monica resident, Bareburger  on Main Street a couple of blocks from the beach turned out to be much more than their  big, fat, juicy  burgers with a huge list of sandwiches, salads, fries and drinks.
The DRINK MENU includes current specialty seasonal items, along with a long list of draft beers and ciders, and wines.  Below, Tayor brings a "Just Rum with it" and Kevin holds an "Easy Rider Sippy Cup" shown below, held.  The "Cup" not only has the catchy buzz-word title but gin, cucumber, mint, lime, mint and fennel bitters.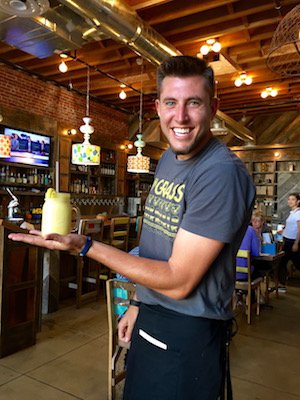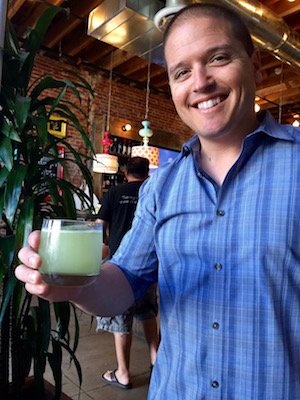 Bareburger's colorful menu –map, menu, history, diagram and photos rolled into one- rivals any drawing a kid might do with the box of crayons on the tables.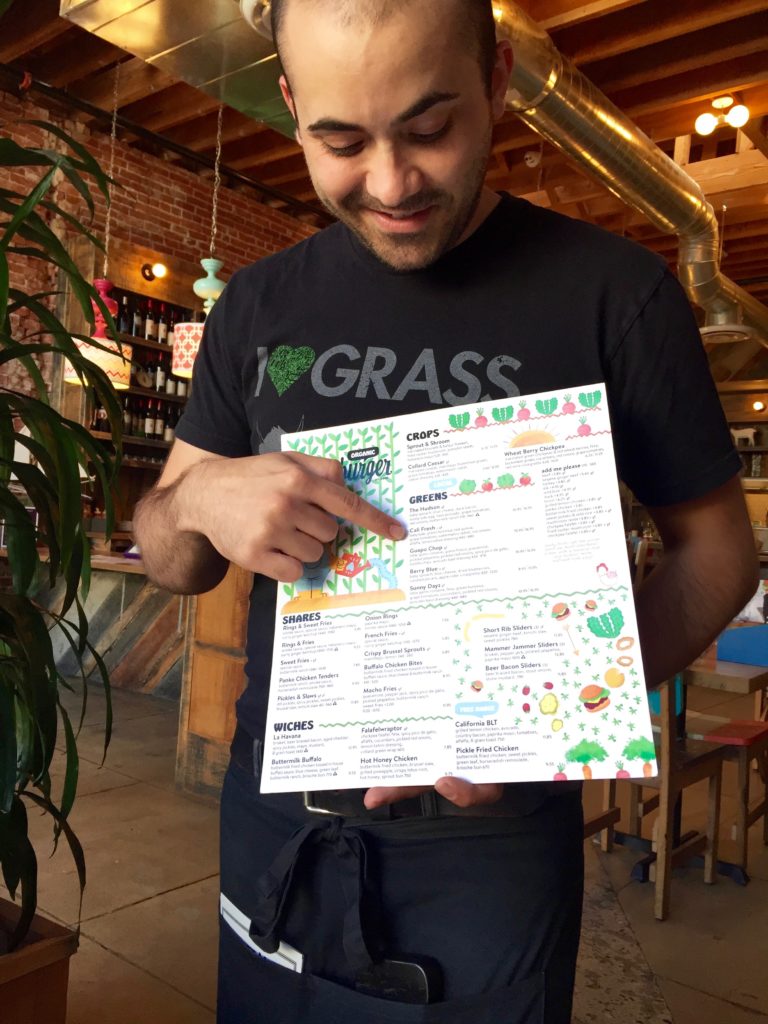 Vegetarian options for the Organic Proteins for the burgers and patties include quinoa, black bean and Portobello mushroom.
Crispy-clean and seasoned sides to complement  proteins start with fries and onion rings.  Bare burgers gives the choice of both russet and sweet potato fries, and you can get a taste of each in one dish, too.  Below, for example, Rings & Fries are augmented with a smoke sauce, a special sauce (we were too busy eating to ask the ingredients), with habanero mayo, curry ginger ketchup dips.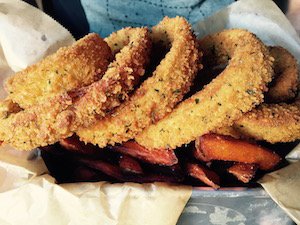 Carefully thought-out healthy dishes in the CROPS section, at the new Southern California location appear to include every single current buzz-word garden ingredients. The kitchen adds "crunch," such as in the marinated, flash-fried coated Brussel sprouts or the combination of quinoa and radish in a raw veggie salad to make for an unique variety of textures.   Almost all of the sides are conveniently offered in small individual portions and large sizes to share.
Kale and Brussel sprout dishes were in the surprise hits, and tasted better than their detailed description.  The surprise in the Sprout & Shroom,is marinated brussels & bulgur freekah,  fried oyster mushrooms, pumpkin seeds, habanero mayo (520 calories per serving).  Veggies that are marinated and/or fried may add calories but they are so satisfying.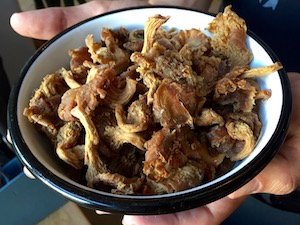 Below in the GREENS section is the Cali Fresh Salad of baby kale, green hummus, red quinoa, grape tomatoes, watermelon radish, red onions, alfalfa, lemon tahini dressing (440 calories per serving).  The array of colors and textures are apparent in the reds and purples in the tomato and radish alone.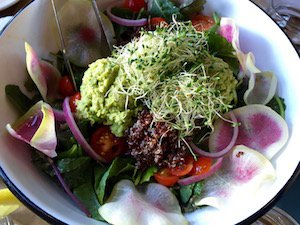 For the poultry lovers there is an entire section of choices, including turkey, panko-crusted chicken tenders, grilled chicken, jerk chicken and ostrich – which will be coming to the beach location soon.  Here the Pickle Fried Chicken Sandwich has been coated in buttermilk and boasts the extra snap of sweet pickle along with horseradish remoulade.  A pillowy brioche bun allows for an easy bite of all three at once.  This is only one of the long list of Buns, in fact, which include brioche, multigrain or a gluten-free tapioca rice that is indistinguishable from gluten; wheat flour wraps, or iceberg lettuce.
Sammies  –  ice cream sandwiches are a perfect comfort food dessert.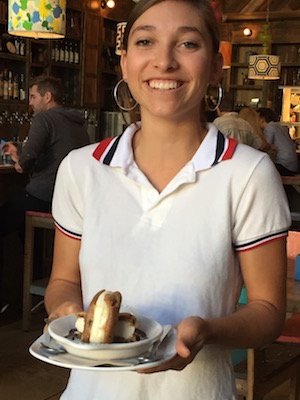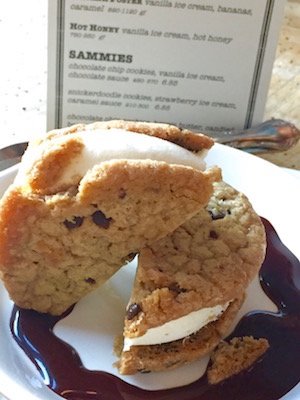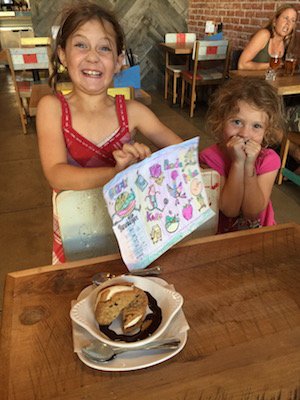 The  cookie "samwich" has Tahitian vanilla ice cream and chocolate sauce.  Another "samwich" has peanut butter ice cream to go with the chocolate.  One sandwich after a large meal is enough to be shared by four.
I'm a "front-of-the-house" girl.  Service is key.  Bare burger's description of their "friendly service" is an understatement.  It is extraordinary from the phone at Bareburger being  picked up by the third ring any time of the day or evening.  Anyone who answers the phone at Bareburger either can give information or get someone on the phone who can. Not one but two managers on site, Matt and Kevin, set the friendly, professional tone.
Bareburger.  2732 Main Street, Santa Monica, California, 90045.  Hours: 11:30 – 10 PM.  
www.bareburger.com