French-Tunisian Fire in the Belly Cuisine
Tunisia may share a Southern Mediterranean shoreline and continental roots with Algeria and Morocco, but I've always been impressed and delighted that its cuisine is as distinguished, even from the most similar and familiar, Moroccan, as Vietnamese is from Chinese.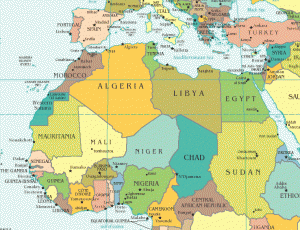 You may recognize the name, Tunisia, from recent world news when the country again emerged from a shadowy destination somewhere in distant North Africa as trigger of the "Arab Spring." It's struggle for democracy still comes up on primetime world news – and the name of this relatively tiny country was an answer on a Jeopardy tv show quiz last month!
Culinary insiders and experts, such as Claudia Rodin, Paula Wolfert and Joan Nathan, already revere the cuisine of "The Tunisian Riviera" as being unique for its variety of fresh fish and vegetables, aromatic lamb dishes and savory couscous stews, all scented with an wide array of heavenly herbs and spices.
Tunisia is distinctive as the birthplace of the masterful Carthaginian Empire, later to be conquered by the Romans who made it their granary – referred to as the breadbasket of Rome, followed by a stint as the protectorate of France as well as the target of ongoing Arab invasions. Each conqueror left its imprint on food and culture, with new dishes to add to an evolving cuisine.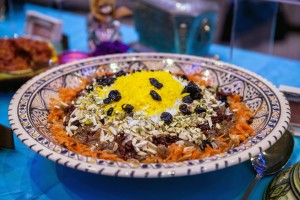 Like all Mediterranean basin countries, Tunisia boasts a "sun cuisine," based on olive oil, spices, tomatoes, seafood and meat, with lamb being a favorite. But here, desert dweller traditions from ancient nomadic Berber tribes combine with a more sophisticated, refined Mediterranean quality.   And rather than the overt Moroccan sweetness in dishes, there is a Tunisian characteristic spicy fieriness.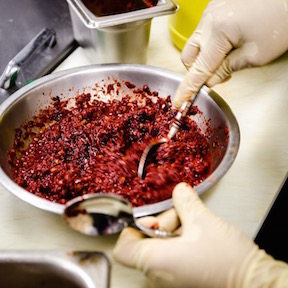 Heading the list of fiery ingredients is the beloved hot chili sauce, harissa. The ubiquitous with intensely proprietary family recipes, though the main ingredients are always felfel hrar (type of chili pepper), and a variety of spices (garlic, cumin) and an oil. It is so tasty that use of the glorious brick-red color sauce has spread to Algerian and, Moroccan cuisine.
This is only one example of Tunisian cuisine as a subtle combination of a myriad of influences. Colorful appetizers include Slata Mechouia, a salad of diced tomatoes, green and red peppers, hard boiled egg, tuna fish and capers, soaked in olive oil and lemon juice.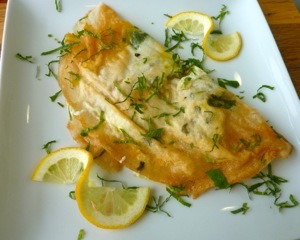 The traditional Mediterranean favorite, Brik a l'oeuf, a quickly fried handmade pastry sheet stuffed with whole egg, capers, minced parsley and onion.  It has become one of the most popular items on our menu, with people coming in just for this lunch and dinner, and I would never think of taking it off.
Stews of lamb, poultry, or fish with vegetables are served, placed on a bed of the famed steamed grain semolina, Couscous.  Although our customers have loved this dish from the time we opened, I'm still surprised that a restaurant serving only Couscous has not been created here in Los Angeles, as they have been in Paris when the soldiers came back with the dish after serving in the military in North Africa.  Couscous is as popular in Paris as pizza became here when when soldiers brought it back after World War II from Italy.
The lush Tunisian Mediterranean fish tank holds sea bass, bream, grouper, grey and red mullet, sardines and tuna
The endless variety of naturally sweet succulent fruits makes for favored desserts, along with very sweet honey and nut-based Tunisian pastries; served with rich Tunisian coffee, mint tea or wine.
Cohen feels that knowing about them is like being privy to a "best-known secret" before everybody becomes an expert. This is why Tunisian cuisine is one of these underrated yet powerful world class cuisines waiting to be discovered, or re-discovered."
Brought back by French North African colonizers to Paris, addictiveTunisian Couscous, Merguez, Harissa and the beloved Tunisian Sandwich, took the Parisian restaurant and street-food scene by storm.
Another little-known secret is that Tunisia was home to a thriving Jewish community since the 12 century BC. Old Testament documentation reveals that the fishing tribe of Zebulon fished the coral in the area to make the blue color of their religious sacraments, and Jewish graves have been uncovered in the ruins of Carthage.  The Jews brought their food with them from biblical Israel and integrated their dishes with the native Berber cuisine and all the subsequent strata that form modern Tunisian cuisine.
However, with the departure of the French leading to Arab ruler ship in the early sixties, following the Algerian war, Tunisian Jews embarked upon yet another Odyssey. They mainly went to France as a whole community and replanted their roots in Paris, Marseille and Nice.
Alain Cohen was born in Tunisia. His family traces their roots back to the destruction of the first temple of Jerusalem in 586 AD. In 1961 Alain's family was part of the exodus that moved to Paris, where his father opened the successful kosher Tunisian restaurant, Les Ailes ("the Wings") in 1973. Alain began working there when he was nine years old, and as a teen adapted the restaurant to an even more fashionable French Tunisian fusion cuisine. Still a hub of the Tunisian Jewish community of Paris today, it remains on the must-visit foodie list as well.