Award-Winning Hospitality, Secret Sourced Ingredients at Taste of India in Sherman Oaks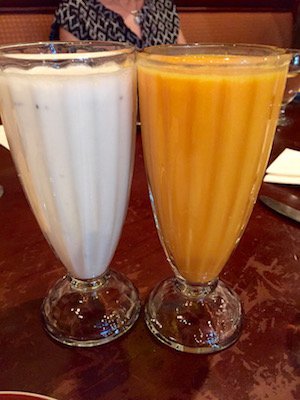 Refined hospitality, fresh ingredients and a California-friendly  Indian menu has made Taste of India in Sherman Oaks  the place for dates, families and out-of-town visitors since it opened 15 years ago (plus the restaurant has a catering division and a private party room).  And they have a secret source for the best products available.
The restaurant is as familiar to the neighborhood as the Aerosmith song of the same name. The darkened, classic, white tablecloth atmosphere is another reminder of the Aerosmith era, but it works in the glaring valley heat.
A frosty glass of Mango Lassi,  Sweet Lassi flavored with green cardamom (see below) and rosewater or Salt Lassi (which tastes like a dip in the ocean) is a perfect introduction to the place.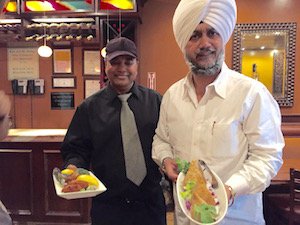 Distinguished, cordial owner, Chef-owner Amardeep Singh, who immediately invites everyone to call him" Deep," assures us that "I am always at the restaurant when I'm in town" or a family member is here. He fondly tells about two generations of customers now frequenting the restaurant after 15 years.  The combined close families of Deep and his two brothers, also in the restaurant business, dine together each evening at one of their homes, and Deep tries to impart this sharing feeling into  Taste of India.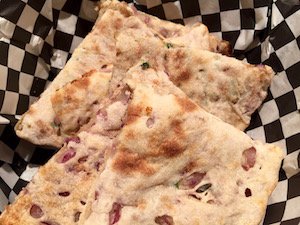 Onion kulcha – onion-stuffed naan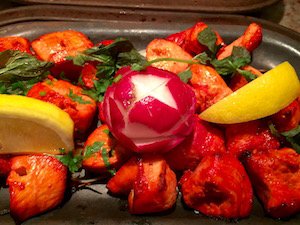 Fresh fish seared in the tandoor oven is an overall favorite, as are the Kabobs and the Naan that offer a clean bite.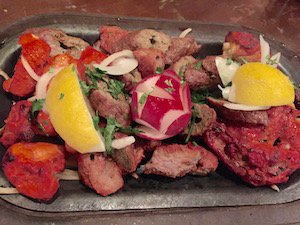 Here the familiar is made out of Indian cuisine's exotic ingredients,  flavors which tickle the palate in multi-layered flavors.   Dishes are geared toward the California palate and no ghee is used. Dishes are also ratcheted down a notch for spiciness so the "medium" tastes  "mild." Deep added, "this is what my customers prefer."  The restaurant will happily adjust it it up any preference, of course.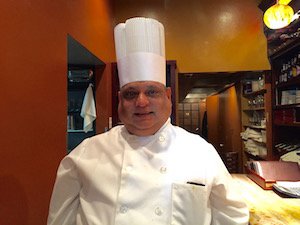 The chef imports and grinds his own spices so they will be as fresh as possible.  Ingredients for his Delhi classics are sourced as locally as possible.  Spices and herbs are not a problem since they own the India Sweets & Spices Market in Canoga Park in the area. "And we take the freshest for our restaurants," laughs Deep.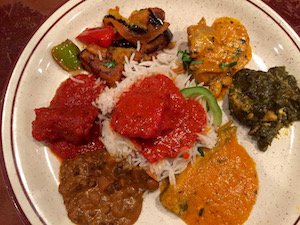 The most popular items are Lamb Samosa with peas, Sauteed mushrooms with tomatoes and peppers.  The lamb simmers for two hours in order to make it tender and also flavorful.
Chicken Korma in a creamy onion sauce with cashews.  Baingan Imami -Mirch Ka Salan; Jalapenos cooked in a creamy sauce, again a mixture of heavy cream and coconut milk. Dal makhani – creamy black lentils with dark red kidney beans; Basmati Rice with saffron and cumin seeds.
To stay current with Indian food trends, Deep and his brothers visit his home city of New Delhi and an array  of the respected city's finest restaurants. He laughed as he said he and his brothers were surprised that a lot of the food at his family's two locations (the other in Woodland Hills) have "better flavor than some of the same dishes India" in because of the produce available in Los Angeles.
"The veggies are better overall here in america, but the lamb is better in India," he reports.
Indian eggplant is still only available in India but he prefers California, cauliflower, potatoes, spinach and onions to that of India. He adds that meat and poultry are also higher quality in California but the goat meat cannot match that of India.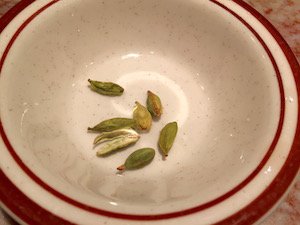 This is an Indian version of the way Delphi Greek Cuisine on Westwood sourced sourced produce internationally.  Their simple Greek salad remained the benchmark for excellent because of the French feta, hot house cucumbers and heirloom tomatoes.
At Taste of India,Taste of India, for example, the dessert Pistachio kulfi's unique flavor comes from the cardamom used (shown above), a more unusual sweet cardamom.  Its deep green color and intense nutty flavor is from an abundance of pistachios not food coloring.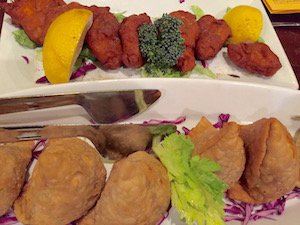 http://tasteofindiala.com/
13903 Ventura Blvd., Sherman Oaks, CA (818) 501-5550.
Complimentary parking in the front lot.
Also at 21833 Ventura Blvd., Woodland Hills, CA (Champagne Buffet Saturday and Sunday) (818) 999-0600.