Historic Domingo's Italian Deli's New Look in Encino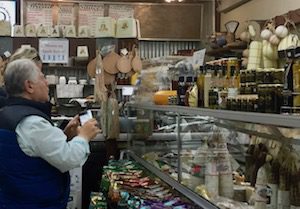 (Darien, Morea, photos by Gerry Furth-Sides) Even after a recent remodel, Domingo's Italian Deli, San Fernando Valley mainstay for all foods Italian since it opened in 1948, retains its substantial old-world, friendly feel.  Domingo's Italian Deli 17548 Ventura Blvd, Encino, CA 91316 (818.981.4466).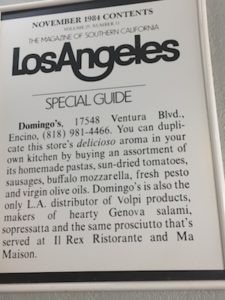 When we entered the store we didn't know what to do first: look, take photos, look at the menu, or talk to the friendly staff. We tried to do it all at once.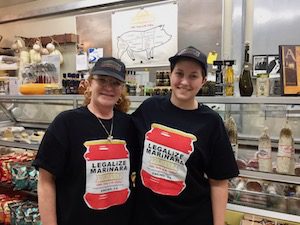 A big welcome from manager Cinzia and Alyson.
Aficionados have always joked about "sampling"  mouth-watering old favorites in the store  to make sure they're "okay to buy for home." These days, more gluten-free and vegan dishes are newer products "to try" at Domingo's Italian Deli.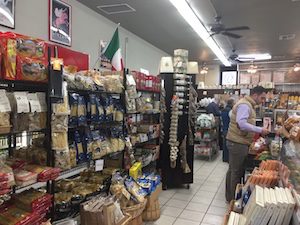 A few cozy tables in front afford a view of the dazzling floor-to-ceiling stock of Italian products and deli food, sandwiches, antipasti and Italian desserts.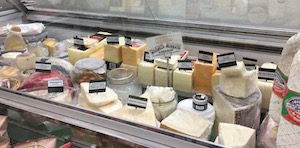 We were lucky enough to have expert, Darien Morea with us.  She is a self-described "picky Southern Italian (2nd generation, Sicily/Naples/Bari) with a have a predictable litany of "must haves" for all the great dishes of Italy."
(Darien Morea) Mama mia! What a tremendous selection and what delicious and authentic flavors! I can't say enough good things about the scrumptious afternoon I spent at Domingo's. It was happy hour(s) for us! (And no, we weren't drinking the vino.)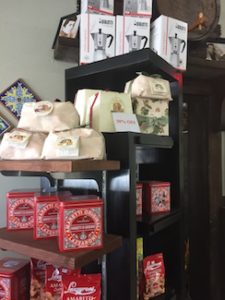 But this humble deli (that is so small on the south side of Ventura Blvd that it's easy to miss) hits all the high notes. In fact, I'm calling them the Giuseppe Verdi's of Italian Delis!  This may be the best Italian deli in L.A., surpassing any others in the region, and I do believe I have patronized all of them from Pasadena to Santa Monica.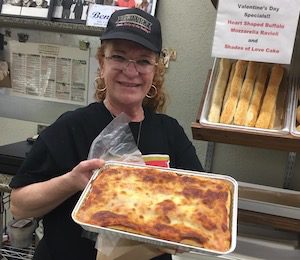 Domingo's Italian Deli bakes their yeasty fresh Italian breads daily, including Ciabatta and Foccacia and regular loaves.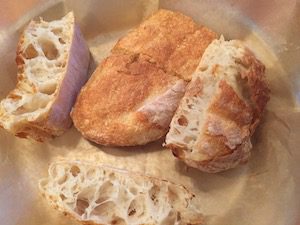 The smell of warm bread is the first thing you'll notice.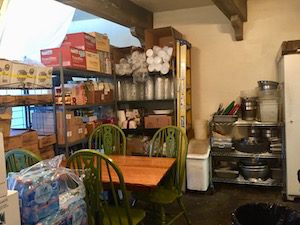 Gerry: We were thrilled to be seated in the "back room" with a very private "family" aura to it.  Cinzia made us feel very special.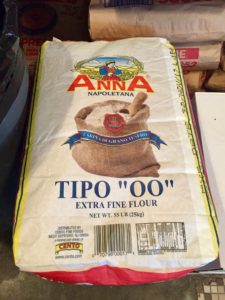 Gerry: Darien noticed the "00" extra fine flour in the storeroom that is representative of Domingo's Italian Deli attention to detail.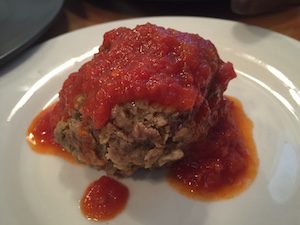 A very tender and very moist all beef meatball, with marinara sauce. Perfect – they sell them individually and in sandwiches.  It is shown above.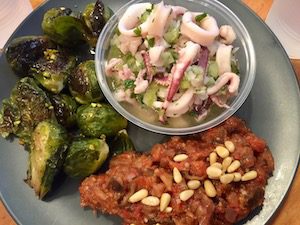 This bread complemented perfectly the tender Calamari Salad (bravo to the celery crunch in it) and sweet-sour notes in the Eggplant Caponata with Pine Nuts.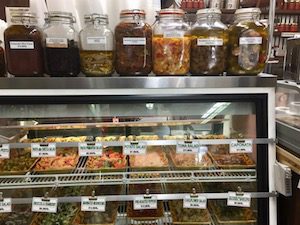 The Caponata with Pine Nuts and Roasted Brussel Sprouts were straight from the counter case.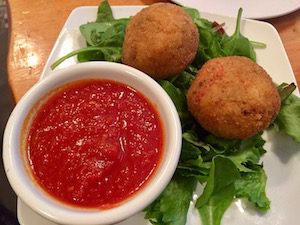 How could a piping hot Arancini Rice Ball, filled with melting mozzarella and a little ground beef be improved? Only when it's accompanied by the best Marinara sauce for dipping I've ever tasted.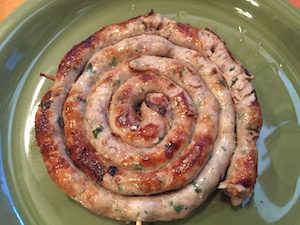 A prized memory of my childhood is coiled uber-thin pork sausage with the distinct flavor of Romano cheese that my grandparents brought from the specialty butcher in New York when the'd visit us in New Jersey. We'd throw it on every family barbecue and eat it in sandwiches with peppers and onions. I've been trying to find it in LA. (I even had a friend who owns a butcher shop try to make it for me – nope – he totally failed.) But they carry it at Domingo's!  This version is the closest to the one in my memory. Add a bit more fine parsley and cheese, it would be an identical match.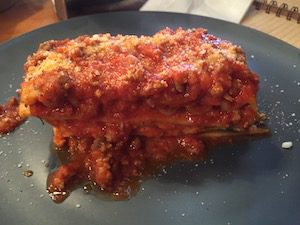 Lasagna topped with meat sauce – the dish against which all Italian dishes are measured. Domingo's version is loaded with all the right layers of ricotta and mozzarella and topped with meat sauce. It's a lighter version of the original, and very delicious.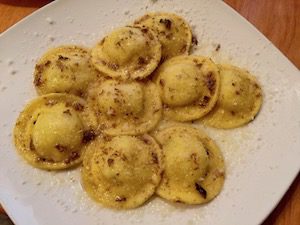 Homemade Raviolis: I sampled the large plain cheese and spinach-cheese versions and the mini black truffle ones. All delicious, but my preference is the plain cheese – especially good with the sinful marinara sauce.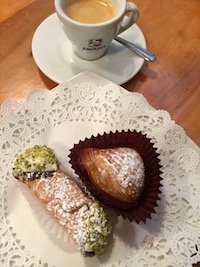 Homemade Sfogliatelle pastry – comes in mini and large sizes. As any lover of these knows, the outside pastry is uniquely crunchy and resembles a sea shell; the inside contains a filling with ricotta cheese.
I was so used to the filling being dry that I didn't know it was possible for it to be otherwise! But their's is custardy and unctuous. Truly the best ever – even better than the one I had at Caffe' Roma on Broome Street in Little Italy this past December! (My former standard that I've eaten my entire life, so that is saying something.) They are that good!
Lastly, great Cannolis with a chocolate lined shell so they don't "wilt" too soon and two types of homemade biscotti in large cut pieces.So all in all, a terrific visit. Lots of sandwiches and pizzas to sample, but they will have to wait for another time.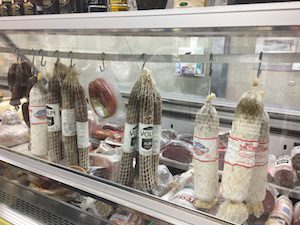 A huge counter of Italian deli meats too.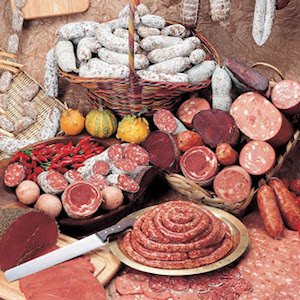 Domingo's Italian Deli's excellent catering menu is ready to go with the portions broken down (e.g. 9 – 12 people, 20-25, etc.). That is very smart!

Thank you,  Cinzia, who orchestrated this symphony of foods for us! She alone is worth the visit!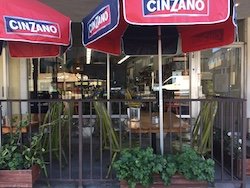 We can't wait to come back in warmer weather and dine on the patio.  This is clearly visible from the street.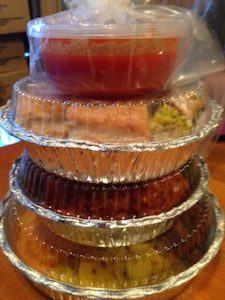 As it was, we can't wait to dine at home on our take-away food!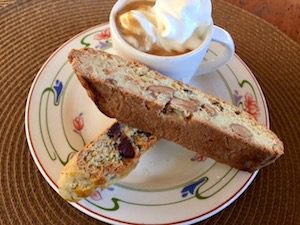 Gerry:  The delightful, freshly baked chocolate and anise biscotti from Cinzia brought back memories of our visit at home.  Domingo's biscotti is just a tiny bit soft for a gentler cake-like bite than most while still retaining a crunch without crumbs. Multi Grazi!
 Domingo's Italian Deli 17548 Ventura Blvd, Encino, CA 91316.  (818.981.4466).