Holy Cow! The Best of the Best American Regional BBQ
The popular phrase "Holy Cow!" now describes the best of the best BBQ in town.  We know; we ate it and the trays above were the divine food laid out in rows for us  above).  Turns out this is the Holy Cow style.  It's "best" because Rob Serritella, founder and BBQ Aficionado, traveled and sampled "Q cross the country from Memphis to Dallas to Santa Maria with Kansas City in-between.  Simply reading the ingredients in the mouth-watering dishes on the menu is enough to understand why.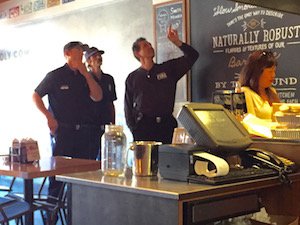 If anyone knows good BBQ, it is firemen — and Holy Cow! attracts the local team daily.  Here they make their choices after arriving in two trucks. Holy Cow! makes their own juicy Bread and Butter Pickles and homemade Dill Pickles with all natural ingredients.  The secret of their O-rings are the sweet onions and spicy buttermilk along with seasoned corn flour.  As good as those pickles and sides are, the pork and beef are the stars.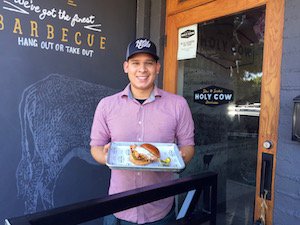 Manager Nick at the 26th Street store across form the Brentwood Mart welcomes us with a  Fried Chicken Sandwich.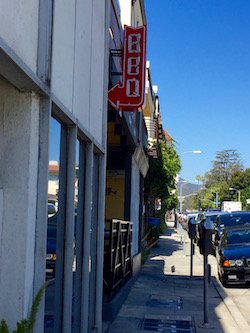 Manager Nick told us that, "pick-up and delivery are the majority of our business most evenings even when we are fully booked here."  (By the way, 26th Street divides Brentwood from Santa Monica.)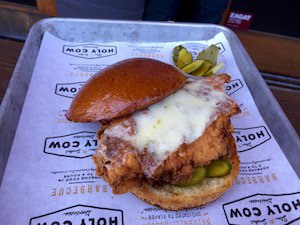 Southern Fried Chicken Sandwich on a Brioche bun is a buttermilk battered breast, honey-ale mustard with a snap to it, a Vermont cheddar with body, bread and butter pickles.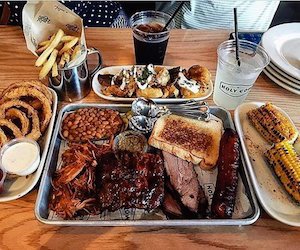 Extremely moist Tri-Tip is served medium-rare, sliced 1/2 inch thick and the best way to serve it.  Brisket and Pulled Pork melt in the mouth.  We actually didn't eat the bread or corn because the meat was so extraordinary.
 "Just love this place!" exclaimed our Copy Editor, Darien Morea.  "It's clear the owner and chefs really want to give you the best overall BBQ experience in L.A. — and they do! The care, attention and extra-creativity given to the spicing of the meats that they smoke on-site is clear."
Of all the dishes, I was most impressed with the Texas Brisket in a Texas Red Sauce, the Caroline Pulled Pork in a Caroline Yellow Sauce and the Santa Maria Tri-Tip (shown on top of the page).  "Loved them all," concluded Darien. "I can't wait to try the Baby Back Ribs, which I haven't had yet. And they pricing is so reasonable – for example, $9.95 for a Combo Plate of 1 meat plus choice of one side or $13.95 Combo Plate for a 1/2 rack of ribs with cole slaw included.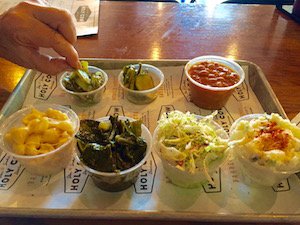 Sides are classic and perfectly prepared with bold, natural flavors.  Pickles are on the top left. The secret to the Kettle Beans ($3.95) are cured bacon, braised onions, house spices and Q-sauce. Mac & Cheese ($6.95) is rich, rich, rich with Aged Vermont, Two Cheddars, Monterey Jack and Béchamel.  Collard Greens are silky yet robust with flavor because they are slow braised with vinegar, ham hocks, sweet onion and pork belly.  The secret to interesting, classic slow is Celery Seed plus red and green cabbage and the Holy Cow House Slaw ($3.95) not only has these ingredients but agile as well.  Finally, Idaho Potato Salad ($3.95) has a refined taste with a punch, which turns out to be vinegar, celery, egg, chive, dill and real mayo. Added Darien, "and the White Potato Salad is balanced and seasoned throughout."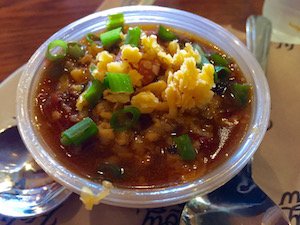 "I usually never approve of anyone's other than my own chili," she added.  " But I really liked theirs at Holy Cow! It has several different beans, nice ground meat and just the right amount of balance in the spices to make it quite special.  It is topped with fresh scallions and, if desired, Shredded Cheddar.
Four sauces have been created, one for each of the meats – or however a diner prefers to use them. For example, the mustard-vinegar from North Carolina is for the Pulled Pork and the Texas Red BBQ is made especially for the Brisket.   "There is also Kentucky Vinegar and the signature Smokey "Q" which is my actual favorite," commented Darien, " and it is great on everything."
Buttermilk-Battered Onion Rings are crispy outside and tender inside.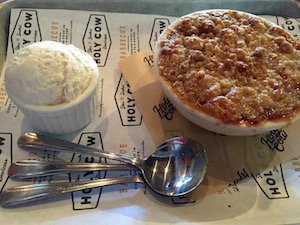 "Peach Crumb" (same as Peach Crisp) turned out to surprisingly , the seasonal "just for summer" dessert served in a bowl, arrived piping hot from the oven and when the crust is popper open, seasoned fresh peaches appear. Allspice, nutmeg and cinnamon bring out the fruit's best flavor.  Very rich, quality vanilla ice cream contrasts hot with cold.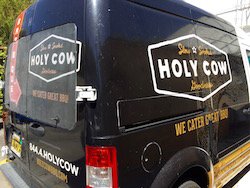 BBQ cafes usually don't serve tea or hot coffee — so you can linger over dessert, and so is the case here.  However, the Holy Cow catering truck will come out for parties with all the trimmings and is ready to go out back.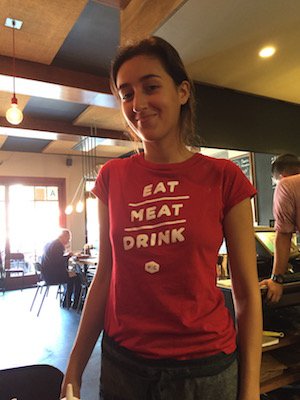 The cordial and attentive staff works as a team.  We had to exit out the back kitchen door, and Tiffany took my arm to maneuver me over the just washed floors.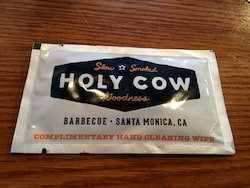 Previously  "Holy cow!", the exclamation of surprise used in the US, Canada, Australia and England is simply a shortened oath for  "Holy Christ dating back to 1905. The phrase appears to have been adopted as a means to avoid penalties for using obscene or indecent language and may have been based on a general awareness of the holiness of cows in some religious traditions.  For more information, please see www.holycowbbq.com