Inotheke Modern Greek Cuisine Sails into Santa Monica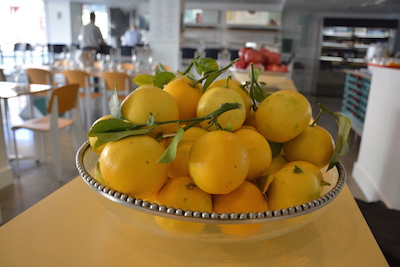 Inotheke, a contemporary dining destination from Carolos Tomazos, is now open in Santa Monica.   The dining room and bar showcases modern Greek warm, lighthearted hospitality while taking its cuisine and spirits seriously.   Even the name is written in Greek.  Hints of the Mediterranean Island, Cyprus, (Tomazos' homeland) shine through each dish with bright olive oils, global spices and fresh herbs. (all photos by Acura-Hansen).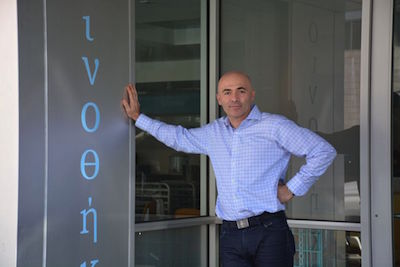 Inotheke is only the second serious Greek restaurant to open – and close-  in about three decades, with only a couple more post-dating the dancer and plate throwing syndrome – inconceivable in Greece at any time.  This update combines the hearty earthiness of Hellenic cuisine with the current penchant for sophisticated, lighter food.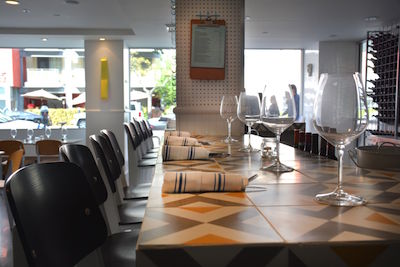 Ask almost any Greek where to find the Greek cuisine, and they will almost invariable answer, "at home."  Tomazos is no exception although he prefers to utilize  extraordinary restaurant experience to share his culinary heritage.  "I grew up in a food loving culture in Cyprus where food was everywhere and everything," he explains. "Everyone cooked, while perpetually breaking bread together often and playfully competing in an unspoken spirited game of who prepares what dish better."  (although I would call the highly vocal reaction to the professional judges by the yaya, or grandma, contenders at the Valley Greek Festival cooking competition I created for only one year, to be very much in "diehard" category!)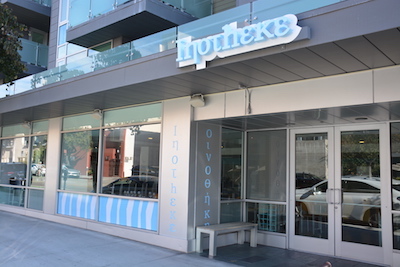 Inotheke is modern and bright, lined with floor to ceiling glass wrap-around windows.  A friendly open kitchen, touches of earth tones and lots of windows offset hard-edges of a casual, stark contemporary room with lots of hard edges.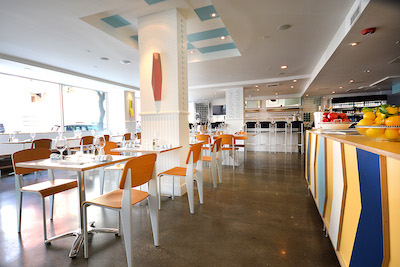 The Inotheke menu dishes are meant for sharing. "This is the kind of food that makes you feel good," laughs Tomazos. "Great ingredients, and clean, healthy cooking. I try not to overthink it."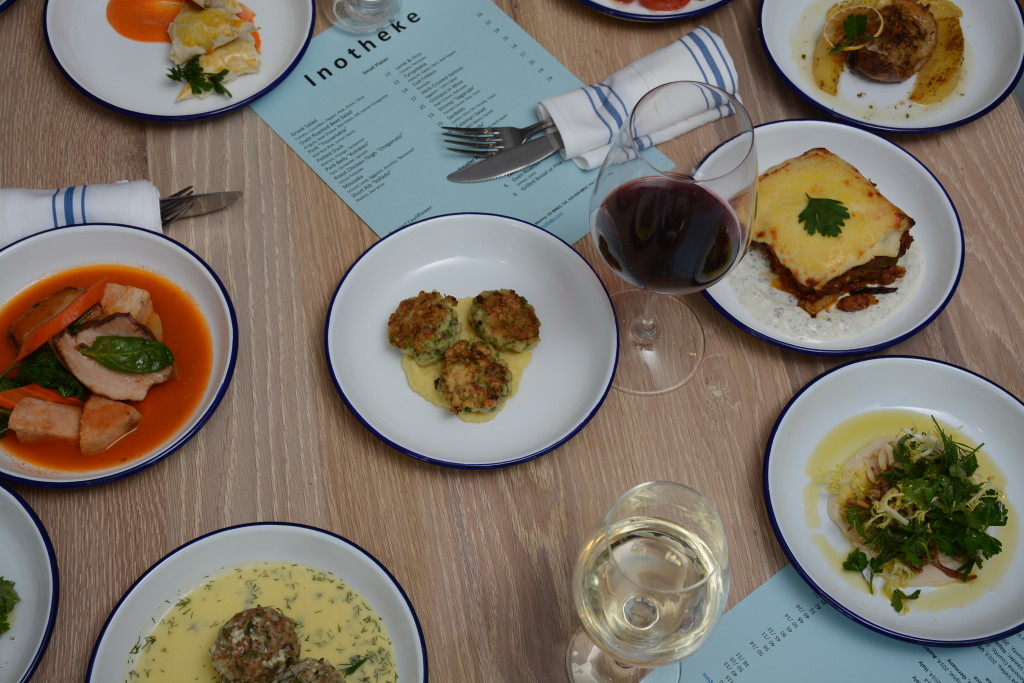 The Inotheke menu includes crisp salads; succulent meats and intricate seafood offerings plus updated traditional Greek dishes, and every dish description entices.  At pioneering landmark Sofi restaurant, you could dine happily ever after on the garden patio on a combination mezze plate (exception; her herbed lamb chops straight from the grill).
Lighter plates begin with the Oven Roasted Beet Salad mixed with arugula, goat cheese, red onion, dill and lemon vinaigrette, and a refreshingly classic Greek Salad prepared with tomato, cucumber, peppers, onions, feta cheese and olive oil. Flavorful Cyprus-style "comfort food" familiar to Greek restaurants is the Tyropitakia, here with Haloumi and Kaseri cheeses, mint and red peppers, as well as the more unusual, earthy Potted Duck topped with walnuts and orange-cardamom marmalade.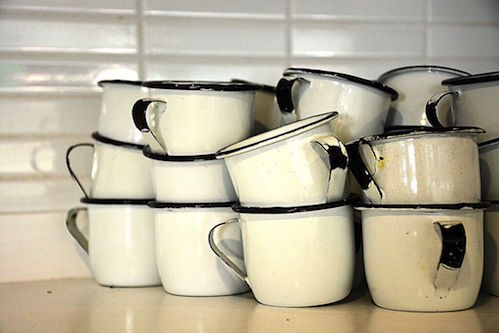 As a natural cornerstone of Cyprus cooking, seafood at Inotheke and is showcased in such dishes as the bright "Lakerda," with Ahi tuna and a fresh herb salad, and  the Herb Crusted Salmon with eggplant and a Tahini salad. There are also crispy Cod Fritters served with the classic Skordalia;  Sardeles served on toast with lemon, olive oil and parsley, and a braised Octopus in Wine stewed in red wine and pearl onions. Shrimp "Saganaki" is served with tomato sauce, feta and ouzo, and the Grilled Calamari Salad comes with cannellini beans and fennel.
Land-inspired dishes include Roast Chicken Thigh "Oreganato" with lemon potatoes, as well as the Short Rib "Stifado" braised with shallots and red wine. "Béchamel" with a light twist on the sauce tops the classic Greek Mousaka made with ground beef, eggplant, zucchini.  Lamb & Orzo with tomato and Parmesan is another traditional.  Pork Belly "Kolokasi" prepared with taro, coriander and spinach, and Pork "Youvarlakia" with wild rice and lemon sauce are two more dishes with mouth-watering descriptions.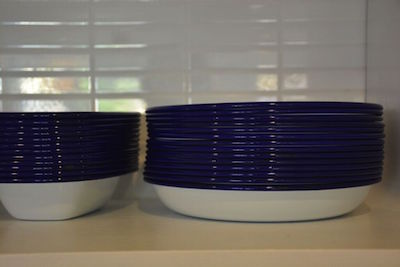 Fresh vegetables and earthy legumes star in many of the Inotheke plates, prepared with aromatic herbs and freshly ground spices, such as the Steamed Broccolini with lemon, olive oil and garlic, and Garlic Mushrooms with white wine sauce.  Black Eyed Peas are stewed with kale and onions; Oven Roasted Potatoes are mixed with lemon and garlic, and Roasted Cauliflower is topped with anchovies and capers. A decadent Taramas is prepared with (truly decadent!) cod roe, lemon and olive oil. Fava Dip Bottarga, is a long-time Greek-specialty-influenced dish made with caviar roe that has become a mainstream specialty.  Here is it served with yellow split peas, thyme and scallions.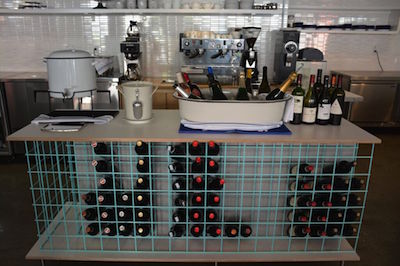 The name Inotheke, translates to "wine case," and  Tomazos will offer over 20 varietals by the glass, including whites like the Robert Cantin, "Les Pier Blancs," Sancerre from France, and reds like the Salentein Reserve Malbec from Argentina, and a Wine List of with over 60 eclectic selections by the bottle, along with four rotating draft beers and 12 bottled beers.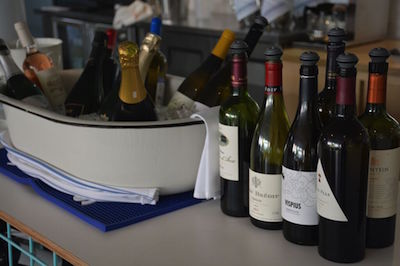 Tomazos career prepared him well for his current position of representing Greek cuisine week.  A standout in the hospitality industry, he has worked amongst the culinary elite while opening, and managing the front of the house at a myriad of Michelin starred restaurants in New York, including Ducasse in the Essex House Hotel, Thomas Keller's Per Se and Eric Ripert's Le Bernardin.  Tomazos made his mark in Los Angeles more recently, partnering with the engaging "bad boy" talent, Chef Brendan Collins (Birch, Los Angeles) at the groundbreaking Waterloo & City, in Culver City, which was nominated for a James Beard Award for "Best New Restaurant" in 2011, and was also recognized as one of the "Best New Restaurants in Los Angeles 2011" by Los Angeles Magazine.
 Inotheke is open daily for Lunch from 11:30 am to 3:00 pm and for Dinner from 5:30 pm to 10:00 pm. For more information or reservations, please visit www.inotheke.com or call Inotheke directly at 310.458.3366.