JAPANESE TACOS AND TAPAS AT NECCO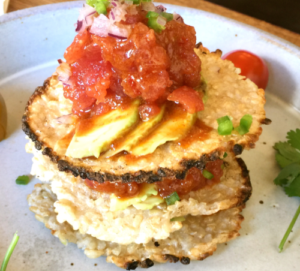 Ever seen a taco that looked like this? Probably not, that is, if you haven't been to Necco, a Japanese tapas restaurant on Westwood Boulevard in Los Angeles.
Instead of corn masa, the "tortillas" are made of brown rice and potato starch. The filling is avocado and spicy tuna, as in the rolls you get in sushi restaurants.
This stack is three servings. You lift off your share, fold and eat for a seductive blend of flavors and textures–spicy, silky, smooth, crunchy and earthy.
Open a little more than two years, Necco combines traditional Japanese with California healthy. When I was there, Japanese filled the other tables, including L.A. Dodgers pitcher Kenta Maeda and his family.