Best of St. Tropez at New 'La Tropézienne Bakery' in LA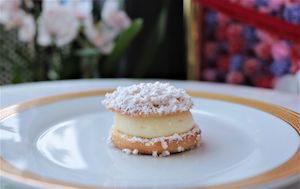 (Gerry Furth-Sides) 'La Tropézienne Bakery' (211 S. La Brea Ave., Los Angeles, Ca), opening mid-February, brings with it to West Hollywood, the stunning coastline of the French Riviera in Saint-Tropez.  You get the sense it would feel sunny even on rainy days.
It is named in honor of the lovely little Tropézienne pastry shown above and below, known as Brigette Bardot's favorite.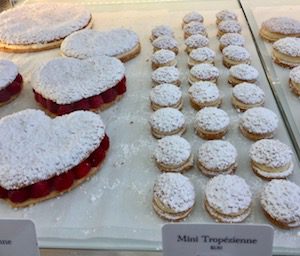 The famous Tarte Tropézienne is in fact a round brioche with pearl sugar and a sort of pastry cream and buttercream filling.  A very subtle, very delicate flavour of orange blossom water is also in the taste.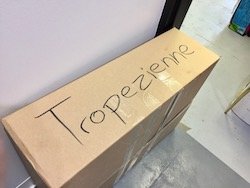 Every single ingredient, from butter, milk, eggs, coffee to equipment and even the staff, are imported from France.
The French bistro and café bakery is unique under the direction of CEO and founder Lionel Azoulay, St. Tropez's most famous chef, Chef Laurent Cavazza, along with Executive Chef, Aurélie Banoun.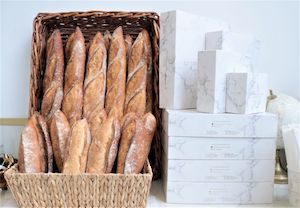 La Tropézienne Bakery will be open daily Monday-Wednesday from 7 am to 8 pm;  Thursday-Friday,  open 7 am to 9 pm.  Open week-ends 24 hours Saturday 7 am through Sunday's close at 9pm.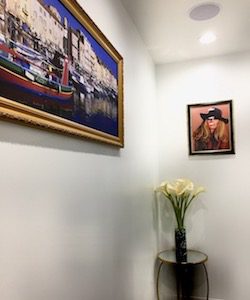 Even the bakery's design is reminiscent of traditional St. Tropez.White marble walls are touched with a hint of gold. Displayed along the walls are still nostalgic photographs taken from St. Tropez.  Above in the hallway leading in from the back are framed portraits of the iconic Bardot and of St. Tropez.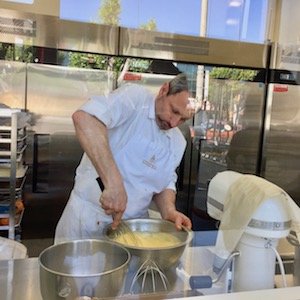 Look through the huge window on the back wall and you can watch Chef Laurent Cavazza at work preparing fresh Tarte Tropézienne.   The charming little shop has indoor and sidewalk seating overlooking bustling La Brea Avenue.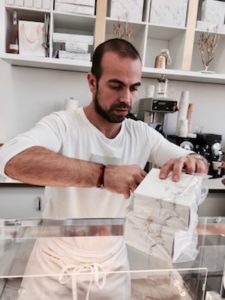 Beginning at the age of 18, owner and CEO Lionel Azoulay (above) has always had a unique passion for business, making his mark in the US and European markets running his own Marketing Digital Company. As Lionel transitioned to LA, his driving passion for the food industry and his love for the classic St. Tropez delicacies allowed him to import 'La Tropézienne Bakery' to the US.  You can see his intense focus in the photo above.
Lionel took time in St Tropez for the past three years convincing Chef Cavazza to join the project.  It was no easy feat. Chef Cavazza enjoys the biggest and best reputation in St. Tropez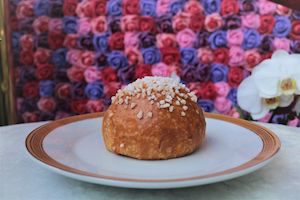 Chef Laurent Cavazza says, "I am really proud today to be in Los Angeles and continue my grandfather legacy. I learned from him many years ago and have worked very hard to create my own bakery in St Tropez. Today, I have the chance to introduce LA Tropezienne to Angelinos and tell them my story. "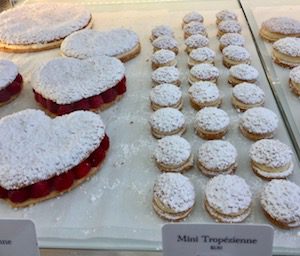 Modeled after the pastries and delicacies of St. Tropez, guests can enjoy a "Tarte Tropézienne", a specialty dessert pastry consisting of a filled brioche. It pairs perfectly with morning cappuccino.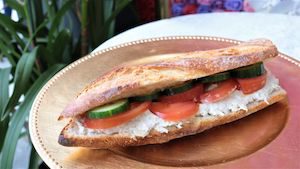 At the lunch hour, guests can snack on sandwiches such as the 'Salmon Lemon Butter' and a variety of specialty pizzas. Afternoon sweet tooth craving, the bakery offers pastry items including Éclair Tropézienne, Macaron St. Tropez, Crème Puffs and more.
La Tropezziene Bakery, 211 S. La Brea Ave, Los Angeles, CA
@latropezzienela