THIS FRENCH LEMON CAKE IS REALLY A WINNER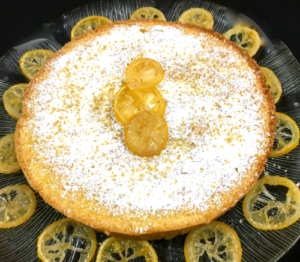 It was a tough competition. Food bloggers were showing off their finest treats at the annual dessert cookoff staged by Melissa's Produce.
I worked all one afternoon to produce a glorious lemon cake, which I dusted with powdered sugar, then glittery gold sprinkles and surrounded with candied lemon slices.
It looked beautiful, and one competitor even told me she thought it was the best dessert there. But it didn't win any of the six prizes. Well, that's what Olympic competitors, race horses and beauty contest hopefuls face. You can't always be number one or even number six.