Manchurian Candidate A Dish at India's Tandoori Brentwood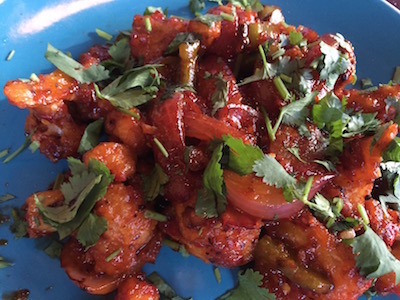 (Gerry Furth-Sides) Manchurian Candidate, Gobi Manchuria, reigns supreme at India's Tandoori Brentwood menu.  The Indian Chinese Fried cauliflower dish, also is popular in India both on the table and as a street food.
It is a perfect example of adapting a dish from another culture and evolving it with both cooking and seasoning technique to Indian taste.   It's also perfect as an American dish –because essentially the dish is made up of Cauliflower fritters in a lush sauce spreading just enough heat. It's a kind of crunchy appetizer Pakora in the form of a side dish.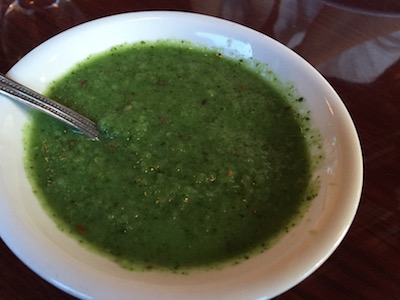 Regular new dishes – and an occasional treat on the menu at India's Tandoori Brentwood prove that Proprietor Martin Shah follows his restaurant's philosophy, "Indian cuisine has been influenced by many cultures over the centuries." Martin  oversees the four Indian cooks in the brand new kitchen and culls recipe ideas from many regions of the country that include his native Bangladesh, Pakistan, India, and unique dishes from the region of Kashmir, now incorporated into the country politically but always a crossroads of cuisines from neighboring lands due to its geography.  Above is the new chutney, more heat and tang from added freshly ground spices and herbs.
Tandoori chicken, lamb, fish, shrimp and vegetarian dishes make up the long menu. Curries mild or hot, with a complete range of Northern Indian vegetarian dishes. Lassi, Chai tea, Indian beer and wine are served. Mango and pistachio ice cream are made in-house. All tandoori Rotis (breads) are made in house.
Malai Chicken is also on the new menu. With cream being the main ingredient, the semi- sweet dish is so rich because it is over half butterfat.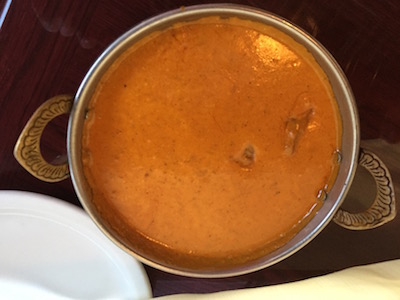 India's Tandoori elevated Lamb korma is  silky smooth and though the menu reads, "cooked in a sinfully rich nutty sauce." The success of this dish means cooking slow "patient simmering" of the lamb over a long period of time to braise the meat and flavor it in a curry and coconut milk-based sauce,  refining the tomato and onion flavors while using ghee in it lends an opulent feeling.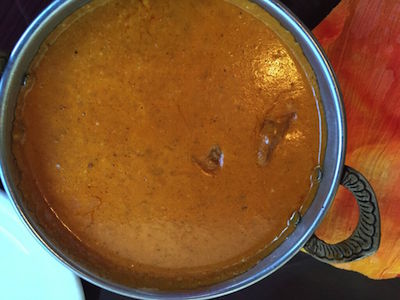 Kashmiri Pulao, considered royal rice dish because of its slightly exotic feel of fruit and nuts.   It feels luxurious because of the ghee or clarified butter taste and the dried fruits, nuts and fresh fruits, such as Pineapple, cashews and white raisins are considered exotic. And yes, considered authentic dried fruit, maraschino cherries on top. This is because cherries are grown in Kashmir.   Fragrant with Cinnamon, Cloves, Cardamom and Star Anise, and elevated with a pinch of saffron, the dish is colorful and the rice is light.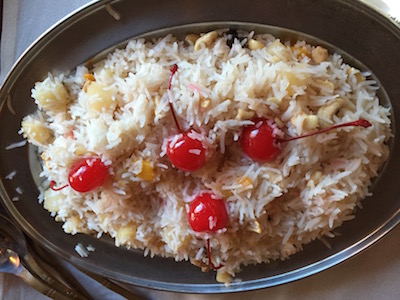 Kashmiri Pulao has come to mean a very fancy mixed rice (pulao) from the Northern State of Kashmir. Why would a dish that originating in a frozen region high in the Himalayas come to incorporate colorful Mediterranean fruits? The answer is that Kashmir lies along the ancient overland trade routs between Persia and India, and the cuisine is famous for using a huge assortment of nuts and dried fruits from all over Central and western Asia.
Other new dishes on the menu include Chilly chicken, another popular Indo-Chinese dish, not commonly found on Indian menus. It is the Indo-Chinese version of fried chicken and fun to eat.   Prepared with bell pepper, onions, tomato sauce and medium spiced, the crispy fried element combined with the sauce makes it fun to eat.
Chilly Paneer (cheese), so a spiced cheese, and Gobi (cauliflower in Hindi) paneer (cheese) blends favorite tastes into two dishes. It is as though an American menu would pair southern fried chicken with French Fries .
Raita with carrots and coriander is light and airy and as sauce to temper the spicy, and while doing the job, is individual enough to stand on its own.
"Our guests are our friends," is the message on the menu. And indeed this is the case. Martin has been known to play detective when it comes to his regular customer's birthday dinners and surprise them with a cake from their favorite bakery in the city, no matter how far from the restaurant.
The staff is also adept at fulfilling customers needs, including mine when I needed a clean bowl rim for a photo shoot.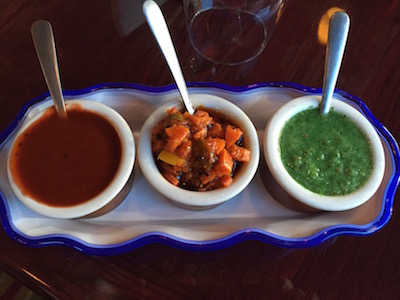 Community-minded India's Tandoori Brentwood's two dining rooms and patio can be used for private parties and civic meetings.
India's Tandoori Brentwood (www indiatandoorila.com) Order online for pickup or delivery below.