Mid-East Falafal, Sumac Transforms All-American Corn Soup at Upper West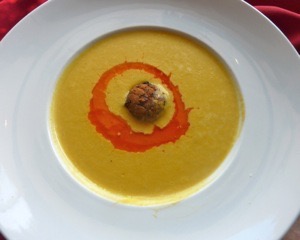 (Gerry Furth-Sides) Kale may be the current reigning king of home and restaurant menus, but corn remains the star of the show at Upper West Restaurant. A steady parade of waiters march out of the upscale tavern's kitchen with what has become a signature item. Diners rave about it as "straightforward and honest," but as Executive Chef Nick Shipp reveals, "the secret to why our guests love it is also their sheer curiosity of what's in it. " The answer is, a thoughtful lot.
Chef Nick tells the story, "When we opened we had a lot of requests for soup. Yellow corn is one of my favorites because of the texture, the mouth feel, the sweetness and the versatility of it.   I'm from Texas, where corn is very prevalent, and where we have the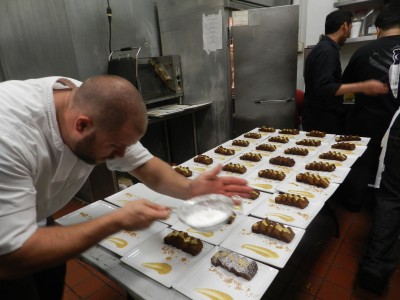 southern influence but we also have a strong Native American influence, too. And what could be more Native American than corn?
The aromatic Corn Soup satisfies like a whole meal. It's one that's velvety smooth and goes down easy, and that's because of the veggie stock base. Then there's rich heavy cream and carrot for sweetness and depth. And then there's white pepper, garlic, Tabasco and onion power to add another set of layers and make it pop. And this is not even the entire ingredient list.
And why the airy, fritter-like falafel?   "Falafel" is code word for middle eastern on a menu, and here a swirl of sumac oil punctuates this.   Nick: "Our menu is international, and this element with its garbanzo bean base is my homage to our Israeli partners. Folding black beans into it brings in the Texas theme, and more spices, such as yellow curry, cumin, coriander, smoked paprika, not only intermingle well with the oil but add a little mystery to it, and at the same time echoes the flavors of the soup.
Corn is also in demand in Chef Nick's Whole Roasted Corn on the Cob with Cotija Cheese and a twist of Avocado Butter.   And, as if to prove that vegetables rule, the second most popular dish on the menu is the earthy Caramelized Cauliflower with Sage, Apple & Parmesan – the chopped apple for texture and caramelization to make it creamy, and the seasonal Brussel Sprouts with Bacon & Roasted Peppers – a dish Nick had to "coax the flavor out of because Brussel Sprouts retain so much water."
Chef Nick laughs when asked about making homey vegetables so popular. "I approach things with a certain simplicity, and good flavor is key. And if it's healthy, too, then that's great. "
Upper West Restaurant, 3321 W. Pico Blvd. (33rd Street), Santa Monica, CA.  (310) 586-1111, www.theupperwest.com.
Corn Soup with Black Bean Falafel & Sumac Oil
4 cups yellow corn (fresh or frozen)
2 cups veggie stock or chicken stock (I prefer chicken stock
1-cup heavy cream
2 tablespoons coriander
1-tablespoon ground cumin
½ teaspoon onion powder
1-teaspoon fresh garlic (chopped)
2 dashes Tabasco
Salt to taste
½ teaspoon white pepper
½ teaspoon chipotle powder
½ yellow onion (small dice)
Small carrot (peeled & chopped)
Stalk celery (chopped)
-In soup pot, on medium/low heat, sauté onion, celery & carrot until onion begins to sweat
-Add fresh garlic & cook for another 2 minutes. Stir constantly so the garlic doesn't burn
-Add corn; continue cooking for another minute or so
-Add cumin, coriander onion powder, and white pepper chipotle powder.
-Cook for another 30 seconds, stirring constantly
-Add chicken or veggie stock (I prefer chicken stock)
-Cover, and let simmer for 5 minutes
-Remove soup mixture from heat & carefully blend until smooth
-Put blended soup back in a soup pot on low heat. Stir in cream & Tabasco
-Salt to taste
Black bean falafel
1 cup cooked black beans
½ cup cooked garbanzo beans
1/3 cup chopped fresh parsley
¼ cup chopped fresh cilantro
1 ½ tablespoons kosher salt
1-teaspoon black pepper
¼ teaspoon chipotle powder
1-teaspoon ground cumin
½ teaspoon smoked paprika
¼ cup chopped onion
-Mash all ingredients well
-Form into small balls & fry in 350 degree oil until crispy on the outside
-Place on paper towel to cool slightly before putting in soup
Sumac oil
1-cup olive oil
4 tablespoons ground sumac
½ reason smoked paprika
1-tablespoon kosher salt
-Bland all ingredients well
-Strain though a fine mesh strainer
-Drizzle onto soup
Caramelized cauliflower
1 head cauliflower (flowerets only 1×1 pieces) or any size you wish
1-tablespoon fresh sage (thinly sliced)
¼ cup Parmesan cheese
3 tablespoons extra virgin olive oil
½ cup green apples (small dice)
1 pat of unsalted butter
¼ cup of dry white wine like a sauvignon blank
½ teaspoon apple cider vinegar
-In a pot of slightly salted boiling water, cook the cauliflower for approximately 5 to 7 minutes, or until just tender
-Remove cauliflower from water and place immediately in an ice bath
-After a couple of minutes, remove cauliflower from the ice bath & dry as much as possible with a towel
-Toss cauliflower with 2 tablespoons of the extra virgin olive oil & 1 teaspoon of kosher salt & cracked black pepper to taste
-Placer cauliflower on a parchment paper lined baking dish & cook in a 475-degree oven until cauliflower has reached a golden brown color
-Heat remaining 1 tablespoon of olive oil in a sauté pan until it begins to barely smoke.
-Carefully add vinegar, white wine, sage & apples to the pan
-Briefly cook until ingredients are well mixed
-Add cauliflower & Parmesan to the pan and mix quickly
-Remove and serve. Top with more Parmesan as desired