Midwestern Know-How at Ocean Prime Restaurant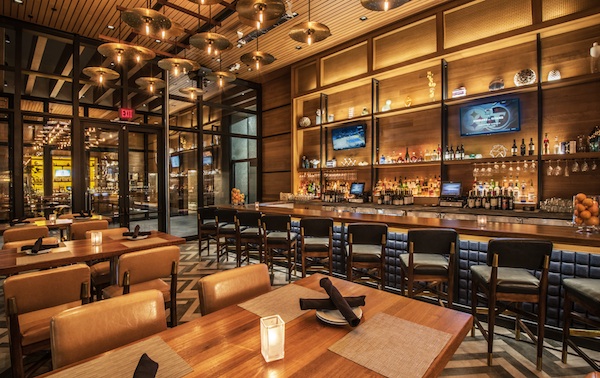 Sometimes you just need good old-fashioned Midwestern common sense to make a place work. Cameron Mitchell is the bigger-than-life, Ohio-based force behind the new Ocean Prime restaurant (former El Torito) restaurant at the "protected" Camden-Dayton signal on Wilshire – with no one-way Beverly Hills streets to negotiate. The imposing structure seems to rise up like a ship right at the edge of the Beverly Hills bubble.
Mitchell' touch already worked on 10 locations and another 40 seafood locations, which is probably why the place retains a Midwestern common sense and welcoming feeling from the minute you walk through the door. From congenial sommelier, Jonathan Mitchell (no relation), the entire staff shows a subtle pleasure at having guests, starting with the hostess answering the phone.
Seated on the patio in a well-cushioned corner seat on a sunny spring afternoon – all comfy with spiffy bright navy and cream pillows to spare on the teak banquette, umbrellas and green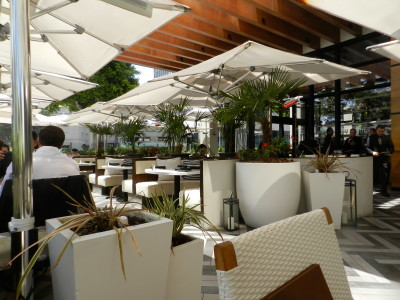 shrubbery ringing the space is a definite reminder that restaurateur Cameron Mitchell's 11th seafood and steakhouse location is in a special Southern California location – the Beverly Hills bubble.
A professional, friendly staff effortlessly took care of us, while Executive Chef Matthew Briggs sent out signature dishes of
straightforward, quality dishes prepared with care and top quality ingredients.
Ocean Prime is defined as an "award winning supper club with quality seafood, steaks, handcrafted cocktails and award-winning wines." "Palatial" has been used to describe the high ceilings towering over three separate dining rooms, lounge and bar that span the 11,400 square foot space seat 350 and can seat 350, designed by ICRAVE. But it is the sort of "palatial" described by Tahir Shah in "The Caliph's House" in which he compares how an airy space sent his spirits soaring after living in a cramped London flat for years.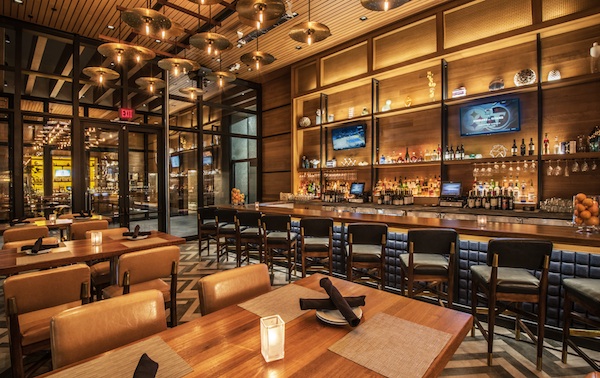 Two young hostesses, Mimi or Rian, greets diners as soon as they step inside the huge space, working in tandem so you are never left standing alone.
GM Mitchell explained the Ocean Prime menu focuses on fish and seafood (supplied by the elite Santa Monica Seafood), but includes the famous Midwestern beef dishes as well that are supplied by a company in Ohio, Michael's (which also supplies Maestro's). My table companion is a meat maven, who wasn't too sure about the lack of marked beef designation on the menu until she tasted our prime Ribeye Steak and pronounced it, "excellent."
The Sushi Bar with hand-rolled sushi is a special Beverly Hills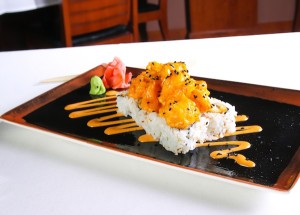 element; Santa Monica seafood supplies the goods. Showy display Sushi and Raw Bars are plumped in what is the heart of the restaurant; diners have to walk by them on their way into the main dining room that features a glassed-in performance kitchen on one side. Specialties include a sashimi plate of King salmon, ahi tuna and yellowtail ($24); Toasted Lobster Roll ($18), with lobster tail meat, kiwi, pickled jalapeno, mango fruit and puree, and a Camden Roll ($17) named after the street in front.
Thinking I would be late, I skimmed through the bar to the patio to find I had arrived first at table.   When Mitchell noticed this, he encouraged me to relax and brought out a bottle of 2008 De Bruno vino Rosso from Santa Barbara, and a glass, and began the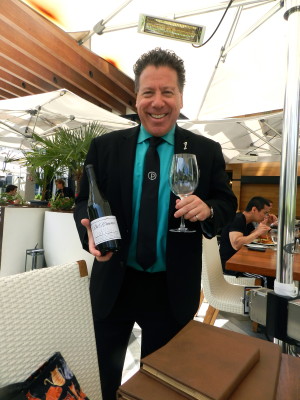 conversation about wine by mentioning the unusual year. It worked. The friendly and firm ruby red wine, had notes of fruit (currants, ripe plum, pomegranate and huckleberry) exotic dried mushroom, and a long, lingering finish.   After this, I didn't even need food.
Mitchell's extensive sommelier experience shows in the extensive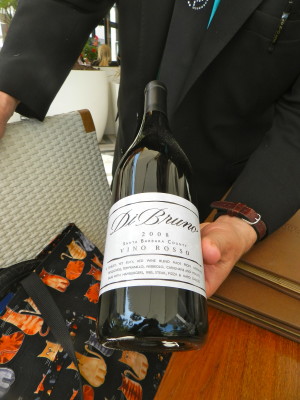 wine list, and over 300 bottles climb the inner bar wall in cabinets. Waiters scoot up and down fancy ladders to retrieve bottles.
After my friend arrived, Jonathan checked for food preferences and allergies, and brought out two of his favorite appetizers.
The generously portioned, casually constructed Ahi Tuna Tartare ($18) with avocado and ginger ponzo sauce is an offshoot of the original Chaya Brasserie's very formal and precise edition created
by Executive Chef Shigefumi Tachibe. However, this homely, squat cylinder makes it easy to create individual bite combinations without ruining the shape of the dish.
Mitchell's other choice was the delicate Sonoma Goat Cheese Ravioli ($15) with golden oak mushrooms. It was perfectly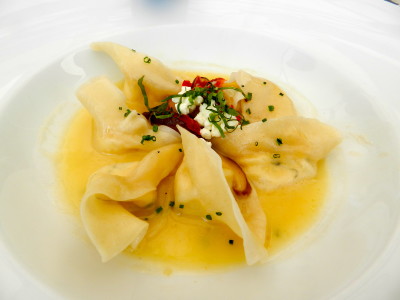 executed with layers of flavors.
"Surf and Turf" ($20), a sea scallop and braised short rib and White Truffle Caviar Deviled Eggs ($13) also sound enticing. Standards fill in the rest with lush Butter-Poached Dungeness Crab ($29); and popular fried calamari and crab cakes, plus a selection of salads, including an Iceberg Wedge ($12). Chilean Sea Bass ($45) has become the most popular seafood dish here, served with whipped potatoes and a champagne truffle sauce. Crab cakes ($36), are prepared with lump Maryland crab. There's a Shellfish "Cobb" Salad ($22) are the other intriguing menu items.
After an extensive discussion with GM Mitchell of the grain-fed vs grass fed and the excellence of Midwestern meat in general, we had to try it. The 16 oz. ribeye ($49) about equal to the price of the Ocean Prime 10 oz. filet mignon ($47). Chef Matthew Briggs fires it up perfectly on a 1200 degree grill so that the outside has a very slight crunch and the inside is Sauces are not included with the beef, except for the A-1 sauce which we used to compare with our menu choice, Bernaise ($3). A generous to-share sized portion of Creamed Spinach ($11) had lots of texture and was flavored with bacon and spices. The Black Truffle Mac & Cheese ($16) was just plain the best, most refined, silky, flavorful version of the dish.

Preparations are so elegant, with ingredients (with as many as possible locally sourced) allowed to shine on their own, that we had "room for dessert"! Chef Matthew also includes in his "features program" seasonal fish sourced directly from the California coast.
Desserts also proved to be light but substantial.   We were told that the Chocolate Peanut Butter Cake ($11) was a "must." Here a picture is worth 1000 words for the petite "cake" layered inside with Peanut Butter Mousse and Bittersweet Chocolate Ganache.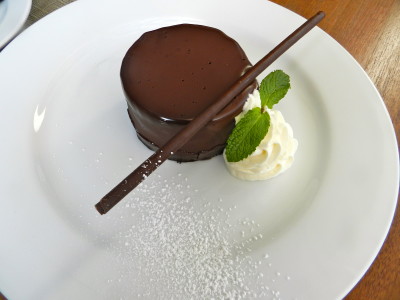 There is also the first time I've seen the classic Baked Alaska on the menu since La Cachette closed (basically the conceit of a pound cake with ice cream covered in meringue and baked) ($12).
Exec Chef Matthew Briggs worked at the trendy Mastro's in Newport Beach and Montage Hotel's The Loft in Laguna.   In restaurant kitchens for over two decades Chef Briggs led the kitchen at Mastro's Ocean Club and Steakhouse in Scottsdale, Ariz., and Newport Beach, Calif. During his tenure, he was awarded Best Chefs America for Orange County in 2013.
Cheers to Ocean Prime!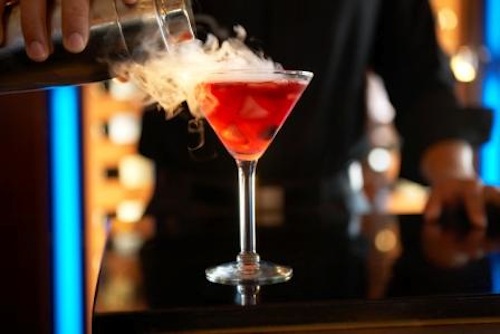 Hours of operation: Monday through Friday, from 11:30 a.m. to 10:30 p.m. Saturday from 5 p.m. to 11:30 p.m. Sunday from 5 p.m. to 11:30 p.m. Happy Hour is Monday through Friday, from 4p.m. to 7 p.m. Reservations can be made by phone 310.859.4818 or online.
For more information, please visit www.ocean-prime.com.