Mixologist Matt Seigel Talks ("Inter")National Cocktail Day March 24th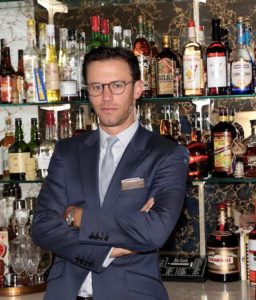 (Gerry Furth-Sides, all photos courtesy of Lauren Jones) Cocktail Day on March 24th reminds us of how many of the classic and popular cocktails boast a history of ethnic influences.   Prominent Mixologist Matt Seigel tells us how — and also shares his own extraordinary cocktail recipes.
Explains Matt, "I am absolutely influenced by ethnic cultures; just the idea of having a simple cocktail or a glass of wine is like a lesson in both History and Geography.  This is truly one of the things I love most about this world of beverage.   I am influenced by different cultures, flavors, preparations, and cuisines all the time and depending on what sort of project I'm working on will very directly affect what ingredients or flavor profiles I will put in the glass.
"As far as culture and style I really love the way Italians drink.  I love aperitifs or just a simple glass of wine, as much as I'm a rum and whiskey man anyone who knows me knows I tend to drink very light and soft.  From tea to wine to spirits and cocktails, if I were to say I was influenced by a culture and style of drinking I would certainly nod towards Italy as well as their ethos of simplicity.
"As far as ingredients are concerned I have been very into Eastern European and Russian flavors and drinks for the last few years.  I've slowly started making them and then finding ways to integrate them into the drinks I make here in Los Angeles.
 Lightly fermented beverages such as Kvass, Krambambula, Sbiten, and Medovukha are easy to make in your restaurant or at home and are really fun to play with for both hard and soft drinks.
 Matt Seigel's Kvass 
Ingredients:

Filtered Water

Russian Black Bread (a dark rye will work just fine as well)

Raisins

Sugar

Dry Yeast

Preparation:

*note: Everyone has their own way of making this so half the fun is experimenting with proportions as well as styles of bread, sugar, and raisins but here is how I normally make it.  Timing is crucial because it's a long process.

Bring 8 quarts Filtered Water to a boil

While waiting, toast 8 slices of Bread so it has a solid, browned  crust on it (beware of your smoke alarms)

Once water has reached a boil, take off heat, add the toasted Bread and a handful of Raisins.

Cover and let sit for 8 hours (overnight is best, but who has time to sleep a full 8 hours anyway?)  At some point during the last part of those 8 hours mix 4 cups of Sugar with 1.5 TBSP of Dry Yeast

After 8 hours, remove bread and get rid of it (keep raisins in pot)

Add Sugar/Yeast mixture and stir.  Cover with plastic wrap and lid and let sit for 6 hours.

Remove raisins with a slotted spoon after 6 hours. Strain drink through cheese cloth into plastic bottles (old soda bottles might be the easiest and cheapest but I like the ones with a little spout on the end because you really get the full effect of the fermentation)

Refrigerate bottles overnight and by the next morning your Kvass will be ready to go.  Feel free to keep it for as long as you'd like, the longer it sits the more it changes.  I have one that's been sitting since last year!

For use in a fun, refreshing, and delicious non-alcoholic take on a Mint Julep try my Eastern Medicine.

Eastern Medicine

Ingredients:

.5oz. Mint infused Simple Syrup

.75oz. Kvass

2oz. Cold Brewed Barley Tea
Preparation:

Muddle simple syrup and fresh mint leaves at the bottom of the glass

add Kvass and Barley Tea

add crushed ice

Swizzle

Top with more crushed ice

Garnish with mint plouche and straw

And here is a deliriously beautiful cocktail created by Mixologist Matt to watch for as an international favorite in the future.   The title"Pink Pussycat " honors of the name of the club from the 1940's that was in the exact location of Delilah in West Hollywood.


Pink Pussycat

Allaire Rum, Carpano Bianco, Olivier Leflaive Chardonnay, Barsol Pisco, Honey, Rosehip & Hibiscus Tea encapsulated Rose

Procedure:

Add all ingredients to mixing glass, add ice, short stir 

(wine dilutes quickly so make sure your mixing glass and stemware are very cold so you don't over dilute your cocktail while getting it to temperature, this drink is very delicate)

Place tea encapsulated rose into chilled Burgundy glass, strain cocktail into glass 

(make sure your cocktail completely covers the rose to ensure the tea begins steeping)

After a few minutes your cocktail will not only infuse with the flavors of Rosehip and Hibiscus but will also go from clear to red.


Matt Seigel is making major waves in the bartending industry. He recently was tapped by prominent dining and nightlife team, The HWood Group (Bootsy Bellows, The Nice Guy), to create the cocktail program for LA's hottest new venue — Delilah. 

The Southern California native got his start in the recording industry 15 years ago quickly becoming a Grammy listed songwriter, record producer, studio owner and world-class DJ.   Matt approaches cocktails the same way as he does his music – customization after analyzing which spirits and ingredients work together.  

Matt is so inspired he can create a personalized drink for guests on the spot after they simply provide him with their taste preferences.  In addition, he's been recently experimenting with color changing / flavor evolving cocktails, an idea that came onto the scene recently.  

Despite no previous professional mixologist training, in 2013, Seigel moved to New York and immediately landed at San Pellegrino's #1 North American and #3 world-ranked restaurant, Eleven Madison Park.   He began his career in the dining room, then quickly moved on to bartending.  Seigel played major roles in the creation of the seasonally rotating bar menus at both Eleven Madison and its sister bar / restaurant The NoMad. During his tenure, The NoMad, (the #8 ranked bar in the world), won the James Beard Award for Best Bar Program and a Tales of the Cocktail Spirited Award for Best American Hotel Bar.