My Czech-ered Past Catches up with Me This Xmas
A traditional Czech feast, both luxe and straightforward at the same time, welcomed in both the holiday season and the new Consul of Czech Republic.  A light drizzle added to the wintery feeling and made his beautiful home feel all the more festive and cozy.
Fish Soup in a Light Broth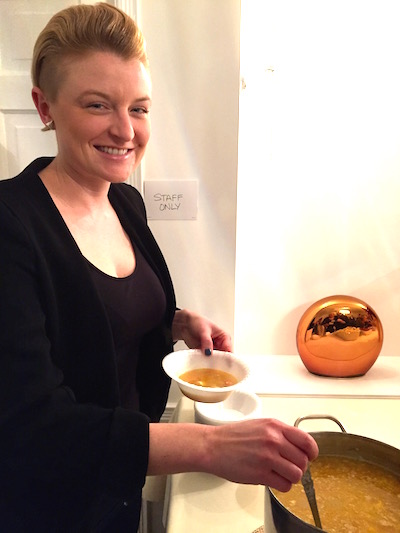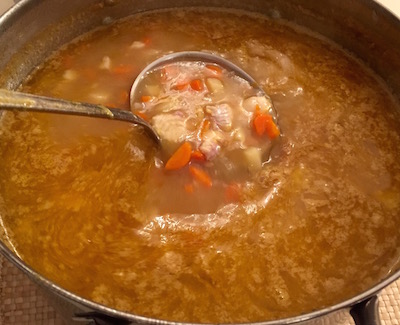 Fried fish, traditionally Carp (Tilapia here), Potato Salad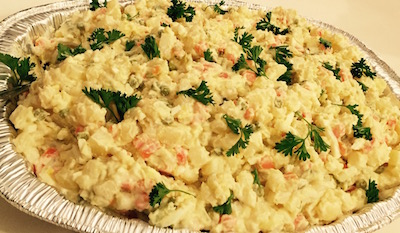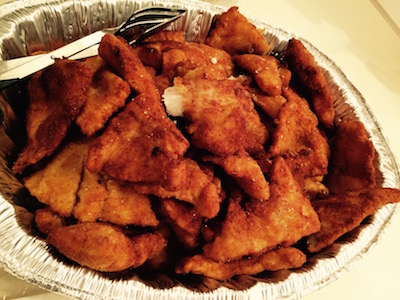 The recipe for potato salad differs slightly among every Czech family. The main ingredients potato cooked with jacket, canned peas, onions, cooked carrots, parsley and celery, pickled gherkins, cooked eggs and mayonnaise. Some families may add grated apples or salami.  The best potato salad is prepared a day before Christmas Eve so that all the ingredients can "mellow" for a day. Legend has it that "the Christmas dinner should be the first food consumed that day. Those who do not break the Christmas shrove are believed to be able to see a golden pig on a wall."
Chef David Pavlik explained to us that Carp is wonderful in Czechoslovakia and in Israel, but the quality is inferior is most other place.   I remember when my fantastic cook, Aunt Alice, came from Czechoslovakia to the U.S. by way of Canada, there was a live carp swimming in a pail in her pantry.  I remember having no reaction since our extended family was still in the meat broking business at the time (and in Czechoslovakia where the army was a main client).
A little research shows a strong connection between Christmas and carp Fishing.  Traditionally the Czech Republic and Slovakia, as well as in Germany and Slovakia, the man of the house would go and fish for the carp or buy it at the fish market. Fish would be usually brought home alive and kept overnight in the bath. On the Christmas night the Carp would be killed and freshly served fried or steamed. Leftovers of the fish would be used to cook a traditional fish soup.
These days, Chef David uses talapia instead.  Passionate about food, David told us that he catered and did parties outside of his nine to five job because he loved cooking so much.  I did remember reading this fact about carp (and that when my aunt came from Czechoslovakia to the United States by way of Canada, she bought live carp and had them swimming in a bucket in the back pantry!  When I cooked on TV more recently, we used Simplot (who does the McDonald's potatoes) farm-raised Talapia since this fish is considered a bottom feeder.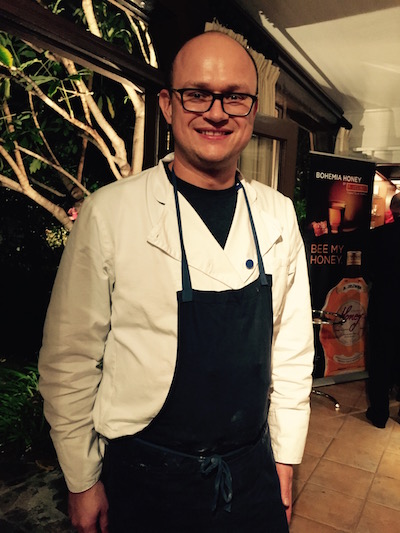 The most delicious, moist and dense Vanocka or Christmas Sweet Bread was dessert.  All three rows of this were gone in no time!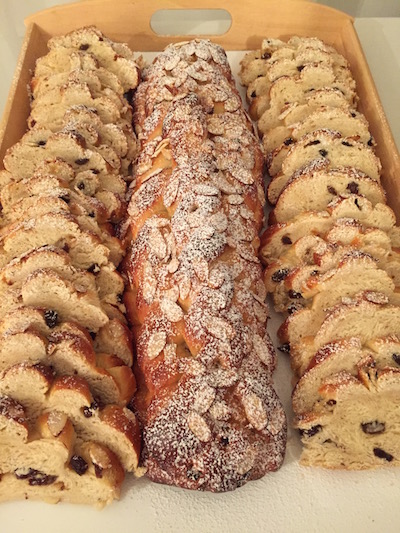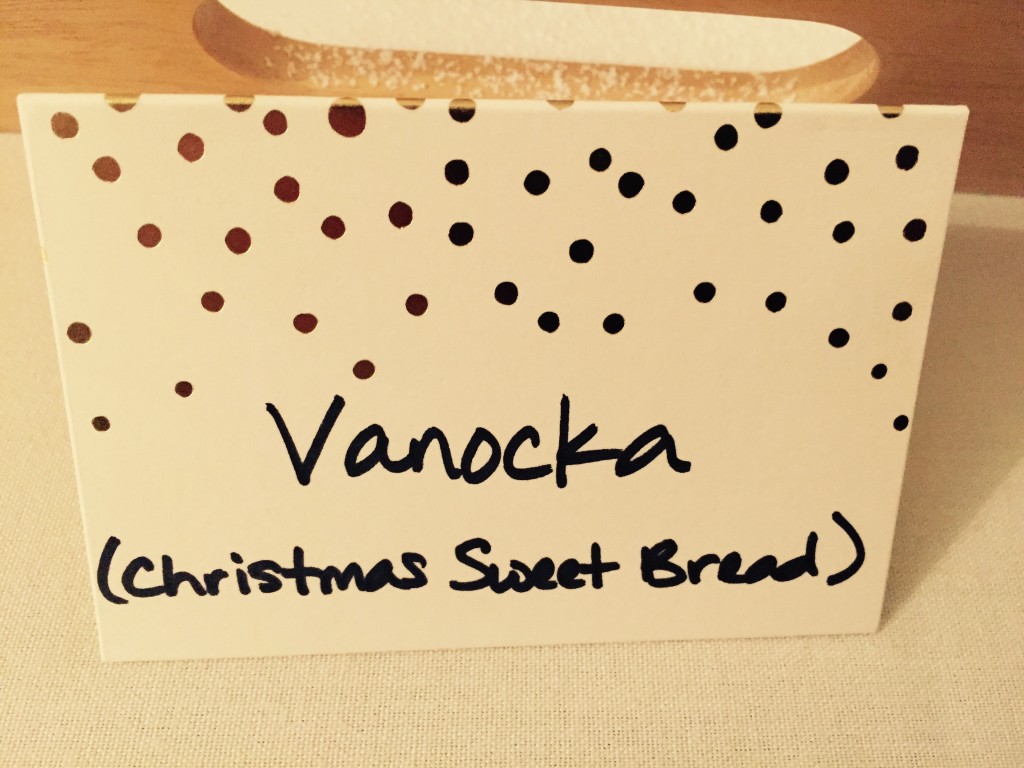 Before the Christmas holidays, many kinds of sweet biscuits are prepared. The Christmas cookies are then served during the whole Christmas period and exchanged among friends and neighbors.
St. Nicholas Day, Dec. 6, signals the beginning of Christmas baking for many Czechs. Out come all the time-honored recipes for labor-intensive and easy no-bake cookies and sweets known as vánoční cukrovi (vah-NAWTCH-nee tsoo-KRAW-vee). Many of them were in our gift bags as we departed for the evening. Butter cookies (made into a sandwich with a thimble hole in one of two cookies and jam in between the layers, dainty tarts, almond slab-studded icebox cookies and crescents were the ones I remember from home.
The basic butter cookie turns into many versions in the Czech kitchen. This one basic recipe can be transformed into different cookies by varying the shape, and sandwiching together with jam or cookie filling, decorating with different-colored icings, dusting with confectioners' sugar or leaving plain.
Susenky (soo-SHEN-kee) are popular cookies served for special occasions and at Christmas they become vanocni cukrovi (vah-NAWTCH-nee koo-KRAW-vee). This easy recipe for Czech black-and-white cookies or linecke testo dvoubarevne (lih-NETS-keh TAYS-toh dvaw-oo-bah-RREV-nay) can be made into zavitky (pinwheel), sachovnice (checkerboard), kolecka s obrouckou (wheel), rezy ze cytr pruhu (square), and salam (salami) shapes.
The next day we served them on a family cafe set that made them taste better, if possible.
If anything, the pastries I remember from home were richer and filled much more butter?  Why? Because my parents were of the Austro-Hungarian Empire – which had such strong influences from the French and Italian, "the best," as they always boasted.  It is also why, as my chef friend, Roberta Deen, pointed out, the fact that you loved our Mexican Polvorones (known as Russian teacakes), was that it was probably brought by the French when they conquered Mexican.  At the same time, you only find this to be true with truly regional cooking, when you step outside the food of the poor.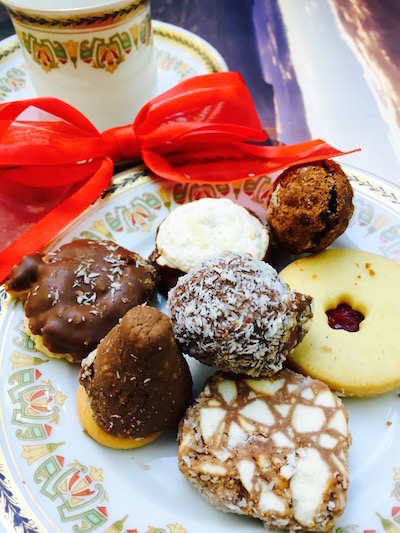 (Gerry Furth-Sides) Only my Czech mom's "signature" crepes came to mind when I was invited to be the subject of a prestigious L.A. Times Magazine "Galley" column, my public cooking debut.   The encouraging photographer's picture of a stack of crepes strewn with flowers turned out quite lovely despite me nervously cooking about 500 all the entire night before "to practice" until I turned into an automaton by photo session time. Still, my mom would have been so pleased I was prepared and it was about food.
In Czech this dish is "Palachinky" although my mom was a proud graduate of French cooking school, the only one allowed in her family of seven sisters. Served with a filling of ricotta cheese, stewed fruit or jam, the crepes rarely reached that stage in our kitchen because my brother, dad and I ate them right out of the pan, plain — or with filling if ever they hit a plate.   "Presentation" was clearly not a part of that dish, to be sure. Cookbook photos show Palachinky as clear golden but I remember every one of my mom's lacy, speckled crepes so individual and so compelling you had to try as many as possible.   And so we happily did. For entire dinners. Crepes translated into our burrito, our tamale, our one dish that stood alone for meal. I ate so many in fact, that I haven't had one since. Not even the Magic Pan Restaurant could do magic for me after that.
My mother was the baby of 15 in her family, which was in the meat business, brokers in fact.   Alex, her shrewd, witty brother snared their biggest client, I recently learned, the army!     and that they had an easily fed St. Bernard of all things.  That at least 22 were at table daily for the big noon meal was legendary though (boys on one side of the long table, girls on the other — and girls silent!).
The biggest influence at our house of those times was a dinner meal that always started with soup (which I began eating again after a quarter century), and included meat or sometimes chicken: lots of huge steaks, goulash, a whole ham, a whole roast, boiled chicken (with the feet in soup you ate with your hands– yikes! ) or the divinely inspired Hungarian fried, skinless chicken so heavenly that dancer Paula Kelly declared my version the best she ever ate.   However, a magazine article declaring fried foods unhealthy influenced my mom to develop the most delectable, sliced, oven roasted potatoes as a substitute for her addictive, fabulous French fries (and donuts made in a new frier).
My slim mother tasted everything, ate hardly anything and nostalgically indulged herself at lunchtime with a piece of rye bread and butter that reminded her of the old days in Czechoslovakia, and she walked everywhere my as she did at home while my friends' parents used a car.
My Czech born patriotic mom also passionately named me after Tomas Garrigue ( "Garrick") Masaryk, ( " Massarick"), the beloved first ruler of the newly unified (from four territories), independent Czechoslavak Republic in 1918 after 400 years of Austrian Hapsburg rule. I liked this not one bit. I didn't know enough then to appreciate being the only girl with a "boy's" name out of the 6 "Jerry's" in my class at school.  I didn't realize how influential a figure he was in world politics;   no one even seemed to know where it was on the map.
Appropriately enough, I loved education from the age of 22 months, when I insisted on attending nursery school. And appropriately so since education was a vital element of my namesake; under academically oriented Masaryk s leadership each citizen was prodded toward high school graduation. Even today there is  100% literacy in Prague.
Yet only 20 years after its foundation, the country was devastatingly and helplessly caught up in the polical maneuving preceeding first Nazi and then brutal Communist domination. Only after playwright Vaclav Havel dramatically stepped onto the balcony of the famed Prague Castle to lead the country and start the return to independence to world recognition and applause did the emerging Czech Republic became the new Paris. .The splendid moderne architecture of Havel's father can be seen in many places, including a bust to honor him in one of his first buildings just off the famed Wenceslas square where the movement started.
My cousins Oleg and Oleanna whirled me through the building as a shortcut when we were changing my American currency into koruna (or crown in English), answering my questions about "under" Communist rule by describing in a quietly straightforward but heartbreaking way how one freezing cold, grey Christmas even the street lights were off as parents scurried from store to bare store just to buy just the most basic items for the children.
Gorgeous medieval Prague, always at the crossroads of Europe, always constructed and now painstakingly being reconstructed with the most exceptional architectural detail and remarkable pastel colors, had developed into a thriving town by the ninth century with a large festive marketplace, now the glorious, beloved Old Town Square. To give you an idea of old, The "New Town" (Nove Mesto) was founded in 1348!   In contrast yet artfully complementary to it were buildings of the Art Noveau area and even cubist houses built in the Jewish Quarter in the 1920's.
I adore the much favored creamed spinach but do not understand the true Czech cuisine which is supposed to resemble Austrian food, with lots of fried, roasted or oven baked meat, served with dumplings, potatoes or rice in a sauce.  The key word here is "dumplings" of choice, usually with the texture and taste of paper, that accompany every dish. There seems to be an endless variety of the dumplings "knedliky": spekove ( bacon), bramborove (potato), Hovezi (liver), Houskove (sliced bread!), even "Ovocne knedliky" or fruit dumplings, most often served with melted butter, powdered sugar and ground poppy seeds.
My cousin Erich's wife Yarka, a generation older than I, served platters of classic assorted savory open faced sandwiches and a luscious variation of a strawberry shortcake. She suddenly asked what Americans would think of their city flat with its ovenless stove. Why, the cake wasn't even baked. Everyone looked at me.
Oh, " I quipped, "In America they would give you a cooking show called "how to cook in an apartment without an oven." Everyone had a good laugh. But in my heart I knew it would be true.
################