New Mexican Avocado Mayo and Oil Spray Must-Haves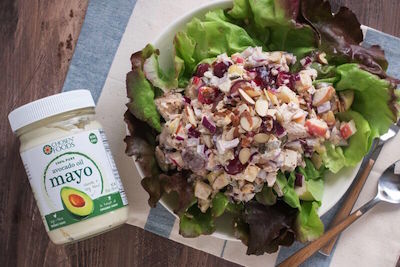 (Gerry Furth-Sides) Avocado Oil Mayo and Avocado Spray Oil, made with 100% pure avocado oil, were "naturals" in the progression of high quality Chosen Foods healthy products.  So it was not surprising that their Avocado Oil, was a "Best of East Press Winner" at the "Natural Products Expo East 2015," among a field of over 100 products. Criteria included innovation, ingredients, visual appeal and taste, according to officials.  This comes as no surprise to me after tasting the Avocado Oil Mayo, redolent of homemade mayo because of the identical ingredients, with a kiss of dijon mustard and rosemary.
It was also just a matter of time before someone had the bright idea of making an avocado oil mayonnaise.  After all, we have popular oils made of grape seed, walnut, hazelnut; grape seed, toasted sesame and roasted almond.  I've covered them all, starting with grape seed oil (starting because the founder of one Napa Valley company looked like Viggo Mortensen so I wrote that a sprinkle of the oil and rice vinegar, salt and pepper, made up a dressing.  To my surprise, I eventually found myself preferring this to anything else!)   I am a believer.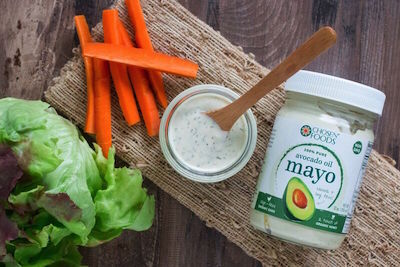 The contemporary Quinoa and Black Bean Tacos with Creamy Chipotle Sauce created by Chosen Foods chefs is as satisfying as it is light and work all year round. Royal White Quinoa is mixed with black beans and a smoky seasoning blend for a traditional taco flavor. The Avocado Oil Mayo is blended with spicy chipotle and fresh lime juice for a creamy topping.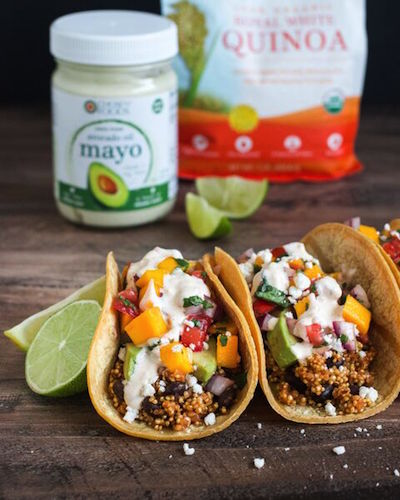 Makes 8-10 tacos
For the Quinoa & Black Bean Filling:
1 c. uncooked Chosen Foods Royal White Quinoa
1 ½ c. filtered water
½ tsp. smoked paprika
½ tsp. ground cumin
¼ tsp. garlic powder
¼ tsp. onion powder
¼ tsp. dried oregano
½ tsp. sea salt
¼ tsp. black pepper
15 oz. canned organic low-sodium black beans, drained & rinsed
Mango Salsa:
1 mango, cubed small
½ red onion, finely diced
2 medium tomatoes, chopped small
¼ c. chopped cilantro
3 tbsp. fresh lime juice
Sea salt & black pepper, to taste
Creamy Chipotle Sauce:
3 tbsp. Chosen Foods Avocado Oil Mayo
3 tbsp. greek-style yogurt (sub coconut cream for dairy-free)
2 tbsp. fresh lime juice
2 cloves of garlic, minced
¼ tsp. ground cumin
1/8 tsp. ground chipotle powder
Organic corn tortillas or lettuce cups for serving
Mexican cotija cheese, crumbled
Fresh avocado slices
Directions:
Prepare the Quinoa & Black Bean Filling by combining the quinoa, water, paprika, cumin, garlic powder, onion powder, dried oregano, sea salt, and black pepper in a medium saucepan. Bring to a simmer over medium heat, cover and turn down to medium low. Cook for 20-25 minutes, or until the liquid has been absorbed. Add the black beans, toss with a fork, and cover until serving.
Prepare the Mango Salsa by tossing all the salsa ingredients together in a bowl. Season with sea salt and black pepper, to taste. Set the salsa aside to let the flavors come together for about 10 minutes before serving.
Prepare the Creamy Chipotle Sauce by combining all the sauce ingredients in a small bowl. Whisk well until it's smooth.
To assemble: warm the tortillas gently and fill with the quinoa filling, mango salsa, avocado, cotija, and chipotle sauce.
This is a stand out dish even when I ate it on a bed of lettuce instead of in taco shells. You can almost taste that it is healthier. This is because it does not contain soy and canola oil or refined sugar, GMO's, artificial colors, flavors or preservatives.  As a former Hellman's (Best Foods on the west coast) mayo girl, I could not quite bear to read the list of ingredients in my former "must-use" for dressings.
I tried the new Avocado Mayo and absolutely loved it on an another favorite Latin family dish, a Mexican-style salad created for the Avocado Commission I found in a magazine when I was first married. The salad featured a dressing of Homade Tomato Chili (quite the cult item now) combined Hellman's Mayo to make the dressing for Mexican Salad.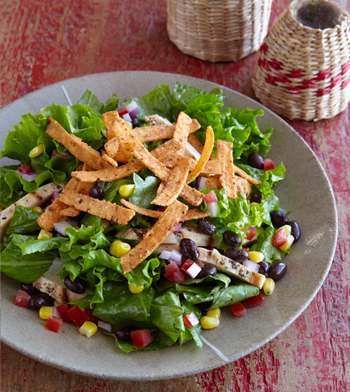 The first incarnation of this salad was quite wonderful and I've since learned it was because of the combination of healthy seasonal ingredients that made for layers of natural flavors and textures. Grilled ground beef; fresh tomato; raw red onion slivers; sliced black olives; avocado slices and Blue Corn Tortilla chips were mixed into a bed of iceberg lettuce. Just arriving from the east coast and never having even seen Blue Corn Chips, let alone the original corn, I usually finished off half the bag before I got home.
The next incarnation that I used in a special lettuce campaign when I represented the California Growers and Mrs. Cubbison's on TV a decade later was healthier and prepared with romaine lettuce (very historical, the lettuce having been named by the Romans). Grilled chicken was substituted for the ground beef and Mrs. Cubbison's over-sized Restaurant Croutons for the chips, but the same dressing was used. Looking up the latest Mrs. Cubbison version, the following came up, and using Avocado Mayo adds the missing, magical touch of rich avocado.
I recommend all versions because they all stand up to today's standards.
Santa Fe Chicken Salad
Serves: 4
Prep Time: 5 min
Cook Time: 10 min
Ingredients
2 each; (6 oz) chicken breast
4 cups; mixed greens
1/2 cup; cilantro leaves, stems removed
1/4 cup; black beans
1/4 cup; corn kernels
1/4 cup; red onions, small dice
1/4 cup; red pepper, fresh, small dice
1 cup; honey-lime vinaigrette or substitute Chosen Foods Mayo & chili sauce mixture
1/2 cup; Mrs. Cubbison's Southwest Flavor Tortilla
Directions:
Marinate chicken in 1/2 cup of dressing for two hours; remove from marinade and discard dressing. Grill until internal temperature of chicken reaches 165°F; slice into 1/4″ pieces.
Toss mixed greens, cilantro, black beans, corn, onions, red pepper and sliced chicken with 1/2 cup of dressing until well coated.
Remove to serving plate; top with tortilla strips.
Natalie Morse of Chosen Foods explains, "We noticed so many people were making homemade mayo using Chosen Foods avocado oil, we thought to add the convenience of buying it.  We really wanted to make sure our mayo had the traditional taste people look for but we wanted to 'up' the quality factor using mostly organic ingredients. We added just a touch of organic honey and organic Dijon mustard to create a balanced flavor experience." And it is the unique touch of Dijon that absolutely sparkles in each dish.
Avocado Mayo does have quite a few calories (we know, the good fat kind) with a sumptuous 100 calories er tablespoon, compared with Hellman's 30 calories.  So there is an alternative.
Avocado Oil Spray with zero calories, encompasses all the healthy benefits of 100% pure, all natural fruit with the convenience and efficient of an all-natural spray can.   It works with both sweet and savory dishes, adding a note of avocado where it would be a choice ingredient or enhancing the avocado if already in the dish, such as in a salad dressing.  It is versatile and because of its high smoking point – 500 degrees!  It is practical because it can simply be sprayed onto any grill, baking dish or saute pan before heating, or sprayed on a finished dish before serving to enrich flavors without overpowering them.  A quick spray on baked veggies because it is so easy and adds so much flavor.
A common thread in Chosen Foods culture is the foundational belief that food has the power to heal, searching the globe to bring these healing super food ingredients to people everywhere. They are committed to providing products and education that motivate consumers to make health-conscious choices. Avocado Mayo and Avocado Oil are perfect examples of their mission's success  http://chosen-foods.com.