New Holiday Fromagerie Guilloteau Cheese and Dishes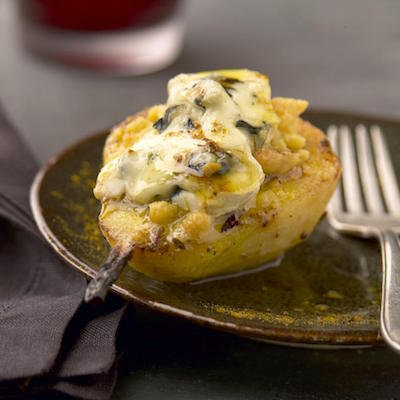 France's finest specialty cheese producers, Fromagerie Guilloteau introduce a new, Fromager d'Affinois Campagnier, in time for the holidays.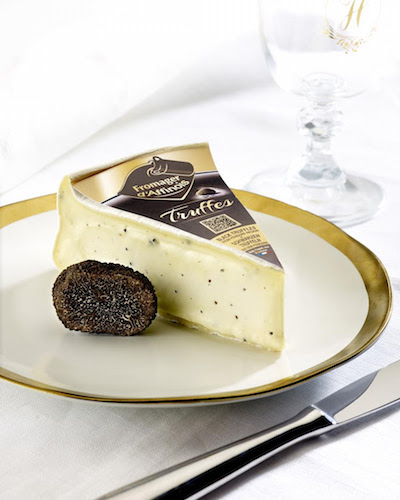 The  makers of Fromager d'Affinois with Truffle and Saint Géric are renowned for their family of creamy, ultra-rich and delicious cheeses.  Made with real Black Truffles from the Perigord region of France, Fromager d'Affinois with Truffles displays notes of fresh butter and earthy mushroom that reveal themselves after cutting into the light and bloomy rind.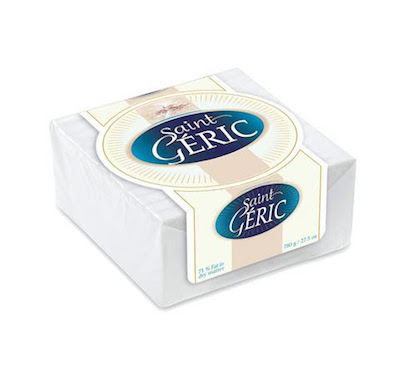 Saint Géric is a  marriage of lush triple crème and blue cheese – rich and creamy with a subtle blue flavor that linger on the palate and slowly melt in the mouth. Made in Pelussin in the Rhone Alpes region, this sublime square-shaped cheese filled with buttery goodness, is streaked with ethereal veins of blue.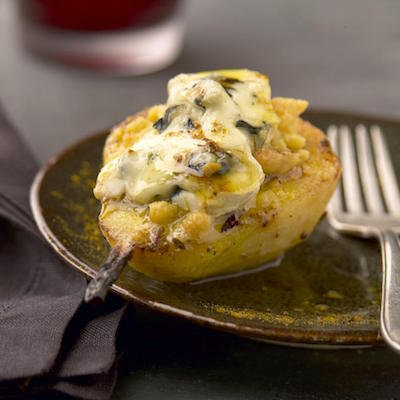 We fell in love with the Roasted Pears with Spices and Saint Géric dish (photo above) from the first time we read the recipe, and it turned out to be as tasty and unique as its name.  The little tingle of curry is ingenious.  We never thought anything would replace poached pears in coffee!
Roasted Pears with Spices and Saint Géric
Serves: 4; Prep time: 30 min
Ingredients:
3 oz. Saint Géric(can substitute Fromager d'Affinois Blue if Saint Geric is not available)
4 ripe pears
1 tbs. curry seasoning
4 tbs. butter
1 tbs. honey
1 tbs. flour
Directions: 
Peel pears, cut in half, and remove center. Melt 1 oz. butter in a frying pan, add pears face down and brown. Once browned, add honey and curry seasoning, and continue to cook until caramelized, approx. 2 min.
Place the pears into gratin dish with the caramel. Mix the rest of the butter with the flour in a bowl to obtain a slightly crumbly paste and spread over the pears. Bake the pears in a preheated oven at 350°F for 10 minutes. Remove the pears from the oven and top with finely sliced Saint Géric. Place back in the oven and cook until cheese melts, approx 4 to 5 minutes. Serve hot.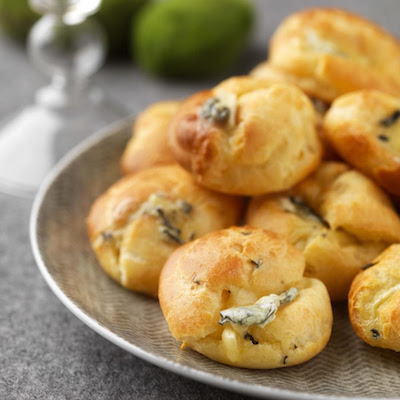 Blue Cheese Gougerés are another very refined, rich idea for dinner rolls, using either  Fromager d'Affinois Blue or Saint Géric in this dish.  Simply add the cheese to herbed rolls and pop back into a heated oven for a few minutes before serving.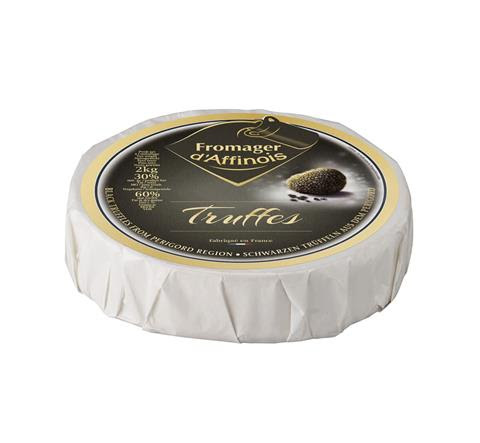 Fromager d' Affinois with Truffles and Saint Géric can be found at Whole Foods, as well as in specialty grocers and cheese shops throughout the United States.
"The orange-tinted rind of Fromager d'Affinois Campagnier, the newest cheese to our top-selling cheese line, Fromager d'Affinois, reflects our desire to share the "terroir" of France with American consumers," reports Pierre Stéphane Leyrat, Vice President of Marketing and Sales for Fromagerie Guilloteau.
Fromagerie Guilloteau's revolutionary ultrafiltration process produces cheese that  retains a higher concentration of nutrients and ensures creamier and richer cheeses, this soft-ripened, cows-milk cheese presents a smooth and velvety texture – similar to a triple-cream – and displays salty, buttery and meaty flavors.
"The orange-tinted rind is meant to invoke the color of the wheat fields where the Fromagerie Guilloteau cheeses are produced, Leyrat explains."   Its thin, orange-colored rind comes from washing the rind in an extract from Annatto, an indigenous plant to South America that is used as a natural dye ranging in color from bright yellow to deep orange.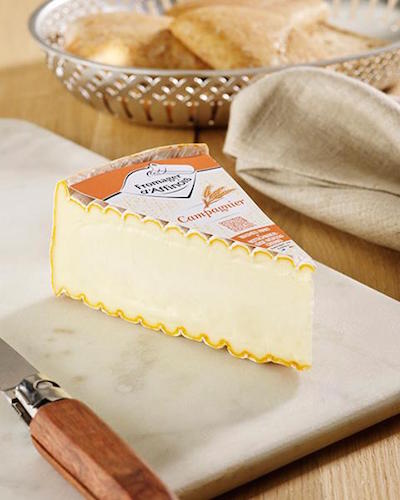 The orange-tinted rind of Fromager d'Affinois Campagnier adds flare to holiday dishes, charcuterie plate and everyday home cooking. Texan-style Beef Wraps with Fromager d'Affinois Campagnier (below) is one easy, nutritious and a very American dish.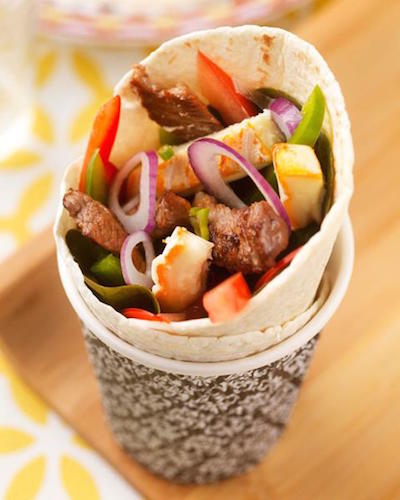 TEXAN-STYLE BEEF WRAPS WITH FROMAGER D'AFFINOIS CAMPAGNIER
Active Time: 40 Minutes
Serves: 6
Ingredients:
·         1 1.2 lbs of beef (flank steak, sirloin steak)    
·         1/2 lb of Fromager d'Affinois Campagnier cheese
·         6 tortilla wraps
·         2 tomatoes
·         1 red pepper
·         1 green pepper
·         1 red onion
·         6 green salad leaves, washed and dried
·         1 clove of garlic
·         6 drops of Tabasco
·         6 pinches of cumin powder
·         Olive oil
Directions:
Cut beef into strips; place in a bowl. Add the chopped garlic, Tabasco, cumin, and a dash of olive oil; mix until well combined, and marinate for 30 minutes. Peel, deseed, and cut the peppers into strips. Cut tomatoes into semi-circular slices and peel and thinly slice the red onion. 
Heat a dash of olive oil in a frying pan and sear the beef for around one minute. Cover and keep warm. Cut the Fromager d'Affinois Campagnier into sticks.
Assemble the wraps:
Spread the lettuce, tomato, pepper, onion, cheese, and beef onto each tortilla. Roll up to form the wraps. 
Cheese makes every table more festive and elegant.  Simple paired with fruit and nuts and a few wines makes for a party.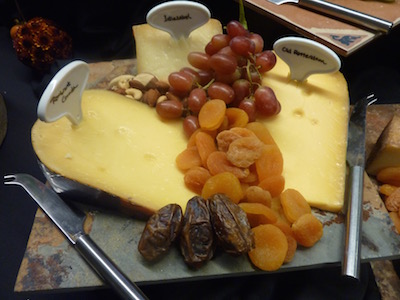 Fromagerie Guilloteau is a family-owned business with two production sites located in the southeast part of France, near the Alps. Fromagerie Guilloteau works with over 100 local milk producers, most with an average herd of around 50 cows. Fromagerie Guilloteau collects nearly 40 million liters of milk per year from Montbéliardes and Prim'Holsteins Montbéliardes breeds, found mostly in mountainous regions of France. Both of these breeds are known to produce high-quality milk, particularly rich in proteins.
Fromagerie Guilloteau is known amongst turophiles for having pioneered the use of ultrafiltration in cheesemaking – a process that accelerates cheese maturation through concentration of certain milk components for an ultra-creamy cheeses with a paper-thin rinds.
Fromagerie Guilloteau produces a varied selection of cheeses. Made from cow's milk, goat's milk, and sheep's milk, Fromagerie Guilloteau cheeses are hand-crafted in variety of sizes, including rounds and cubes. Their most popular line of cheeses, Fromager d'Affinois, comes in a variety of flavors: Plain, Garlic & Mixed Herbs, Truffle, Pepper and Bleu (cow's milk), Brebicet (sheep's milk) and Florette (goat's milk).
For more information on Fromagerie Guilloteau and its cheeses, please visit www.fromagerdaffinois.com.