New Joyous Nepalese Cooking at Gate of India in Hollywood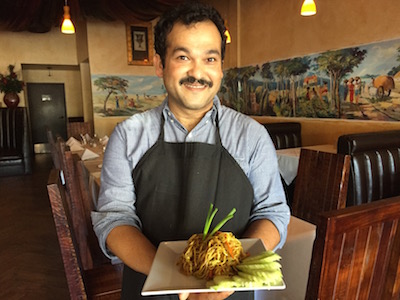 (Gerry Furth-Sides) Joyous, Chef-owner, Boda Nirouia, renews Gate of India, an old Hollywood mainstay since the 198o's, with his gift for contemporary Indian cuisine fusion.  Chef Boda's dishes shows a light, deft hand at incorporating fusion elements that elevate the most ordinary Indian dishes.  Here radish sprouts, garlic, peas and broccoli plus a slice of citrus bounce the flavors of a rich broth to a new level. An added squeeze of the lemon slice garnish again provides another tart layer of taste.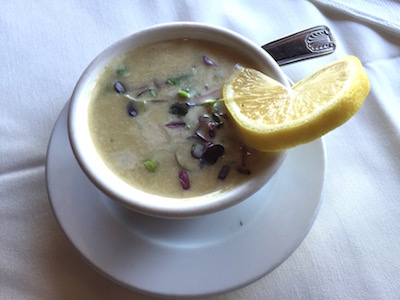 The chef's background as a trained chef with experience in India's highly regarded Restaurant and Resort Group, Oberoi, shines through his refined dishes, spiced with an even heat throughout.  His Thai Restaurant experience inspires contrasting color hues using sprouts and flowers, for picturesque plating – welcome in the Indian cuisine, filled with robust layers of taste but including lots of brownish stews. Cher Boda's Nepalese heritage also means an insider's taste near the border to "authentic fusion" Indo-Chinese dishes.
Gate of India's show off Sampler Platter adds a zing of primary color to his version of Samosa, Onion Pakora, Tandoori Chicken Drummettes and a rare Potato Salad. The Pakora, already an attention-grabber with its appeal of soft onion and crispy coating is executed perfectly. Green and purple radish sprouts cap the tiny mountain of delicate Nepaplese Potato Salad, sitting in a paper-thin pastry shell. Boda's little Drummettes, evenly infused with a hint of freshly ground spices and chilies, in house, are a challenge to perfect in the Tandoor.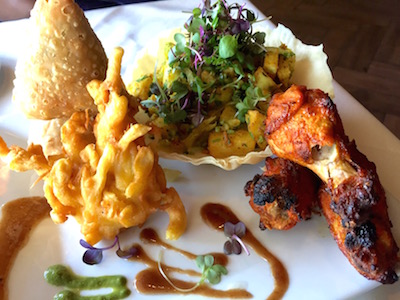 The chef pulls it off consistently with just the hint of char and smoky flavor.  The color is all natural, layered on by spices and cooking.   Tandoor Salmon is marinated in sour cream and a paste of ground turmeric, garlic,mustard seed before cooked in the clay oven.  The addition of a lime for an extra squeeze of tart flavor completes the dish.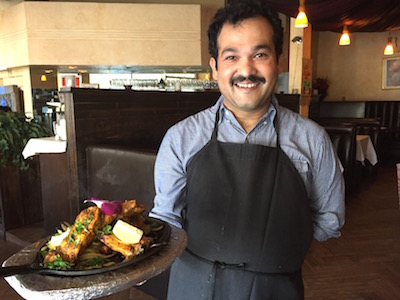 Indo-Chinese dishes, especially from Nepal, fuse the best of India and Chinese flavors and textures. Thin noodles, the better to prepare then al dente and offer a bite to them, are the base of Gate of India Chow Mein, done as a stir fry with slices of bell peppers and carrot, cabbage shreds and topped with scallions. Chicken or egg can also be added.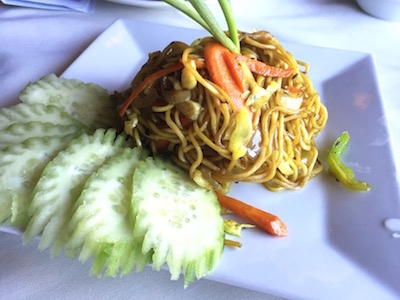 Thick strawberry Lassi and Banana Lassi are almost enough for dessert.  Sweet Naans, such as one stuffed with Raisins, cashew nuts and peanuts or the Naan stuffed with Apricot are on the Gate of India menu.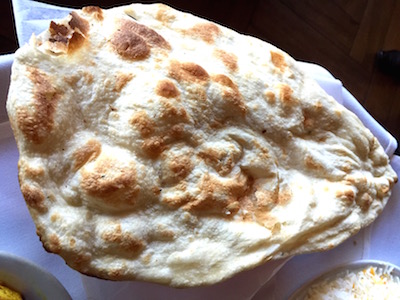 The small, corner shopping center and new Hollywood home to Gate of India, feels transports you out of the country into India and Eastern Europe for unique ethnic foods.  Thankfully we were so full from our Gate of India meal we could only grab a oversized puff of a meringue (filled with a cream and Greek nut spread) at Golden Nune is the owner; Lucy is there on week-days to help you.
Gate of India, 7300 W. Sunset Blvd, Suite E, Los Angeles, CA  90046, (323) 874-6673 (www.GateofIndiaSunset.com)