Ojai Artist Tour 2015 Starts with Local Backyard Citrus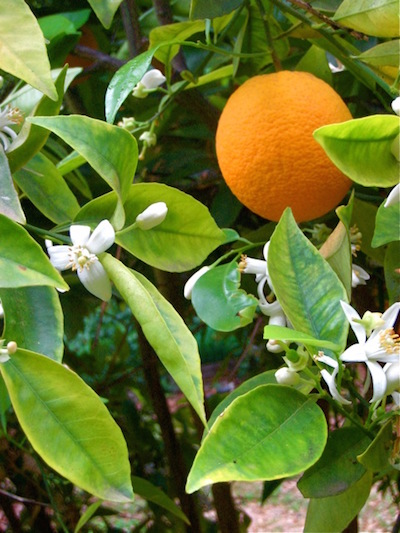 (Gerry Furth-Sides)  Long-time resident and artist, Susan Amend, treated us to luscious limes and lemons from her backyard studio garden for a fragrant, homey start to the Ojai  Studio ArtistsTour 2015.  It captured the little hamlet's ethereal feeling we always experience there, starting with our first other-worldly visit years ago in 105 degree weather, though low humidity makes it feel so much cooler! (
http://www.ojaistudioartists.org/
).
Susan  told us, "I use the Meyers lemons and limes (not sure what kind) off my trees daily. A slice of lemon or lime go into our glass of water, almost always. And I cook with the lemons constantly, adding them to fish, poultry, vegetables, salads, almost everything. I use the limes in Mexican food which is something I know how to prepare having lived in Austin, TX for 17 years. Always goes in my salsa and guacamole and tacos and enchiladas. Our son, Wyatt, has picked lemons off the tree and eaten them since he was a little guy. These two citrus and our Valencia oranges are part of our daily diet and I feel so lucky to be able to pick them off the tree as needed. I eat an orange every day for breakfast!  And I love the scent of the blossoms, perfume in the air for weeks."
Almost all locations are within walking or biking distance in this petite town at the foot of the Topatopa mountains.   The town comes into view in the form of a little gem of Spanish-influenced architecture, arriving from the 101 ocean road to the west or the eastern canyon highways.
The town's woodsy welcome – complete with lemon and lime water made with the fruit in the Amend's own yard, and stimulating art were representative of the entire tour experience that already started with friendly greetings at the "downtown" Art Center, where we picked up our maps and wristbands.  Susan Scott overlooked all of the activities for us.
Son Wyatt Amend's recent art work, perfect for holding food, was on display, and Susan showed us her novel bags with LaBrea Bakery logos woven into them upon hearing I was a food writer.
Ojai is almost as well known as a haven for film start as for its scientifically proven electromagnetic forces, hot springs beneath the earth, and breathtaking sunsets, affectionately labeled by residents as, "pink moments." I remember an Ojai Valley Inn and Resort manager grabbing hold of my arm one evening as we were walking the grounds, to point out the pink-striped sky. You could almost feel the Chumash Indians there as well (who developed an incredibly sophisticated waterway system for food and product commerce there 10,000 years ago.  These days brunch at the Oaks is just as inviting at the resort overlooking the golf courses.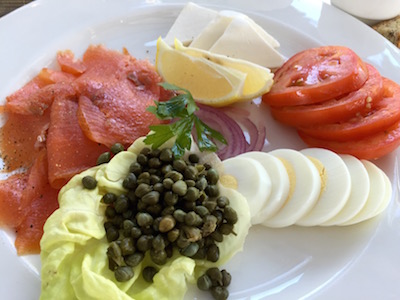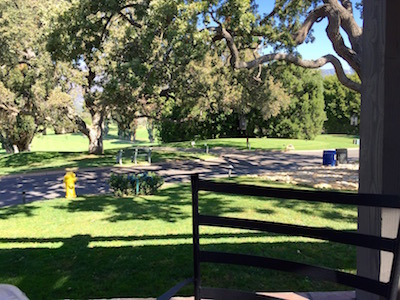 And these days, prominent celebrities claim residency in Ojai, especially attracted to the historic architecture.   During one of our artist studio visits, Reese Witherspoon strolled into the restaurant where we were seated to pick up take out. She looked our way, and gave a friendly southern smile and nod before heading out the door.
The Ojai Serenity Suites (ojaisuites.com), where we stayed in the Artist Studio overlooking the seven-acre Woolsey estate "backyard," proved to be practically around the block from the 
Amend's home, and a work of art in and of itself.  Cooking by guests in their rooms is encouraged.  A small kitchen with coffeepot is part of the inviting Loft and the Studio rentals
Towering ancient oak trees shaded the property.


 Even with the heat, ancient oak trees and guarded by a stone wall built by the Chinese over a century ago to keep the land from flooding.
Theodore Salisbury Woolsey, a Professor of International Law and the Dean of Yale University built the 5000 sq. foot stone and clapboard historical estate in 1887 after moving his family to Ojai in hopes of improving his wife's failing health.
More recently, a family with four children, looking to escape the urban life, carefully restored the two-story New England-style farmhouse, and another stone apartment on the grounds. In order to do it absolutely properly, Ana, the owner, enlisted the help of an established historian and antique dealer. The owner's granddaughter, Brianna, could not have been more helpful, friendly and charming to our every need.
The Ojai Studio Artists Studio Tour, in its 29th years, began with three nationally recognized Ojai artists, Bert Collins, Marta Nelson, and Gayel Childress. The first year, 24 artists opened their studios and 20 more held a joint exhibition at the Ojai Art Center. From this core group, the Ojai Studio Artists group formed.  OSA today has doubled in size from its beginnings – each new member juried in only after demonstrating the highest standards of professional excellence and achievement.
The prestige of OSA's annual tour, always the second week-end of October, has grown with the numbers as visitor numbers for the self-guided tour with maps swelled to thousands. It continues to be a relaxed unique opportunity to meet artists, develop relationships and expand collections.