PASTA WARS BY ELISA LORELLO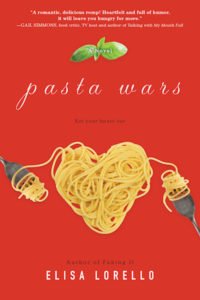 (Roberta Deen) This tasty "summer" book is a balmy, beach day read. Pasta Wars is a traditional, rollicking, bodice-ripper plot written with an extra helping of "food, glorious food".
The book is every female "foodie's" dream come true: Gianluca Caramelli, a hot-blooded,  hot-bodied Italian kitchen "god" passionate about fresh, sun-warmed strawberries, straight-from-the-cow cream, fragrant mint from the window box and lovingly constructed hand-formed pasta. The cherry on top is that he doesn't care if you are a size 2 or a size 10  if you understand his core beliefs, that "Food is Life" and the secret ingredient is love.
Lorello uses a sly and steady hand as she conducts the slow seduction of self-made, extensively food-controlled CEO Miss Katie from her obsession for producing guilt-free frozen pasta (An abomination to Gianluca) through Katie's stormy "education" in the fine art of lovingly-made pasta, through Katie's self-discovery of what she "really" wants (bigger waistbands and lots of "real" food being life) and finally into the arms of her of her nutmeg-scented, powdered sugar-dusted pasta chef. It was delicious inhabiting both characters in their heady dance of spice and spicy exploration.
As a 30-year chef myself, I found every clever food pun and reference to current eateries and attitudes to be just as tasty as the book itself. Lorello's light-hearted understanding of the sensuous side of preparing a meal just for the pleasure of doing it (The first pasta lesson could bring a girl to her knees.) and respect for the person you are feeding had me yearning for a languid month on a hillside in Italy myself. With pasta lessons of course.
Lisa Lorello was born and raised on Long Island, the youngest of seven children. She earned her bachelor's and master's degrees from the University of Massachusetts-Dartmouth and eventually launched a career teaching rhetoric and composition. From 2000-2012 she taught writing at the college level. Elisa spent six years in North Carolina, where she split her time between teaching and writing, and returned to the northeast in October 2012.
Elisa has authored seven novels and one memoir, including the internationally bestselling Faking It, Ordinary World, and She Has Your Eyes. She has sold a combined 500,000 units worldwide, including multiple translations.
Elisa facilitates private classes and workshops on topics in creative writing and publishing since 2010. She was a guest speaker at WriteNow! Conference in Raleigh, North Carolina in 2012 and 2014 and a panelist at the Book Expo of America in 2015. She lives in Billings, Montana with her husband, bestselling author Craig Lancaster.